Anyone who loves baking and cooking will look forward to Christmas. The party of the year to turn your home, your dining table, your treats and your outfit into one beautiful whole. Do you already know what style you are going for this year? Be inspired by the Christmas trends of 2021.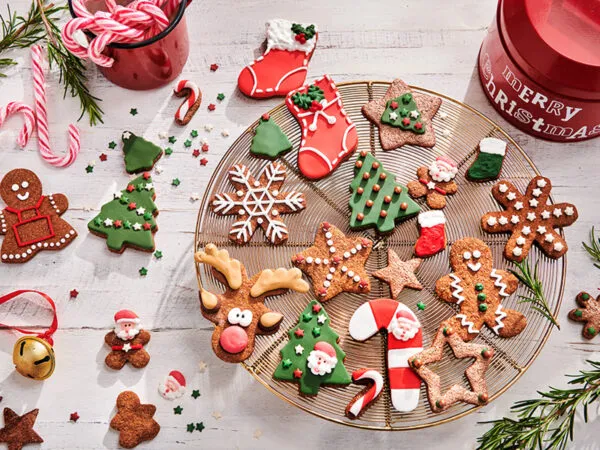 2021 Christmas trend #1
Traditionally trendy
Okay calling this a trend might be slightly exaggerated, because the traditional Christmas colours red, green & gold are inextricably linked with Christmas in every year and every country. But we do see a revival of this typical Christmas palette this year. After we had to skip Christmas a bit last year, we are holding on strongly to that nostalgic Christmas feeling this year. And for many people that still means the warm red and deep green, with a festive golden touch.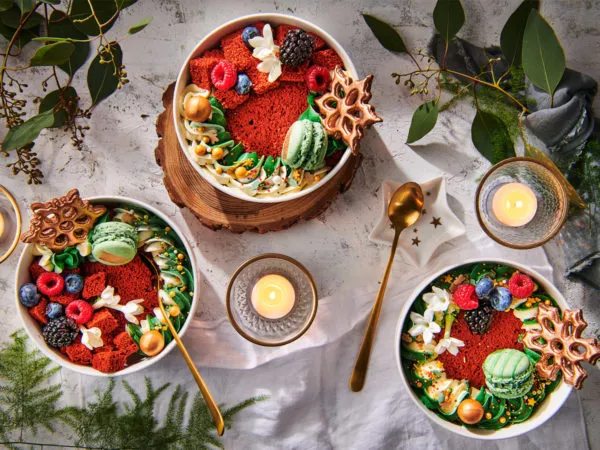 You can easily apply this trend in your baking. Try the Red Velvet Cake as a base! Or add the colours to any filling or topping with our Christmas colourings. Finished with golden decorations, the Christmas atmosphere is just splashing. But Traditionally Trendy can also be found in the type of baking: gingerbread cookies for example, are indispensable within this trend.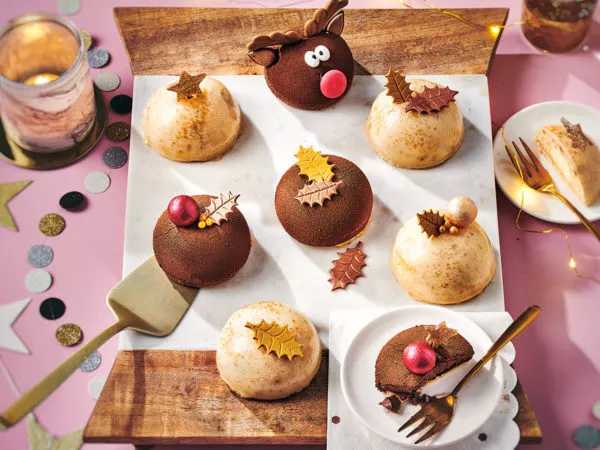 2021 Christmas trend #2
Silky & sweet
If you say sweet, then we bakers are all ears. So you understand that we were fans when we spotted the Silky & Sweet Christmas trend. This trend is characterized by soft, subtle, feminine tones. Warm, light pink colours make this trend a bit sweet, but the combination with natural browns keeps it Christmassy instead of Valentine's Day.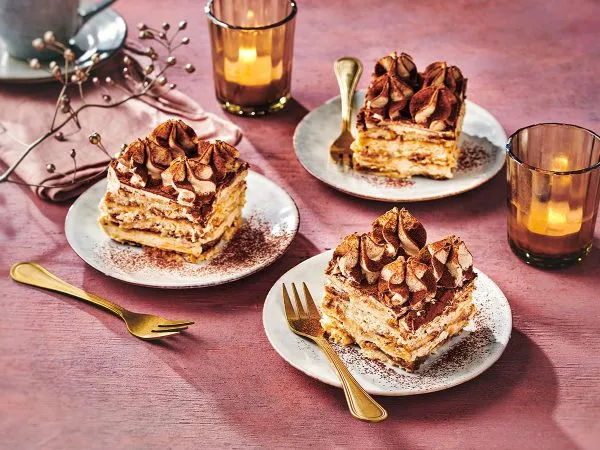 In baking we see this trend often translated into the structure of the pastry. Desserts with lots of cream or a delicate bavarois pastry underline Silky & Sweet optimally. Within this trend go for creamy, sweet flavours such as vanilla, caramel and (white) chocolate. These also immediately give your baked goods the colours you are looking for. Finish it off with a light pink accent, or stick to nude colours and opt for a soft pink table setting.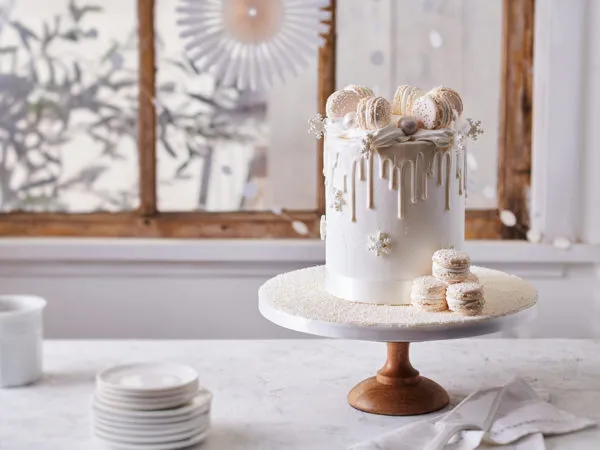 2021 Christmas trend #3
Wonderfully white
Since we're not all blessed with thick layers of snow, white forests and deep-frozen mountain lakes right around the courner, many of us have been missing these real winter sceneries for a while now. This year we therefore see a desire to create that wonderfully white Christmas atmosphere at home. There seems to be actual snow on the white Christmas tree, we eat at a beautiful white table with silver cutlery, and the champagne? We no longer drink these from flutes, but from beautiful crystal coupe glasses (which you also use for a festive dessert by the way). Add some bright blue details and an Austrian lockdown won't stop you from a winter wonderland.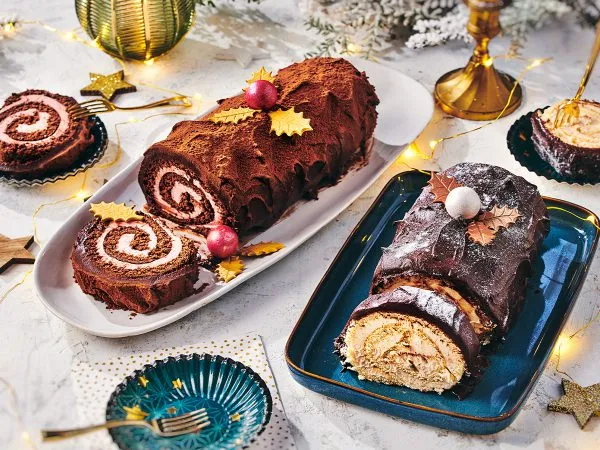 Of course you pick white for your bakes too. A delicious pavlova or ice cream cake are desserts that fit perfectly within this trend. Also indispensable: snow sugar! With this you cover all your bakes under a thick layer of snow that won't melt all Christmas. It is certainly allowed to glitter and shine a bit within this trend, so provide sugar paste cakes, swirls or chocolates with a shiny, silver finish with our metallic spray or apply a silver glaze topping to your bavarois cake.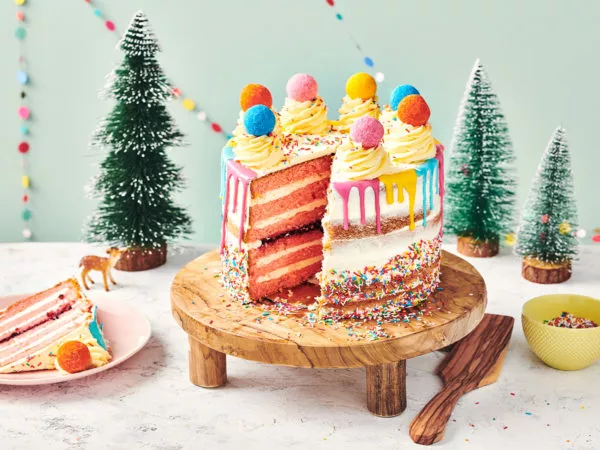 2021 Christmas trend #4
Rainbow revolution
Anyone who thinks cheerful rainbow colours are destined for summer, is wrong. Especially on dark, gloomy days we need those splashing colours! Therefore it's so great that more and more people dare to choose colourful Christmas decorations. We see over-the-top Christmas trees covered with crazy ornaments: from French fries to donuts and from flamingos to avocados. Why not, right? A healthy dose of humor is more than welcome during these crazy times. Also nice: collect Christmas balls in all colours of the rainbow and divide your tree in multiple compartments decorated with each specific colour. Your rainbow tree will brighten your home, your family, your friends and probably even the postman.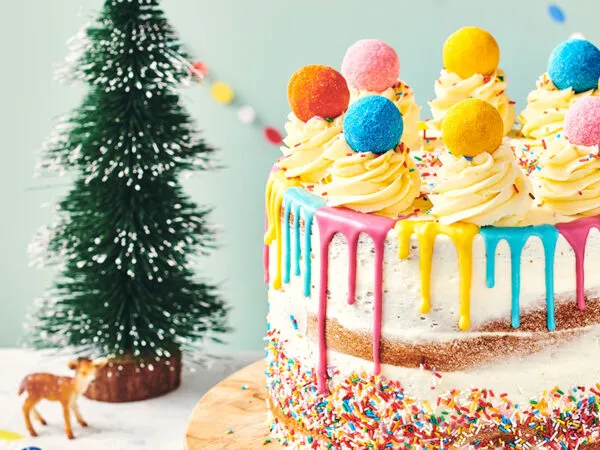 Baking is of course the happiest hobby there is anyway, so of all Christmas trends, this one is perhaps the easiest to translate into baking. Layered cakes with colourful drips and packed with decorations, macarons in all colours of the rainbow or cupcakes with three-coloured swirls. We don't need to explain how to go crazy with this trend.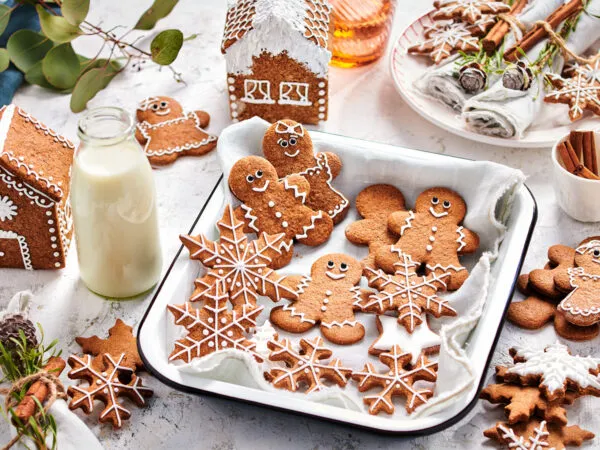 2021 Christmas trend #5
Earthy elements
Sustainability also plays an important role during Christmas and we all try to do our part. We 'shop' our Christmas decorations in the forest, more and more people are opting for a sustainable Christmas tree and we try to prevent food waste as much as possible during Christmas. This Earthy Elements trend, in which it's all about sustainability and nature, is also reflected in our dishes, our table settings and our Christmas tree. We see many beautiful grey toned colours, linen napkins and wooden coasters on the table, refined paper ornaments hang in the tree and underneath are gifts wrapped in white or brown but decorated with bundles of rosemary and cinnamon sticks.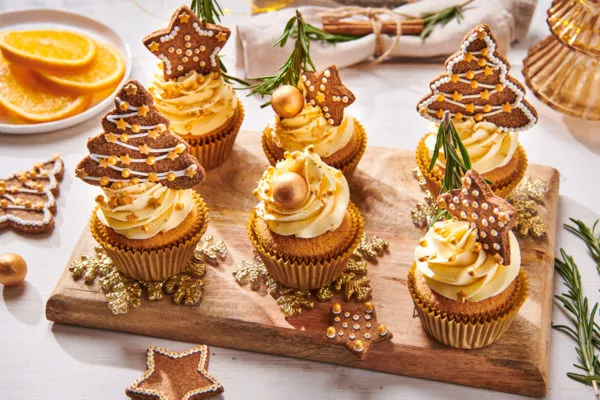 We love this botanical look and were happy to translate it into our Christmas recipes. For the Earthy Elements trend pick spicy flavours like ginger, nutmeg and cinnamon which you combine with a fresh counterpart of, for example, orange. Go for natural shades by leaving your buttercream uncoloured, decorating your cookies only partly with royal icing and baking your cupcakes in white, brown or green baking cups. Not festive enough for you? Some gold glitter in your decorations also fits in well with this trend.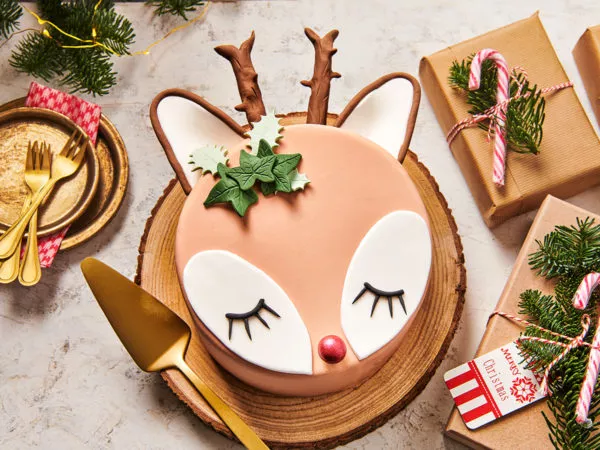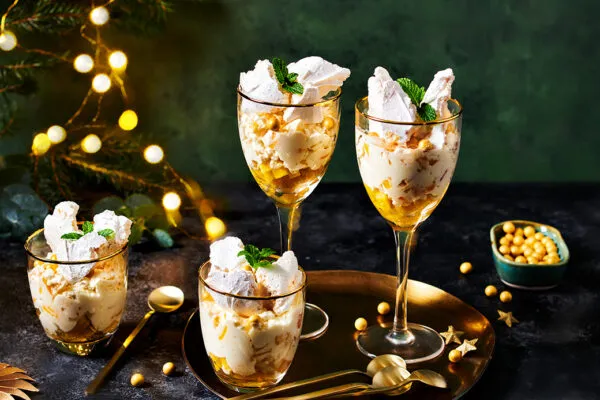 2021 Christmas trend #6
Lovely luxurious
Now that restaurant meals, hotel stays and theater visits are unfortunately still on a low, again we are bringing those experiences to our own living rooms this year. Some try it themselves with luxurious four-, five- or six-course dinners, good wines and French cheese boards. In 2021, takeout menus are no longer rice tables from plastic trays (also very tasty, don't get us wrong!), but luxurious dinners from our favourite restaurants that we only have to give a finishing touch at home. Private chefs used to be something for the rich and famous, now that we can't come to a professional chef ourselves, we love to let him or her into our own kitchens. And for the decoration of our dining tables we also follow their example: equipped with rich velvet fabrics, golden cutlery and silk napkins, we turn our homes into restaurants. In short, Lovely Luxurious is pre-eminently a 2021 Christmas trend prompted by all of us trying our best to make it a restaurant-worthy Christmas.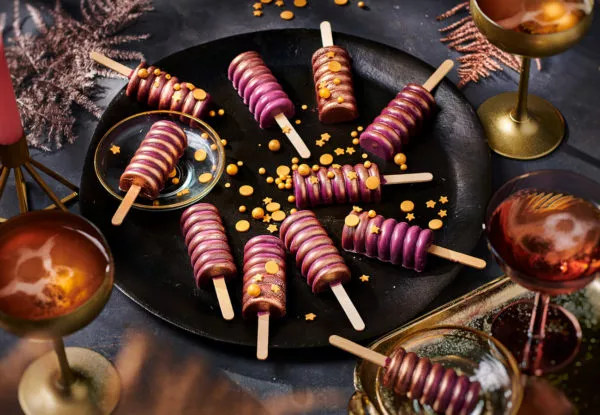 How do you do that in baking? Opt for deep, rich flavours of a chocolate ganache, hazelnuts or – the name says it all – rich caramel. Shiny rose gold or chic velvet toppings are an absolute must within this trend and you can match them with chocolate decorations in the same colours. Resist the temptation to serve large portions of all those goodies: after so many courses, people enjoy small portions much more and served in beautiful glasses they have that stylish, luxurious look.