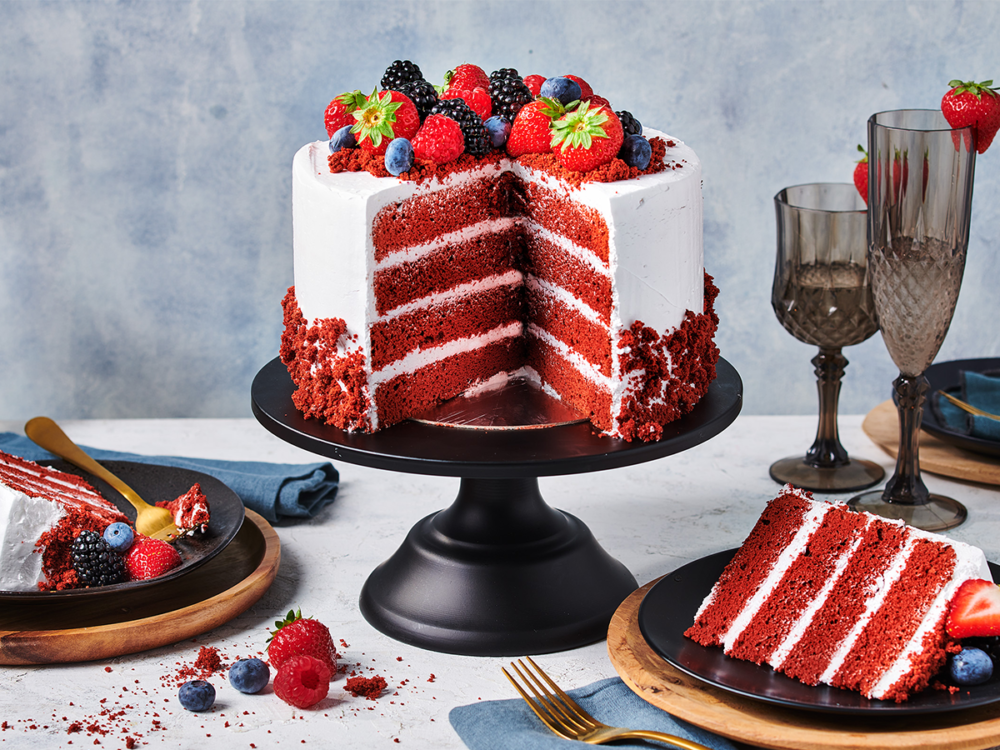 Red velvet cake with fruit
A traditional American red velvet cake. Velvety soft with a delicious white topping and red on the inside. Who doesn't like it? It is not only delicious as a cake, but also as a cupcake, cake pop or cookie!
What you need to make your red velvet cake with fruit:
Ingredients
660 g FunCakes Mix for Red Velvet Cake
200 g FunCakes Mix for Enchanted Cream®
FunCakes Flavour Paste Mascarpone Cream
260 ml water
200 ml milk
130 ml plantbased oil
4 eggs (approx. 200 g)
Blackberries
Blueberries
Raspberries
Strawberries
Necessities
FunCakes Bake Release Spray
Wilton Decorator Preferred Deep Round Baking Pan Ø 20x7,5cm
Wilton Cake Leveler 25cm
Wilton cooling grid
Wilton Basic Turntable
Wilton Decorator Preferred Spatula Angled 22,5 cm
PME Plain Edge Side Scraper
Prepare 330 g FunCakes Mix for Red Velvet Cake according to the instructions on the package. Pay attention! Prepare this over 2 cakes (this amount is not suitable for baking in one baking pan) Spoon the batter for 1 cake into the greased baking pan. Bake for about 30-35 minutes and, after baking, put it on a cooling grid to let it cool. Repeat above steps for another red velvet cake.
Preheat the oven to 180°C (convection oven 160°C).
Cut both red velvet cakes twice with a cake leveler. Crumble the two top halves, stack the other 4 parts on top of each other with the Enchanted Cream®. You start and end with a bottom slice to straighten your cake nicely.
Cover the cake all around with a thick layer of Enchanted Cream®, use the turn table and the side scraper to get a nice smooth and smooth cake.
Stick the crumbled cake along the bottom edge of the cake and also sprinkle crumbled cake on top of the cake. Decorate the cake with the fresh fruit.
Just a little while before you can enjoy your cakes. Don't forget to share your creation:
#funcakesbyme