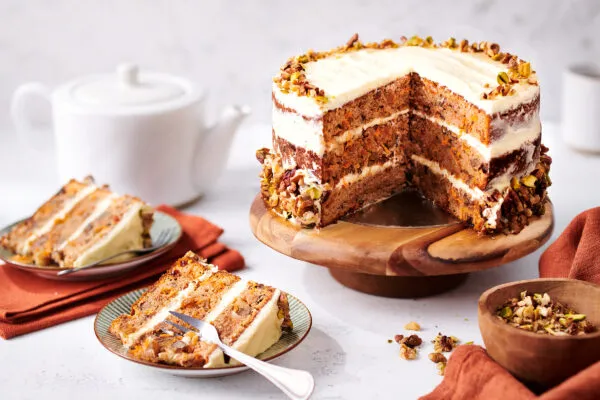 Carrot cake with pistachios
If you're not afraid of a little vegetable in your cake, then you'll definitely want to make this carrot cake! With the addition of mascarpone flavour and pistachios, this will be a cake to savor.
What you need to make your carrot cake with pistachios:
Ingredients
500 g FunCakes Mix for Carrot Cake
200 g FunCakes Mix for Buttercream
FunCakes Flavour Paste Mascarpone Cream
280 ml water
250 g unsalted butter
150 g grated carrot
150 g chopped pistachio nuts
140 ml plantbased oil (140g)
50 g soaked raisins
3 eggs (approx. 150 g)
Necessities
FunCakes Bake Release Spray
Wilton Cooling Grid
Wilton Decorator Preferred® Deep Round Baking Pan Ø 20x7,5cm
Wilton Cake Leveler 25cm
Wilton Decorator Preferred Spatela Angled 22,5 cm
Wilton Parchment paper
Preheat the oven to 175°C (convection oven 160°C).
Prepare the 500 g FunCakes Mix for Carrot Cake according to the instructions on the package and finally mix in the carrot, raisins and 50 g chopped pistachios with a spatula. Grease the baking pan with baking spray and place a suitable round of baking paper on the bottom of the baking pan. Spoon the batter into the baking pan and bake the cake for about 50-60 minutes. Turn the cake onto a cooling rack and let it cool completely before slicing.
Cut the cake in half with the cake leveler and fill with mascarpone buttercream. Spread the cake all around with a thin layer, but a somewhat thicker layer on top. Stick some chopped pistachio nuts along the bottom edge of the cake and finish the top edge with chopped pistachio nuts as well.
Just a little while before you can enjoy your cakes. Don't forget to share your creation:
#funcakesbyme