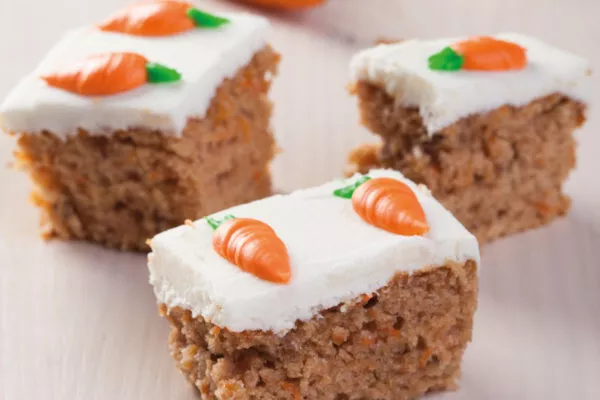 Carrot Cake with a delicious sweet glaze
This all time favourite with a little FunCakes twist will turn a smile on everyone's face.
What you need to make your carrot cake with a delicious sweet glaze:
Ingredients
500 g FunCakes Mix for Carrot Cake
250 g FunCakes Icing Sugar
FunCakes Edible Colouring Gel - orange
FunCakes Edible FunColours Gel - leaf green
5 g FunCakes Meringue powder
150 ml vegetable oil
150 g grated carrot
100 g Crisco
100 ml water
3 eggs (approx 150 g)
25 g chopped walnuts
40 g soaked raisins
Necessities
FunCakes decorating bags
FunCakes Bake Release spray
Wilton Recipe Right® Square Pan 20x20cm
Wilton decorating tip #002
Wilton decorating tip #005
Wilton cooling grid
Preheat oven to 175°C (convection oven 160°C).
Prepare 500 gram FunCakes Mix for Carrot Cake according to the instructions on the package. Mix for 5 minutes. Grease the baking pan with the Bake Release Spray and fill it with the mixture. Bake the cake in about 50-60 minutes golden brown. Take the cake out of the baking pan and let it cool down on the cooling grid.
In the meantime make the glaze. Mix the Cristo and the water with the mixer on the lowest setting until the moisture is gone. Add the icing sugar and the meringue powder and mix it slowly for about 5-6 minutes until it becomes a solid glaze.
Tip! Add a FunCakes Flavour paste to the glaze for more variation.
Devide the glaze over three bowls. Add the orange colouring gel to a bowl and green to another bowl, leave the third one white. Cover the top of the cake with the glaze. Fill a piping bag with the orange glaze and decorating tip #005 and pipe carrots on the cake. Add the green glaze to another piping bag with decorating tip #002 and pipe the foliage of the carrots.
Just a little while before you can enjoy your cake. Don't forget to share your creation:
#funcakesbyme