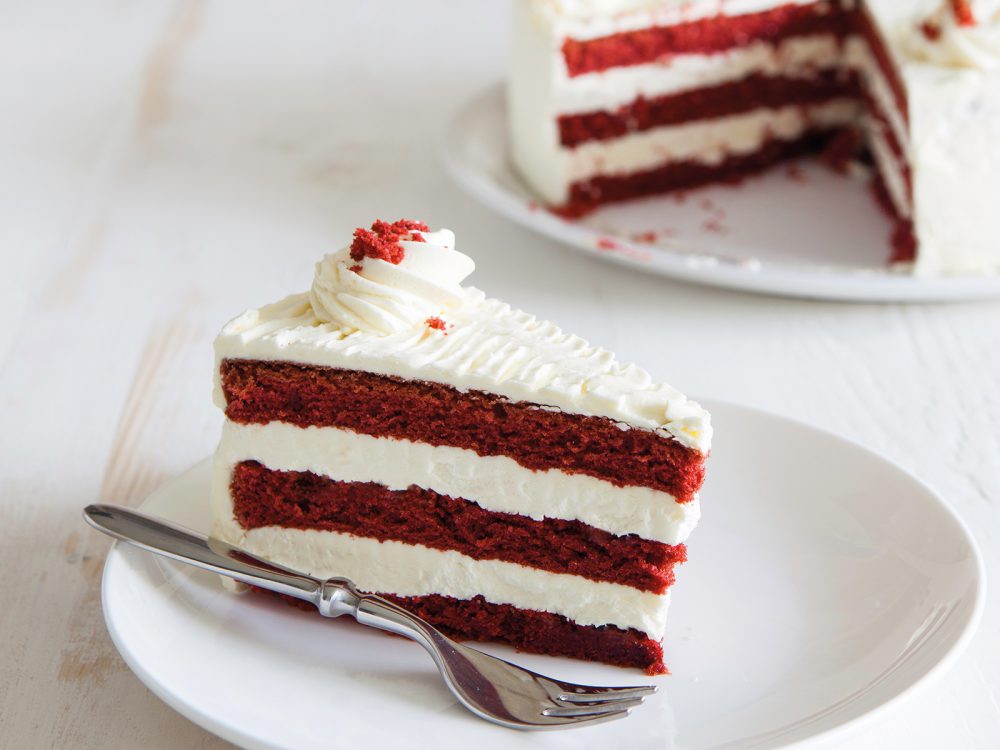 Red Velvet Cake with cream cheese
The creamy layers of Red Velvet Cake combine perfectly with the delicious sweet cream cheese filling and are indispensable nowadays because they are delicious and also easy to make.
What you need to make your red velvet cake with cream cheese:
Ingredients
500 g FunCakes Mix for Red Velvet Cake
450 g FunCakes Icingsugar
2 tbsp FunCakes Flavour Paste -Vanilla-
200 ml water
3 eggs (approx. 150 g)
100 ml vegetable oil
200 g unsalted butter
200 g Mon Chou
Necessities
FunCakes Bake Release Spray
Wilton Ultimate Cake Leveler
Wilton Chrome-Plated Cooling Grid
PME Extra Deep Round Cake Pan Ø 27,5 x 10cm
PME Plain Edge Side Scraper
Preheat the oven to 175°C (convection oven 155°C)
Tip! Do you prefer a simple glaze: you can also make the cream cheese glaze with the FunCakes mix for buttercream.
Prepare 500 grams of FunCakes Mix for Red Velvet Cake as indicated on the package. Grease a baking pan with the Bake Release Spay and fill with the batter. Bake the cake in 40-45 minutes. Remove the cake, after baking, from the pan and let it cool down on a cooling grid.
Start with making the cream cheese glaze. Mix the butter and the cream cheese in a large bowl. Turn the mixer on the lowest setting and add the sugar in parts to the batter. Mix it all till the glaze is soft and creamy. Finally, add the vanilla flavor to at taste.
Cut the cake twice using a cake leveller. Cover the first layer with the cream cheese and place the second layer on top of it. Cover this layer also with the glaze and place the last layer on it. After placing the last layer, apply a thin layer of cream cheese on the cake to fill holes and get rid of any bumps. Put it in the fridge for 30 minutes and apply another layer of cream using a scaper to smoothen the edges.
Pipe some swirls on the cake for decoration and finish it with some sprinkles or chocolate.
Just a little while before you can enjoy your cakes. Don't forget to share your creation:
#funcakesbyme