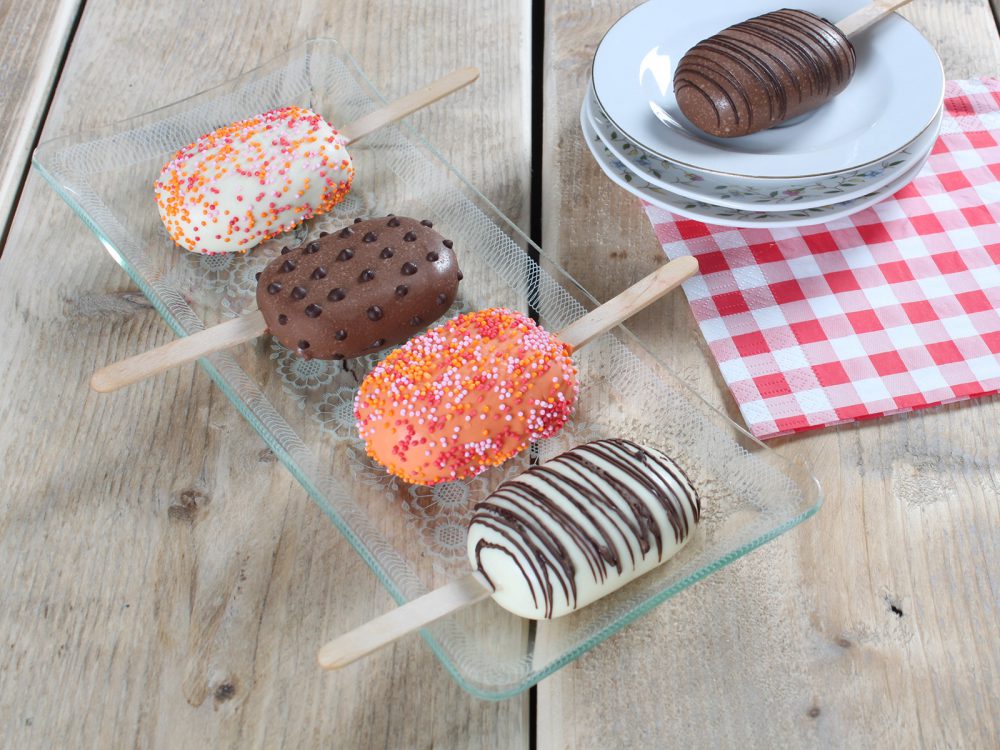 Cake popsicles
These delicious popsicles are ideal for treats. Put a bag around it with a ribbon and you're done. In addition, it's also great to decorate this together with children.
1 hour and 10 min. cooking
1 hour and 20 min. waiting
What you need to make your cake popsicles:
Ingredients
500 g FunCakes Mix for Cupcakes
FunCakes Chocolate Melts Milk, Dark and White
FunCakes Edible FunColours Gel - Orange
FunCakes Nonpareils in different colours
Necessities
FunCakes Disposable Decorating Bags
Wilton Recipe Right Med. Loaf Pan 8,5x4,5
Wilton Chrome-Plated Cooling Grid
PME Plastic Cutter Oval Set/6
Silikomart Ice Cream Mould Classic
Silikomart Popsicle Sticks
Preheat the oven to 160°C (convection oven to 140°C).
Prepare 500 grams of FunCakes Mix for Cupcakes as indicated on the pacakge. Grease the baking pan and divide the batter in the baking pan. Bake the cake for 70 – 75 minutes until golden. Let it cool off properly on a cooling grid.
Tip! You can also make these cake-popsicles with the FunCakes Mix for Brownies or American Brownie.
Cut the cake in to slices and cut out ovals with the cutter.
Pour the melts in a bowl suitable for the microwave. Melt at maximum power (±800W) in the microwave. To spread the temperature evenly, remove the chocolate every 15/20 seconds and stir well. Stop heating when the chocolate is almost completely melted (small bits of chocolate can still be seen). Keep stirring until the chocolate is dissolved. Divide the white chocolate into two parts and colour one part orange with colouring.
Fill the ice cream mould with a layer of chocolate of your choice. Turn the mould a few times so that the mould is fullly covered with chocolate. Pour out the remaining chocolate and let this harden in the fridge. Place a cut out cake on top of the chocolate layer and pierce the stick. Fill up the mould with chocolate and let this harden in the fridge.
Cover the ice creams you want to decorate with nonpareils with a thin layer of chocolate and sprinkle the nonpareils directly on top.
If you want to make dots or stripes you fill disposable decorating bag with a tablespoon of chocolate andcut of a small tip of the piping bag. Pipe the stripes or dots with a quick movement on the ice cream cake.
Just a little while before you can enjoy your pops. Don't forget to share your creation:
#funcakesbyme