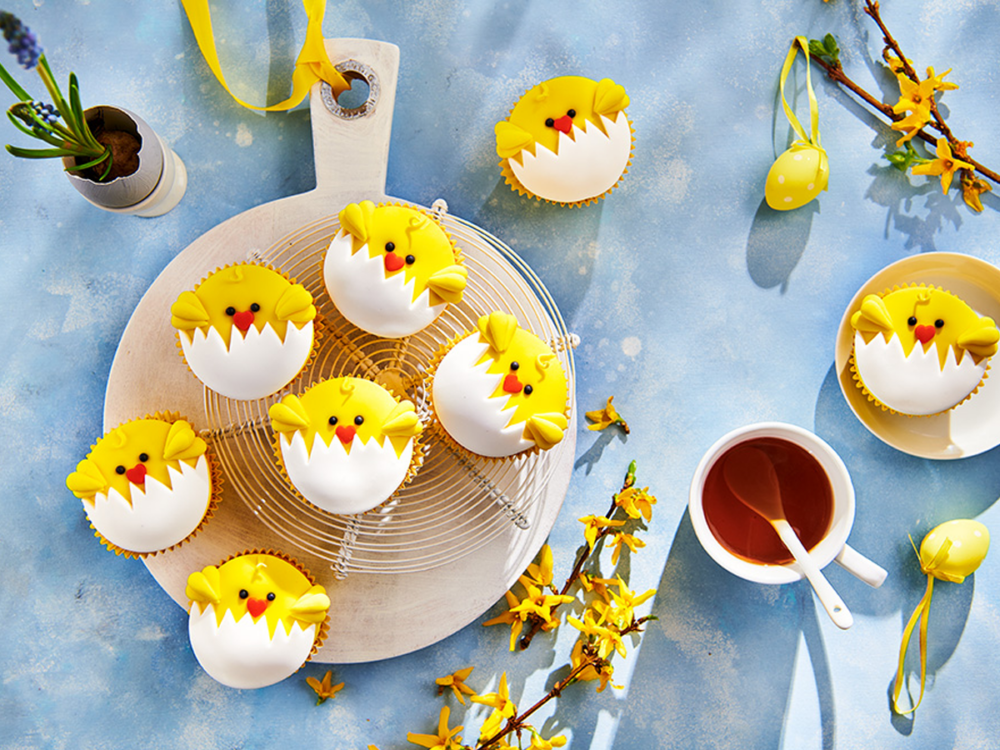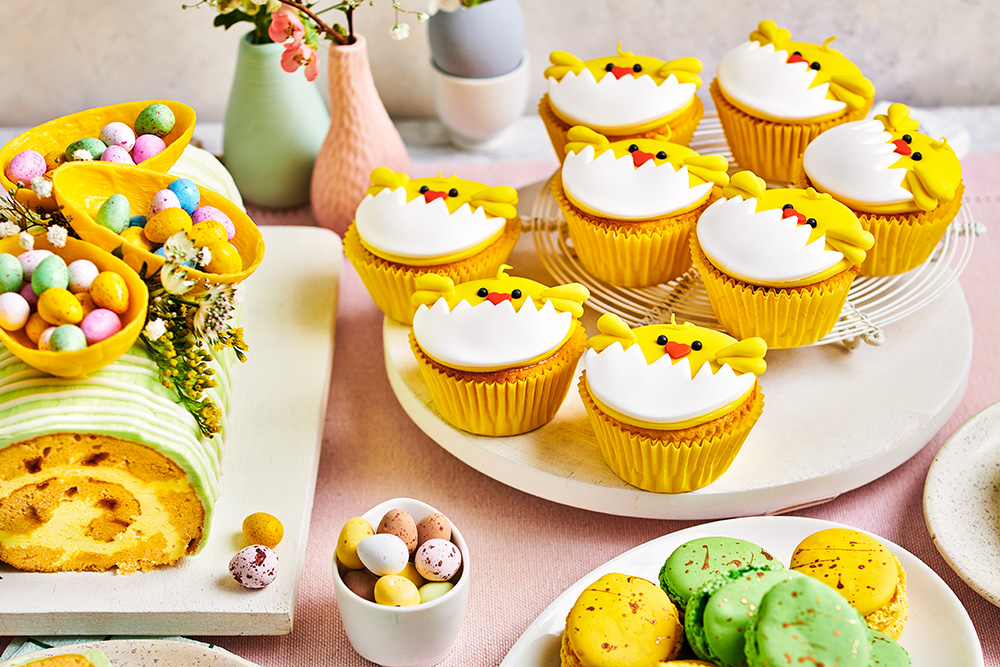 Easter chick cupcakes
The ultimate Easter feeling is seeing chicks happily frolicking around, but you don't necessarily have to go to the farm to see them, because with these chick cupcakes you get that Easter feeling right at home.
1 hour and 30 min. preparing
What you need to make your easter chick cupcakes:
Ingredients
500 g FunCakes Mix for Cupcakes
100 g FunCakes Mix for Crème Patisserie
350 g FunCakes Sugar Paste Yellow
200 g FunCakes Sugar Paste White
50 g FunCakes Sugar Paste Orange
FunCakes Sugar Pearls Medium Shiny Black
FunCakes Edible Glue
250 g unsalted butter
250 ml water
5 eggs (approx. 250 g)
Apricot jam
Necessities
FunCakes Baking Cups Yellow
FunCakes Decorating Bags
Wilton Tip #1A Round
Wilton 101 Cookie Cuttet Set
Wilton Recipe Right® Muffin baking pan 12 cupcakes
Wilton Wide Glide Rolling Pin with Rings 22,5cm
Patisse Cookie Cookie Cutter Rings set/14
Preheat the oven to 180°C (convection oven 160°C).
Prepare 500 g FunCakes Mix for Cupcakes according to the instructions on the package. Divide the baking cups among the muffin pan and fill them with the batter. Bake the cupcakes for approximately 18-22 minutes and let them cool down.
Make a hole in the top of the cupcakes with the back of the tip and save this piece. Fill the holes with a little Crème Patisserie and press the piece of cake back in. Spread the top of the cupcakes with some warmed apricot jam.
Knead the yellow fondant well, roll it out to a thickness of about 2 mm and cut with a cutter from the set an exactly fitting round. Stick this on the cupcakes.
Knead the white fondant well, roll it out to a thickness of 2 mm and use the same round cutter you used for the yellow circles. Cut this white round in half and make serrations with a sharp knife. Stick this with some edible glue on the yellow circles.
Roll out the orange fondant very thin, cut out a heart from the set of hearts that you will use as a beak and stick these on the cakes.
Prick with the back of a brush two holes in the yellow fondant and push black pearls for the eyes. From small pieces of yellow fondant, make small balls that you roll into teardrop shapes and then slightly flatten. Use these to make the wings. Make 3 drops per wing and put them on the cakes. From very thin rolls of yellow fondant you make a little curl and you glue this on with some edible glue.
Just a little while before you can enjoy your cupcakes. Don't forget to share your creation:
#funcakesbyme