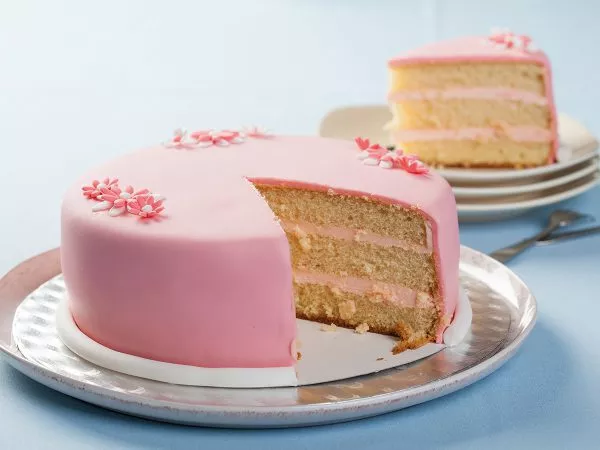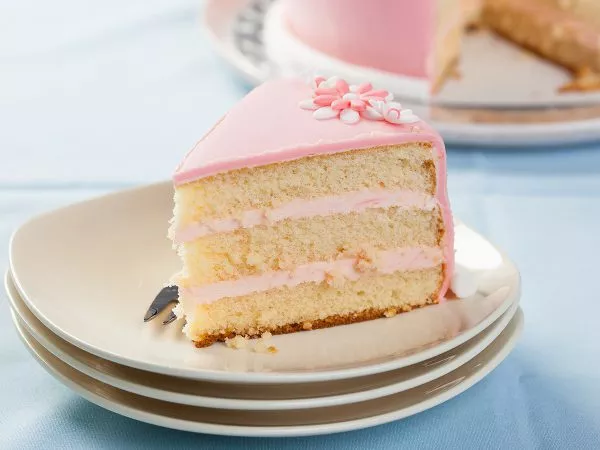 Fondant cake
Party, birthday or just something tasty for coffee o'clock? This delicious biscuit fondant cake is a simple, yet very tasty cake for every occasion!
What you need to make your fondant cake:
Ingredients
200 g FunCakes Mix for Sponge Cake
125 g FunCakes Mix for Buttercream
FunCakes Edible Glue
FunCakes Flavour Paste -Strawberry-
400 g FunCakes Fondant -Pretty Pink-
50 g FunCakes Fondant -Bright White-
3 eggs (approx. 150 g)
145 ml water
250 g butter
Necessities
FunCakes Icing Sugar
FunCakes Bake Release Spray
FunCakes Cake Board Round Ø15cm
Wilton Ultimate Cake Leveler
Wilton -Wide Glide- Rolling Pin 50cm
Wilton Fondant Smoother
Wilton Chrome-Plated Cooling Grid
Wilton Decorator Preferred® Deep Round Pan Ø 15x7,5cm
PME Daisy Marguerite Plunger Cutter set/4
Brush
Preheat oven to 175°C (convection oven 160°C).
Prepare 200 grams of FunCakes Mix for Sponge Cake as described on the package. Grease the baking pan using Bake Release Spray and pour the batter into the baking pan. Bake the cake in 25-30 minutes. The cake is ready when it feels springy to the touch. Release the cake immediately after baking and let it cool down on a cooling grid.
Place the cake upside down on the cake board. Cut the sponge cake twice with the cake leveller. Prepare 125 grams of FunCakes Mix for Buttercream as described on the package and add 1 tablespoon of strawberry flavour.
Cover the first layer with cream, place the second layer on top and cover this also with the buttercream. Place the last layer on top and apply a layer of buttercream to cover the whole cake.
Knead 400 grams of pink fondant well and keep 25 grams separately. Cover your work board with some icing sugar and roll the fondant out. Make sure that there will be no sugar on the top of the fondant. Turn the slice a quarter, after rolling three times, so it won't stick. When the slice is large enough and nicely thick, cover the cake with the fondant and push it gently. Make the dondant nice and smooth using a smoother. Cut off the remaining fondant.
Knead 50 gram of white fondant and roll it out on some sugar. Cut out the flowers in different sizes. Stack them for a nice effect. If desired, make small balls of fondant for the centres of the flowers. Place the flowers with a bit of glue on the cake.
Just a little while before you can enjoy your cakes. Don't forget to share your creation:
#funcakesbyme