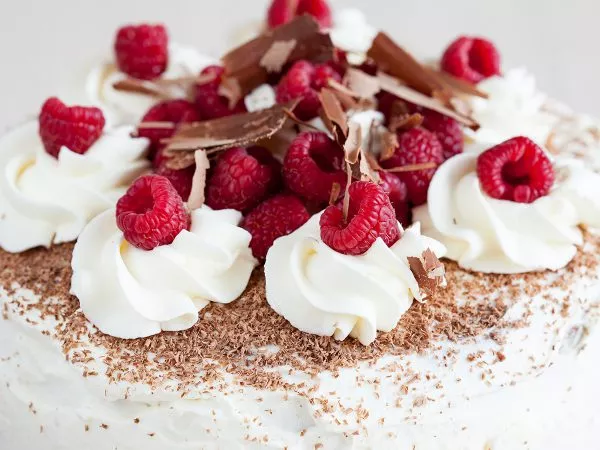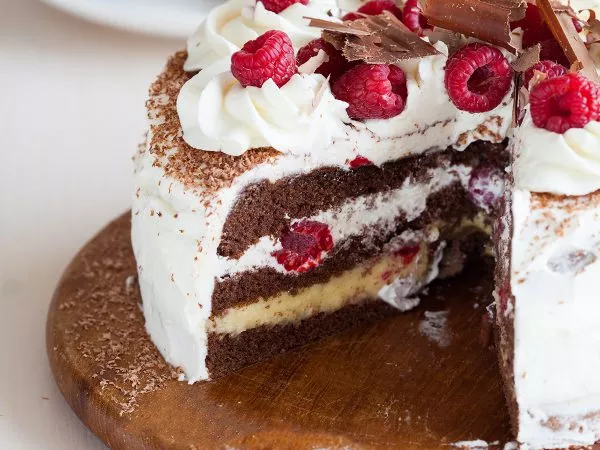 Chocolate cake with mascarpone cream
Isn't coffee time yet? This chocolate cake with mascarpone cream is ideal for a cup of coffee. The combination of chocolate, mascarpone and raspberry is perfectly balanced and gives the sweet taste a fresh taste.
1 hour and 15 min. waiting
What you need to make your chocolate cake with mascarpone cream:
Ingredients
250 g FunCakes Mix for Chocolate Sponge Cake
100 g FunCakes Mix for Crème Patisserie
3 eggs (approx. 150 g)
305 ml water
250 g mascarpone
125 ml whipping cream
Raspberries
Cocoa
Chocolate decorations
A little bit of sugar
Necessities
FunCakes Disposable Decorating Bags
FunCakes Bake Release Spray
Wilton Decorator Preferred® Deep Round Pan Ø 20x7,5cm
Wilton Ultimate Cake Leveler
Wilton Decorating Tip #1M Open Star Carded
Wilton Chrome-Plated Cooling Grid
PME Plain Edge Side Scraper
Preheat the oven on 180°C (convection oven 175°C).
Prepare 250 grams of FunCakes Mix for Chocolate Sponge Cake as indicated on the package. Grease the baking pan using Bake Release Spray and put the batter into the baking pan. Bake the cake in 30-35 minutes. Release the cake and let it cool down after baking on a cooling grid.
For the filling you start by beating 250 grams of mascarpone. Then beat 125 ml of cream with a little sugar, but beware; it can easily get to sweet. Fold the mascarpone and the raspberries gently into the cream.
Cut the cake twice using a cake leveller and cover the first layer with custard cream. Then place the second layer on top and cover this one with mascarpone cream. Place the last layer on top and cover the whole cake with a thin layer of cream. Put it in the fridge for a while and apply another layer of cream using a scraper to smoothen the edges.
Fill a decorating bag with the remaining cream and spray some swirls on the cake. Decorate the cake with raspberries, cocoa and chocolate decorations.
Just a little while before you can enjoy your cakes. Don't forget to share your creation:
#funcakesbyme