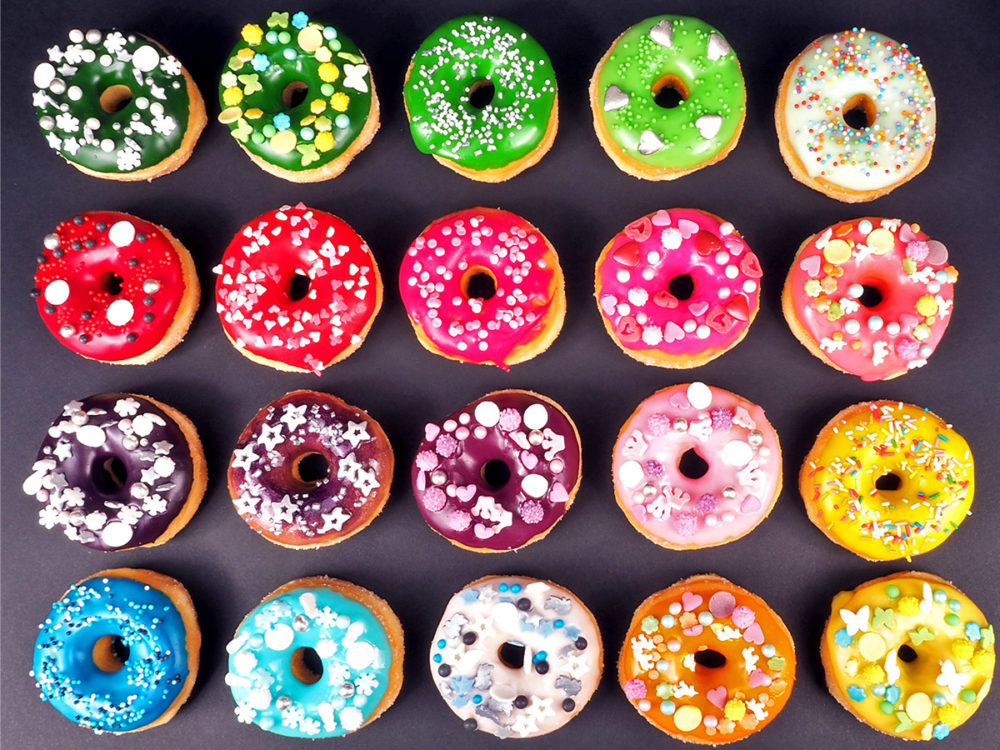 Delicious donuts
Let's go nuts with these colourful and delicious donuts. Don't wait any longer and start baking right now.
What you need to make your delicious donuts:
Ingredients
500 g FunCakes Mix for Donuts
750 g FunCakes Dip 'n Drip Wit
FunCakes Sprinkle Medley – Unicorn
FunCakes Sprinkle Medley – Princess
FunCakes Sprinkle Medley – Galaxy
FunCakes Sprinkle Medley – Spring
FunCakes Sprinkle Medley – Frozen
FunCakes Sprinkle Medley – Love
FunCakes Sugarpearls 4mm – Shiny Red
FunCakes Sugar Hearts Metallic Silver
FunCakes Mini Hearts -Pink/White/Red-
FunCakes Nonpareils -Discomix-
FunCakes Sugar Strands -Colour Mix-
FunCakes FunColours Paste Purple
FunCakes FunColours Paste Baby Blue
FunCakes FunColours Paste Pink
FunCakes FunColours Paste Leaf green
FunCakes FunColours Paste Orange
FunCakes FunColours Paste Red
FunCakes FunColours Paste Yellow
215 ml water
65 ml vegetable oil
Potentially some fine crystal sugar
Necessities
FunCakes Bake Release Spray
FunCakes Roll-Out Powder
Wilton -Wide Glide- Rolling Pin
Wilton Donut Pan or a frying pan filled with vegetable oil
Patisse Donut & Bagel Cutter Ø9cm
Paper towels
Bowls
Prepare 500 grams of FunCakes Mix for Donuts as indicated on package. Roll it out using the rolling pin on a with an roll-out powder covered work surface until a 5 mm thickness. Cut out donuts with round cutter. If you use the Wilton donut pan, then make the donuts as big as the shapes of the pan. In case you use the frying pan, the size doesn't matter. Let the donuts rest for 10 minutes before you start baking.
Preheat the oven to 220°C (convection oven 200°C) or the frying pan at 180°C.
Place the donuts in a greased baking pan and bake them for 8 – 10 minutes. Repeat this until you've used all the dough. When frying, place 4 to 6 donuts in the pan for 8 – 10 minutes. Let them leak out on paper towels after baking.
Tip! For sugared donuts, roll the donuts through fine crystal sugar immediately after baking.
Divide the Dip 'n Drip into several bowls and mix with the colourings. Heat it in the micro wave for a few seconds and then dip the donuts into it. Finalize your donuts by decorating them with the different sprinkles. When the Dip 'n Drips get too thick, heat it again in the microwave.
Just a little while before you can enjoy your donuts. Don't forget to share your creation:
#funcakesbyme