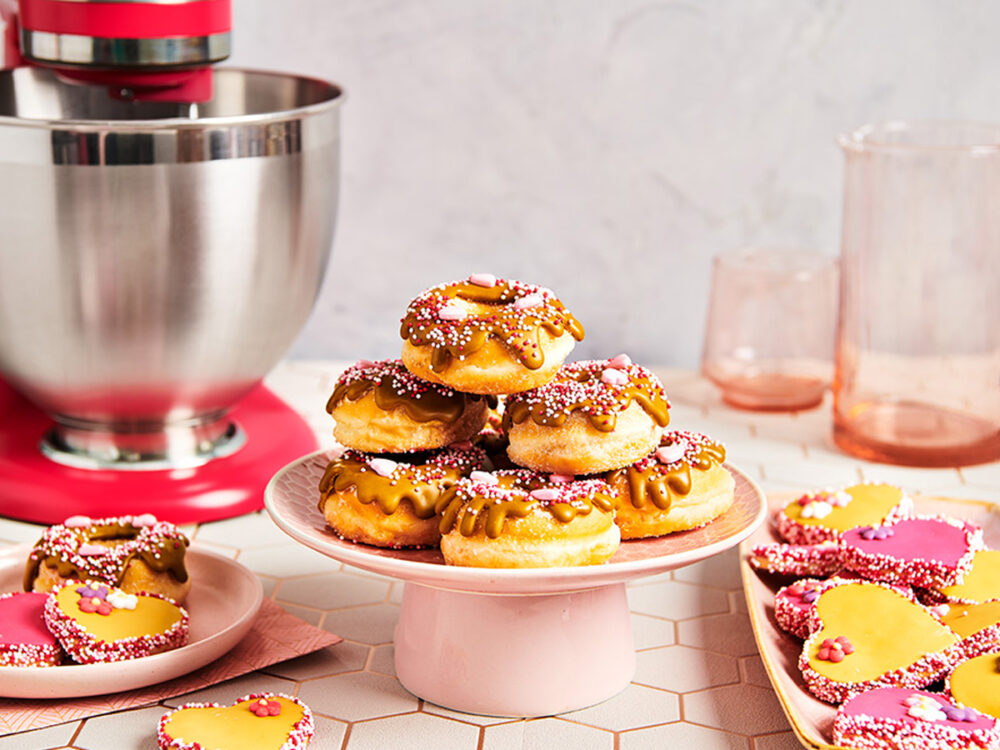 Honey Gold donuts
Who donut loves a glazed donut? The perfect home made donut with a honey gold glazing and some colourful sprinkles.
What you need to make your honey gold donuts:
Ingredients
500 g FunCakes Mix for Donuts
FunCakes Dip 'n Drip
FunCakes Food Colour Gel Honey Gold
FunCakes Nonpareils Lots of Love
FunCakes Sugar Hearts Pink
Fine sugar
215 ml water
55 g plant based oil
Necessities
FunCakes Decorating Bags
Wilton - Wide Glide - Rolling Pin
Patisse Donut & Bagel Cutter Ø9cm
Frying pan
Prepare 500 g FunCakes Mix for Donuts as indicated on the package. Roll it out to a thickness of about 5mm and cut out doughnut shapes. Place them on a plate lined with baking paper and place a clean tea towel over them. Let this rest for 25 minutes.
Fry the doughnuts in a deep fryer with vegetable oil heated to 180°C. Count about 90 seconds per side or until they look nice and light brown. After frying, place them in a bowl with fine granulated sugar and let them cool.
Put a few generous tablespoons of FunCakes Dip 'n Drip in a microwave-safe dish and heat for 10-20 seconds. Colour it with the FunCakes Food Colour Gel Honey Gold and put it in a decorating bag.
Cut a small tip off the decorating bag and glaze the donuts with it. Immediately sprinkle the nonpareils on top and decorate with the pink sugar hearts.
Just a little while before you can enjoy your donuts. Don't forget to share your creation:
#funcakesbyme