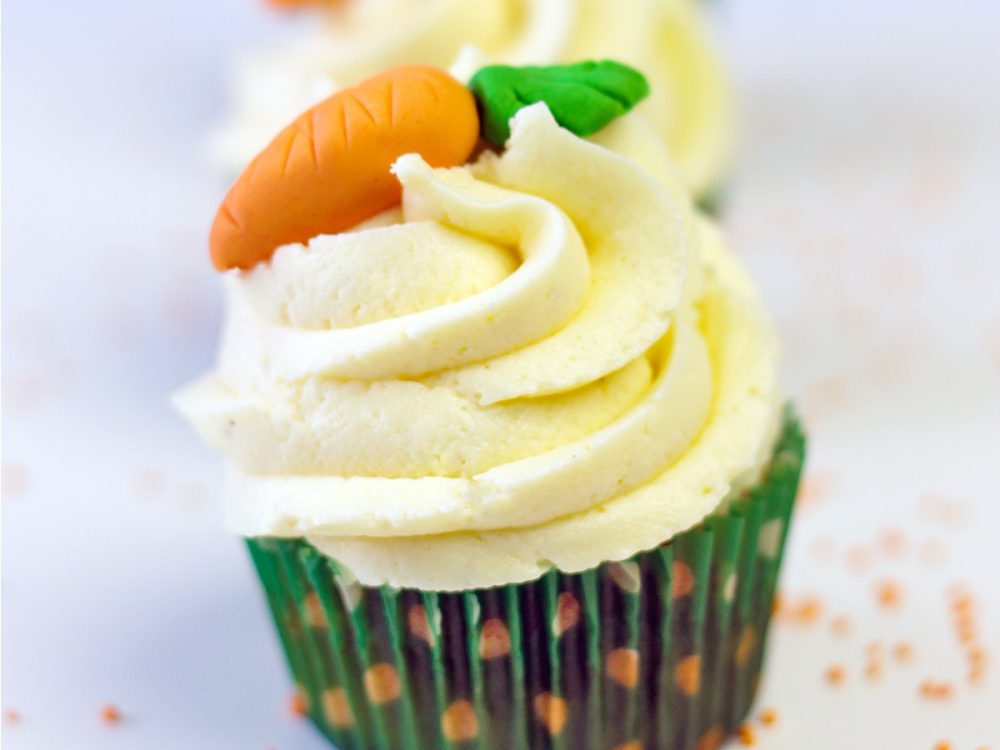 Carrot cake cupcakes with cream cheese
Carrot cake but in shape of a cupcake! Doesn't everyone want that? This classic with cream cheese topping is always a good idea and remains a favorite.
Ingredients
500 g FunCakes Mix for Carrot Cake
125 g FunCakes Mix for Buttercream
Little bit of FunCakes Fondant -Spring Green-
Little bit of FunCakes Fondant -Tiger Orange-
150 ml vegetable oil
150 g unsalted butter
200 g Mon Chou
150 g grated carrot
205 ml water
3 eggs (approx. 150 g)
Necessities
FunCakes Disposable Decorating Bags
Wilton Recipe Right® Muffin Pan
Wilton Decorating Tip #1M Open Star Carded
Wilton Chrome-Plated Cooling Grid
PME Baking Cups Polka Dots Green
Preheat the oven to 175°C (convection oven 160°C).
Prepare 500 grams of FunCakes Mix for Carrot Cake as indicated on the package. Place the baking cups in the muffin pan and divide the batter into the baking cups to half fill the cups. Bake the cakes for 25 minutes until golden yellow and take them out of the muffin pan. Let them cool down completely on the kitchen counter.
Prepare 125 grams of FunCakes Mix for Buttercream as described on the package and add 200 grams of Mon Chou. Place tip #1M in the decorating bag and fill the bag with the cream cheese topping.
Pipe a big swirl on the cupcakes and decorate these with a carrot made of fondant.
Tip! Use the FunCakes sugardecorations carrot as decoration.
Just a little while before you can enjoy your cupcakes. Don't forget to share your creation:
#funcakesbyme