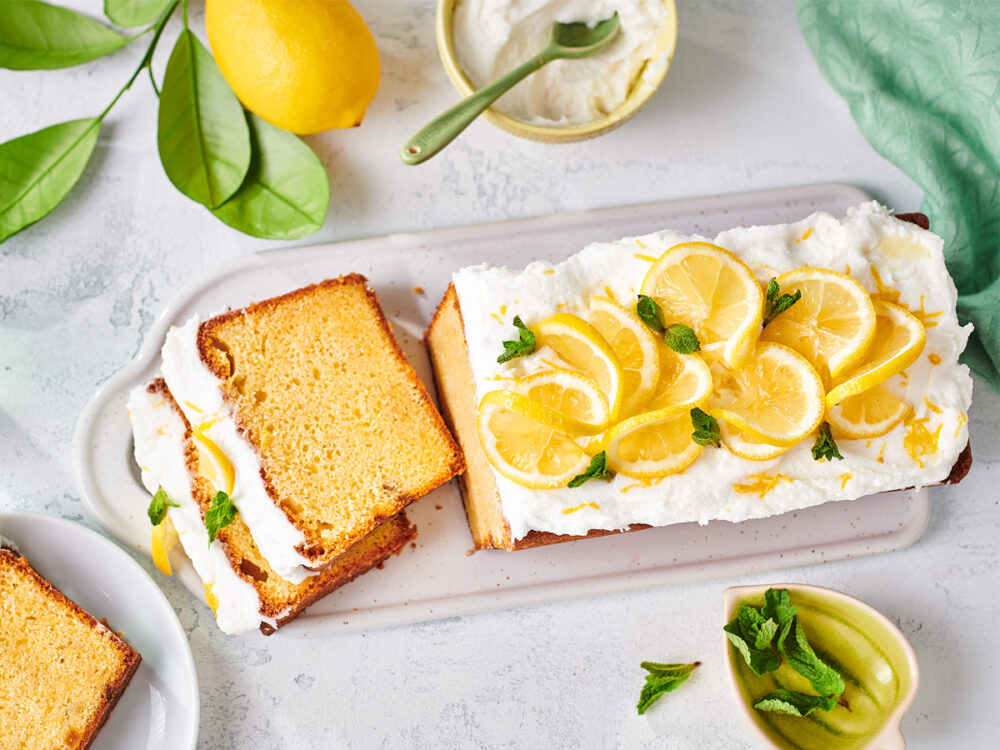 Limoncello cake with lemon cream
One bite of the Limoncello cake tastes like summer, sun, beach and a fresh limoncello cocktail. The baking mix contains pieces of fruit, crispy sugar pearls and a delicious, fresh lemon flavour. Add the delicious lemon cream and enjoy the fresh cake to the max!
What you need to make your limoncello cake with lemon cream:
Ingredients
400 g FunCakes Mix for Limoncello Cake
450 g FunCakes Icing Sugar
15 g FunCakes Meringue Powder
FunCakes Flavour Paste Lemon Zest
FunCakes Candied Lemon Zest
190 g Crisco
175 g unsalted butter
4 eggs (approx. 200g)
Lemon slices
Mint leaves
Necessities
FunCakes Bake Release Spray
Wilton Cooling Grid
Wilton Decorator Preferred Spatula Angled 22,5 cm
Patisse Adjustable Cake Mould Profi 20-35cm
Preheat the oven to 170°C (convection oven 150°C).
Prepare 400 g FunCakes Mix for Limoncello Cake according to instructions on the package. Grease the cake tin with baking spray and spoon the batter into it. Bake the cake for about 50-55 minutes and, after baking, place it on a cake rack to cool.
Place the 190 g crisco, 7-8 tablespoons of water and 1 tablespoon of FunCakes Lemon Zest Flavouring Paste in a mixing bowl and mix first on low speed and then on high speed to a smooth cream. Add at once the 450 g FunCakes Sugar Baking Powder and the 15 g FunCakes Meringue Powder and mix on low speed until a cream. Add additional flavour paste if required.
Spread a thick layer of lemon cream on the cake and decorate with lemon slices, lemon zest and some mint leaves.
Just a little while before you can enjoy your cake. Don't forget to share your creation:
#funcakesbyme