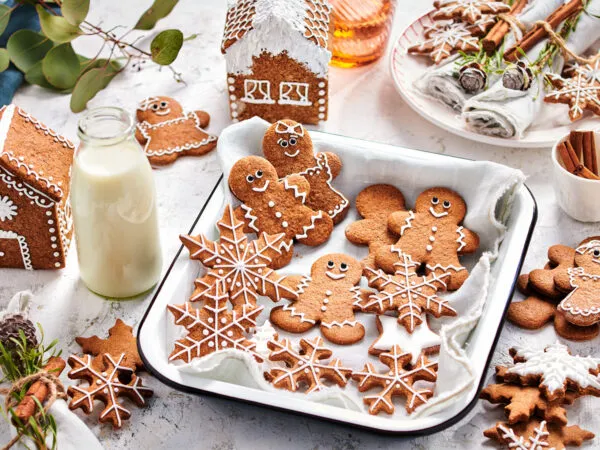 Gingerbread cookies
Baking Gingerbread Cookies together will immediately bring you into that lovely Christmas feeling. Adding some Christmas songs and warm candles and then that spicy scent of ginger cookies. It doesn't get any cozier! You can easily bake them by just adding water, eggs and butter. A beautiful drawing of white Royal Icing completes these cookies.
1 hour and 30 min. preparing
What you need to make your gingerbread cookies:
Ingredients
500 g FunCakes Mix for Gingerbread
450 g FunCakes Mix for Royal Icing
FunCakes Sugar Pearls 4mm Shiney Black 80g
FunCakes Magic Roll-out Powder
115 ml water
60 g unsalted butter
1 egg (approx. 50g)
Necessities
FunCakes Decorating Bags
Wilton Wide Glide Rolling Pin 50cm
Wilton 101 Cookie Cutter Set
Wilton Tip #003 Round
Wilton Standard Adapter/Coupler
Wilton Parchment Paper
Cookie Cutter Snowflake Ø6 cm
Cookie cutter Ice crystal set/5
Prepare 500 g FunCakes Mix for Gingerbread according to the instructions on the package, wrap in cling film and place in the fridge for at least an hour.
Preheat the oven to 180°C (convection oven 160°C).
Knead the dough from the refrigerator well and roll it out on a floured work surface to a thickness of 2-3 mm and cut out various shapes. Place them on the baking tray lined with parchment paper and bake the cookies for about 10-12 minutes and let them cool on the counter.
Prepare 450 g FunCakes Mix for Royal Icing according to the instructions on the package. Then dilute the icing with a little bit of water until it has become slightly smoother, it should have the thickness of chocolate paste.
Put the icing in a decorating bag with adapter and #003 and make drawings on the cookies according to your own idea and let them air dry. Use the black pearls as eyes for the dolls.
Just a little while before you can enjoy your cookies. Don't forget to share your creation:
#funcakesbyme