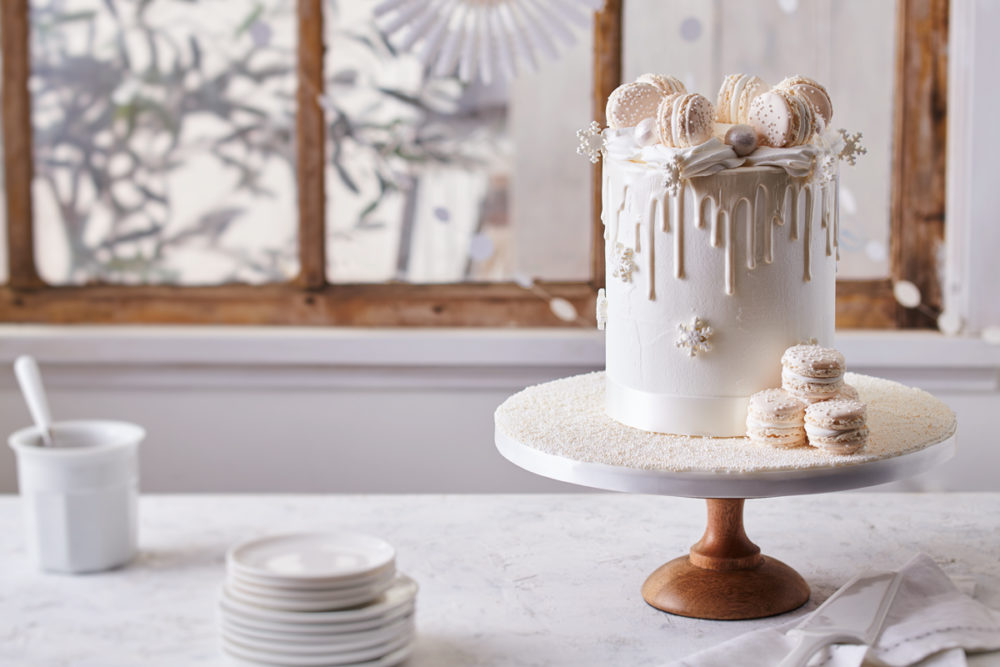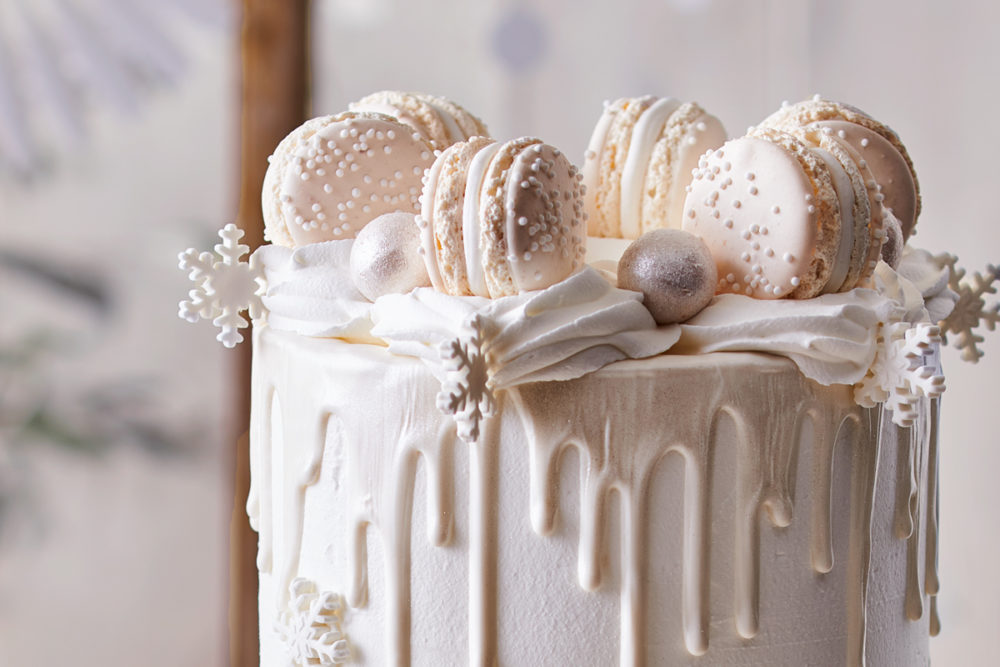 Complete White Cake
Less is more with this picture perfect. Let's get inspired to work completely with one colour.
1 hour and 30 min. preparing
What you need to make your complete white cake:
Ingredients
325 g FunCakes Mix for Buttercream
300 g FunCakes Mix for Macarons
250 g FunCakes Mix for Sponge Cake
125 g FunCakes Deco Melts -Extra White-
FunCakes Nonpareils -White-
FunCakes Nonpareils -Pearl White-
FunCakes Sugar Paste Decorations Ice Crystal Silver
FunCakes Pearl Choco Balls Silver Set/8
FunCakes FunColours Gel -White-
FunCakes Flavour Paste -Whipping Cream-
400 g unsalted butter
350 ml water
6 eggs (approx, 300 g)
Lemon curd
Necessities
FunCakes Decorating Bags
FunCakes Bake Release Spray
Wilton Cooling Grid
Wilton Cake Leveler
Wilton Decorator Preferred Spatula Angled
Wilton Decorating Tip #1M
Wilton Decorating Tip #1A
PME Side Scraper
PME Deep Round Baking Pan Ø 15 x 7,5cm
Silikomart Macaron Mat
Prepare 300 grams of FunCakes Mix for Macarons as indicated on the package. Lighten the mix a few shades with the white gel. Put decorating tip #1A in a piping bag, fill with the batter and pipe macarons on the macaron mat. Sprinkle them with a mixture of the white and pearl nonpareils. Allow to air dry for 2 hours.
Preheat the oven to 140°C (convection oven 130°C).
Bake the macarons in 15 minutes. Let them cool down before removing from the macaron mat.
Tip! If you have to many macarons shells you can put them in the freezer.
Preheat the oven to 175°C (convection oven 160°C).
Prepare 250 grams of FunCakes Mix for Sponge Cake as indicated on the package. Grease the baking pan using baking spray and divide the batter over the baking pans. Bake the biscuits in 30 – 35 minutes. Release the cakes on a cooling grid and let them cool down.
Prepare 325 grams of FunCakes Mix for Buttercream as indicated on the package and add whipping cream flavour paste to taste.
Cut the sponge cakes twice using a cake leveler and fill with buttercream and lemon curd. Ice the outside of the cakes with a thin layer of buttercream and a side scraper. Leave the cake in the fridge for one hour and apply another layer of buttercream on the outsides of the cakes.
Put decorating tip #1A in a decorating bag and fill with the buttercream. Fill the macarons with the buttercream and put decorating tip #1M in a decorating bag. Fill this bag with the remaining buttercream. Melt the deco melts as indicated on the package, put it in a decorating bag en cut of the tip. Let this drip from the top of the cake. Pipe swirls on top of the cakes and finish with a macaron. Between the swirles you put a chocolate ball and you can glue the stars with a bit of buttercream on the sides of the cake.
Just a little while before you can enjoy your cakes. Don't forget to share your creation:
#funcakesbyme