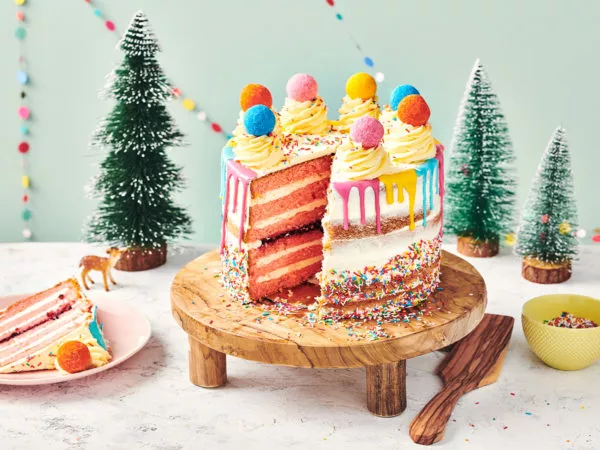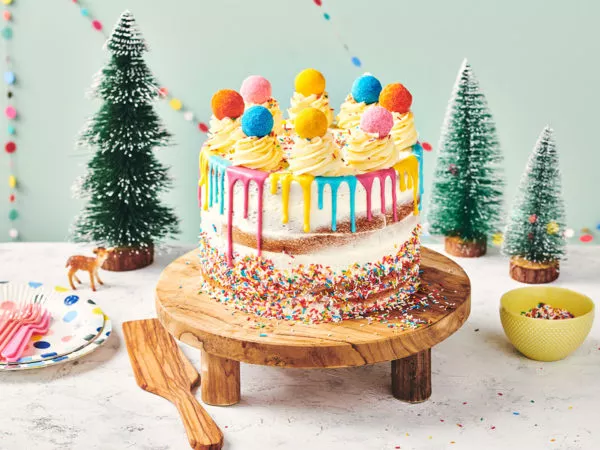 Happy drip cake
Let's go crazy! With this delicious, colourful and happy cake! Everyone will be happy after eating a piece of this cake.
What you need to make your happy drip cake:
Ingredients
500 g of FunCakes Mix for Biscuit Deluxe
400 g of FunCakes Mix for Buttercream
FunCakes Flavour Paste -White Choco-
FunCakes FunColours Gel -Pink-
FunCakes Deco Melts -Pink-
FunCakes Deco Melts -Light Blue-
FunCakes Deco Melts -Yellow-
FunCakes Sugar Strands -Colour Mix-
Jar of blueberry jam
Box of happy truffles
500 g soft unsalted butter
450 ml water
8 eggs (aprrox 375 g)
Necessities
FunCakes Bake Release Spray
FunCakes Decorating bags
Wilton Decorating Tip #1M
Wilton Turntable
Wilton Cooling Grid
Wilton Cake Leveler
Wilton Decorator Preferred Spatula Angled
2 PME Deep Round Cake Pan Ø 20
PME Long Plastic Scraper
3 Glass dishes
Preheat the oven to 160°C (convection oven 140°C).
Prepare 500 grams of FunCakes Mix for Sponge Cake Deluxe as indicated on the package. Grease the baking pans with baking spray. Colour the batter pink using the pink colouring gel. Divide the batter between the two baking pans and bake the biscuits in 30 – 35 minutes. After baking, place them on a cooling grid and let it cool down completely.
Prepare 400 grams of FunCakes Mix for Buttercream as indicated on the package. Add the white choco paste to taste. Slice both biscuits twice using the cake leveler, fill the layers with blueberry jam and buttercream of your choice and stack them on top of each other. Place the cake on a cake card and then on a turntable, coat the entire outside with buttercream and make it smooth with the side scraper. Attach the colored sugar strands by hand along the bottom edge of the cake. Let this set in the fridge for an hour.
Put the remaining butter cream in a piping bag with # 1M. Add three colors deco melts separately in three different dishes and melt it at max. 450W. Stir it occasionally. When it is almost melted, remove it from the microwave and stir the mixes by hand till it's smooth.
Scoop the mixtures in three different piping bags and cut off a small tip. Get the cake from the fridge and let the deco melts slide down the edge of the cake. Because the cake is cooled, it will immediately attach and solidify quickly.
Spray 8 high tufts on top of the cake with the buttercream and sprinkle with the colored sugar strands. Place a truffle into each tuft.
Just a little while before you can enjoy your cakes. Don't forget to share your creation:
#funcakesbyme