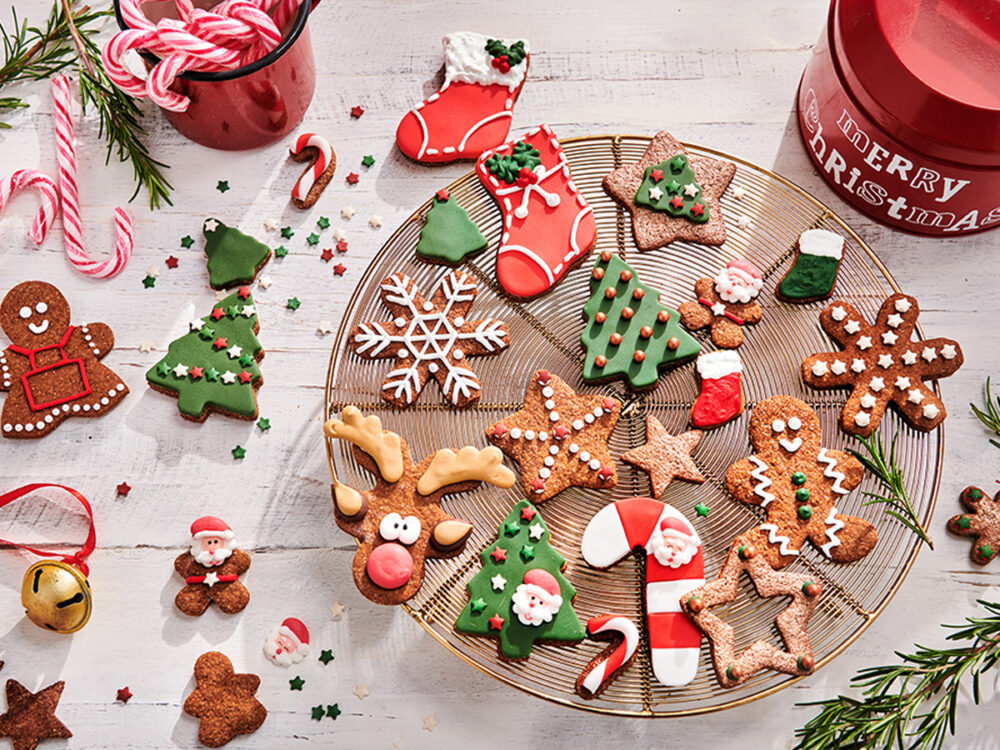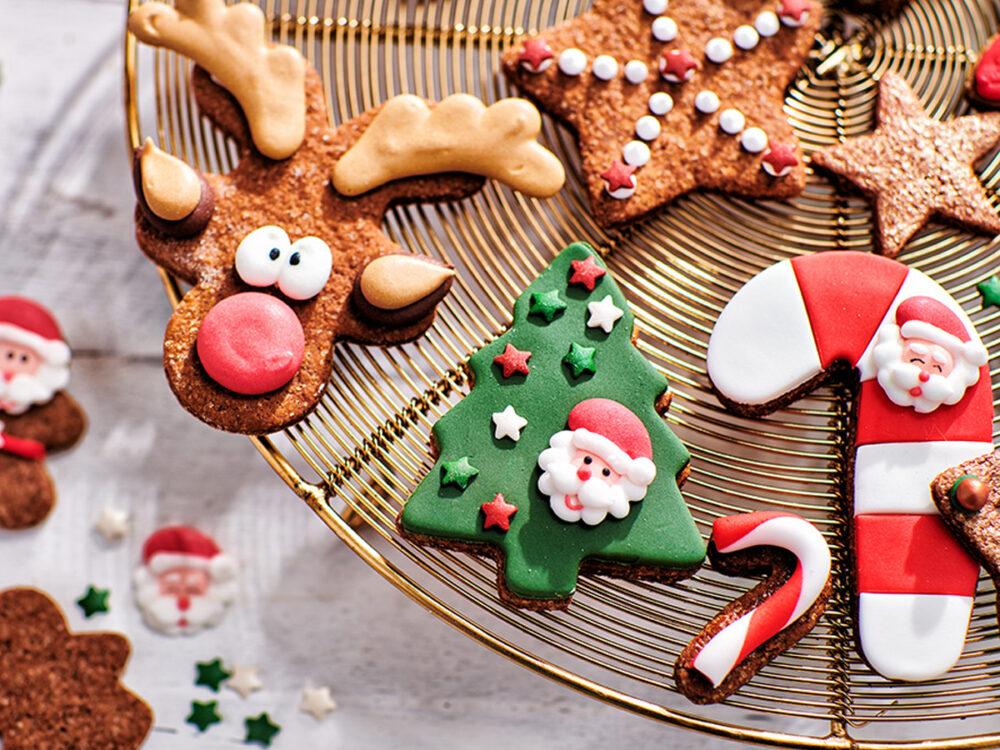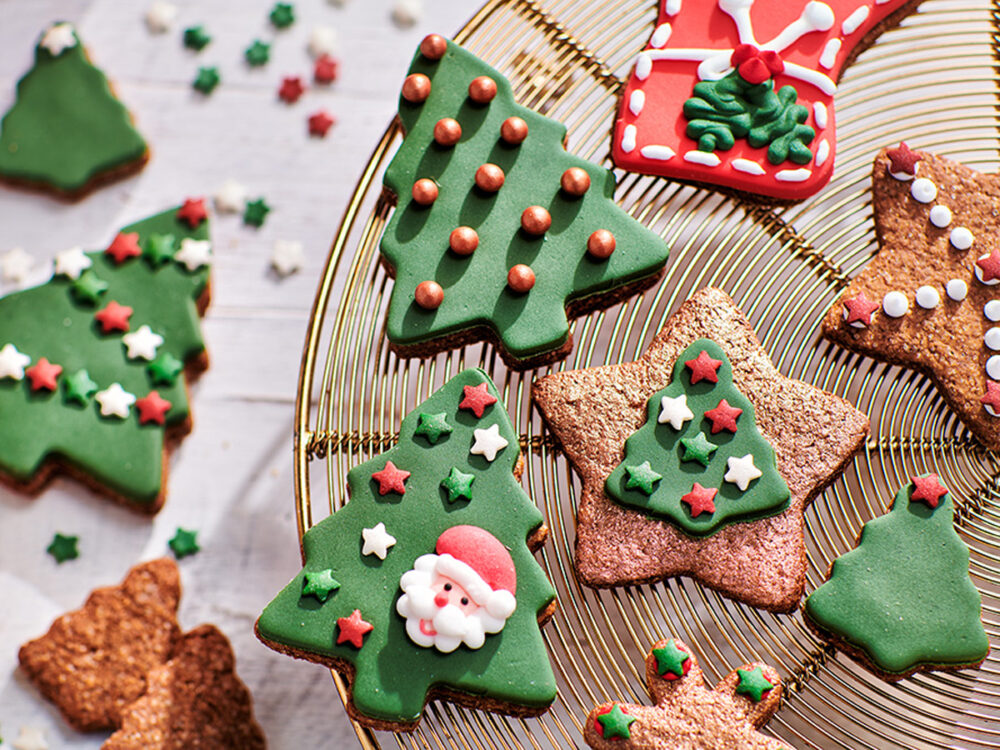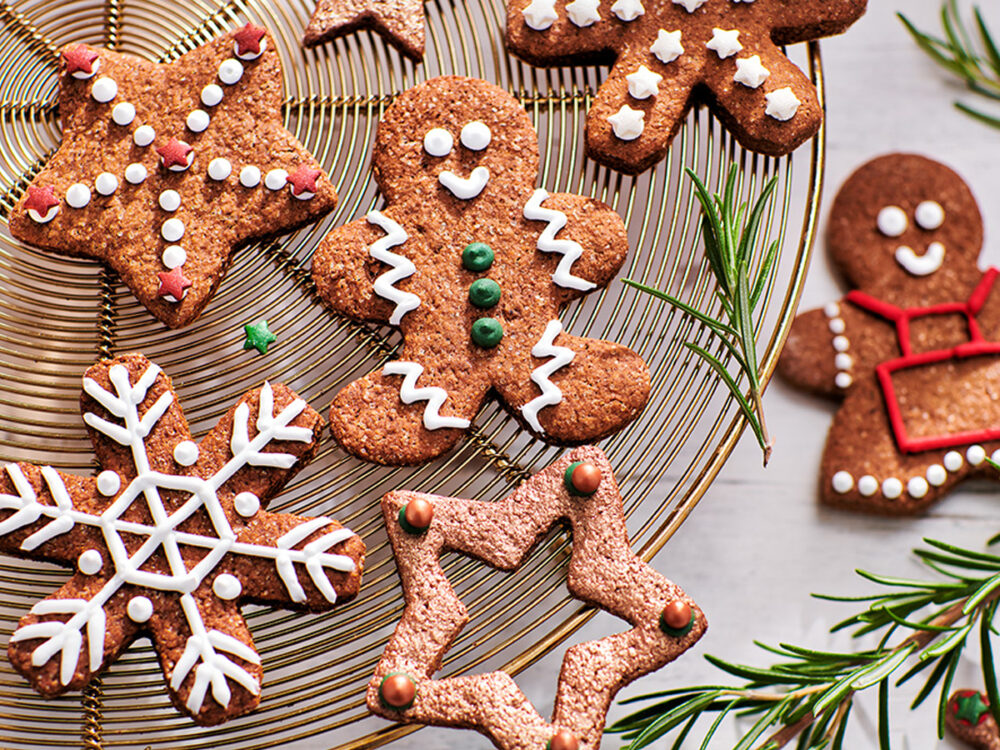 Christmas cookies
All you need for Christmas are these incredible delicious gingerbread cookies! Spread the holiday cheer with these cookies and Ho Ho Ho Merry Christmas! Don't forget to share the joy from these cookies with your friends and family.
What you need to make your christmas cookies:
Ingredients
500 g FunCakes Mix for Gingerbread
450 g FunCakes Mix for Royal Icing
250 g FunCakes Sugar Paste Forest Green
250 g FunCakes Sugar Paste Red
250 g FunCakes Sugar Paste White
FunCakes Food Colour Gel Holly Green
FunCakes Food Colour Gel Red
FunCakes Colour Dust Golden Ginger
FunCakes Sugar Decorations Santa Claus
FunCakes Sugar Decorations Rudolph
FunCakes Star Mix Red-Green-White
FunCakes Candy Choco Pearls Medium Gold
FunCakes Magic Roll-Out Powder
FunCakes Piping Gel 350g
115 ml water
60 g unsalted butter
1 egg (approx. 50g)
Necessities
FunCakes Decorating Bags
Wilton Wide Glide Rolling Pin 22,5cm
3x Wilton Tip #003 Round
3x Wilton Standard Adaptor/Coupler
Wilton Parchment Paper
Wilton Cookie Cutter Tub Christmas
Prepare 500 g FunCakes Mix for Gingerbread according to the instructions on the package, wrap in cling film and place it in the fridge for at least 1 hour.
Prepare 450 g FunCakes Mix for Royal Icing according to the instructions on the package. Dilute the royal icing with a tablespoon of water and let it stand under a wet tea towel to prevent it from drying out.
Preheat the oven to 180°C (convection oven 160°C).
Knead the dough from the refrigerator until smooth and roll it out to a thickness of about 2 mm on a work surface sprinkled with magic roll-out powder. Cut out various sizes of shapes. Place the cookies on a baking tray lined with parchment paper and bake them in a preheated oven for 10-12 minutes and let them cool on the counter.
Divide the royal icing into 3 portions and color two of them red and green with the food colour gels. Leave 1 part white. Place the three colors of royal icing in a decorating bag with adapter and tip #3. Decorate various cookies as you wish with royal icing and sprinkles.
Spread several cookies with a little piping gel and to cover the cookies with fondant, use the same cutter you used for the cookie. Decorate the cookies as you see fit with any royal icing, sugar decorations and sprinkles.
With the FunCakes Edible Glazing Powder Ginger Gold you can powder a number of cookies gold with a brush and, if necessary, continue working on them with royal icing.
Just a little while before you can enjoy your cookies. Don't forget to share your creation:
#funcakesbyme