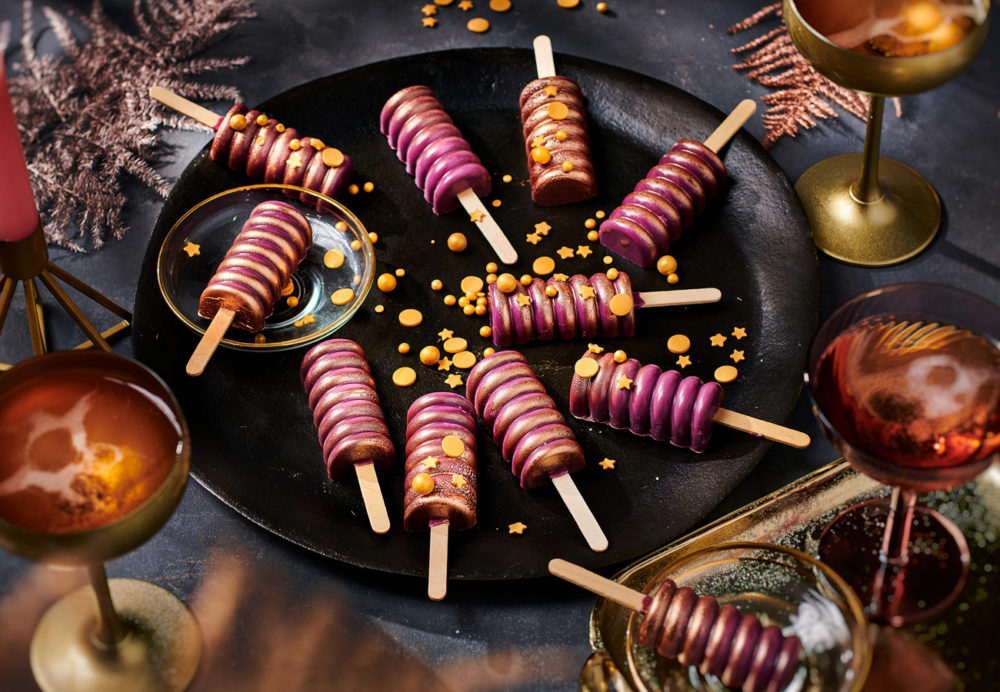 New Year's Eve cakesicles
While you pop that champagne, the kids get these lovely NYE cakesicles to celebrate the new year. Jealous? These cake popsicles go perfectly well with champagne.
1 hour and 45 min. preparing
What you need to make your new year's eve cakesicles:
Ingredients
400 g FunCakes Special Edition Mix for Limocello Cake
100 g FunCakes Chocolate Melts White
250 g FunCakes Deco Melts Purple
FunCakes Edible Metallic Spray Bronze
FunCakes Sprinkle Medley - Gold Deluxe
175 g unsalted butter
4 eggs (approx. 200 g)
Necessities
FunCakes Bake Release Spray
Wilton Recipe Right® Bakingpan 23,4 x 13,3cm
Wilton cooling grid
Patisse Wooden Brush
SIlikomart Ice Cream Mould mini tango
Preheat the oven to 170°C (convection oven 150°C).
Crumble half of the cake and knead some melted white melts through it until you get a nice dough ball. (You can freeze the other half of the cake for later use)
Melt the purple FunCakes Deco Melts as indicated on the packaging and lubricate the ice cream mold well with the help of the baking brush. Insert a popsicle stick. Leave to set in the refrigerator and repeat these 1 or 2 more times, but each time remove the ice cream stick that you put back in the mold after applying it. Cool every time in between.
Put a bit of the limoncello dough in the mold, press it slightly and make sure it does not protrude above the edge. Put the popsicle stick back in the mold and cover the top with melted FunCakes Deco Melts and spread it nice and smooth. Let this set in the refrigerator for 30 minutes and then carefully remove them from the mold. Spray with the metallic spray here and there some bronze on the ice creams and stick the medley on it with some melted Deco Melts.
Just a little while before you can enjoy your pops. Don't forget to share your creation:
#funcakesbyme