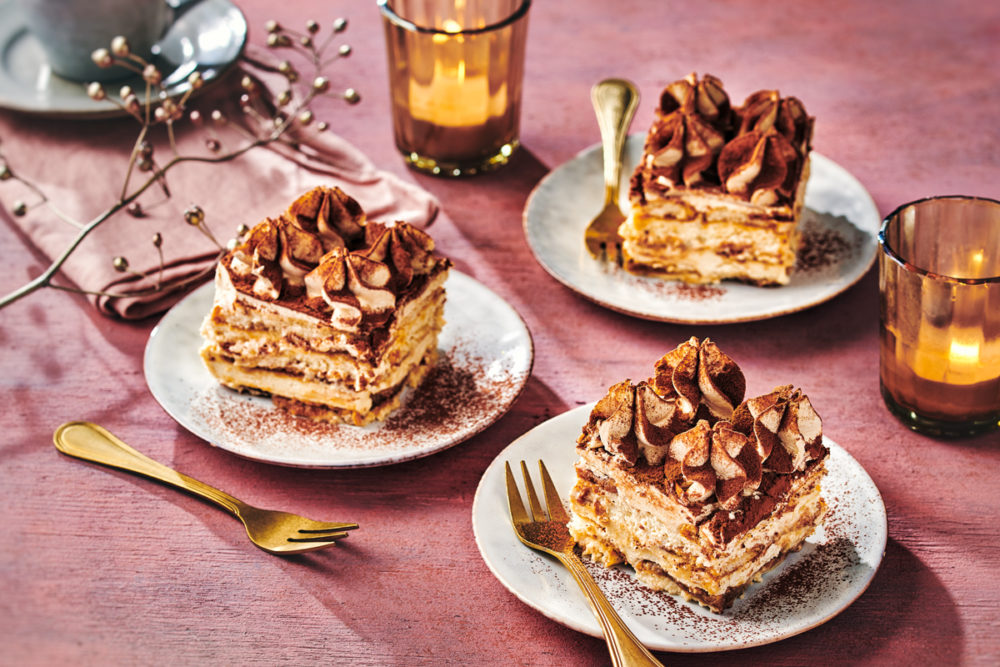 Italian tiramisu
Tiramisu is orginally an Italian dessert and had become a huge classic. With this recipe you can bake the most delicious dessert of all Italian desserts.
What you need to make your italian tiramisu:
Ingredients
200 g FunCakes Mix for Sponge Cake Deluxe
200 g FunCakes Mix for Buttercream
FunCakes Flavour Paste Tiramisu
2 tbsp FunCakes Icing Sugar
6 eggs (approx. 300 g)
220 ml water
250 g unsalted butter
500 g mascarpone
1 dl strong coffee or espresso
A little bit Cointreau
Fine sugar
Cacaopowder
Necessities
FunCakes Disposable Decorating Bags
Wilton square baking pan 20x20cm
Wilton Decorating Tip #1A Round
Wilton Decorating Tip #1M Open Star
Wilton Parchment Paper
Wilton Decorator Preferred Spatula Angled
Small bowl
Preheat the oven to 150°C (convection oven 130°C).
Prepare 200 grams of FunCakes Mix for Sponge Cake Deluxe as indicated on the package. Put the tip in the decorating bag and fill it with the sponge cake batter. Pipe stripes of approximaterly 10 cm on a baking tray covered with parchment paper and sprinkled with fine sugar. Keep enough distance between the lady fingers because it runs slightly. Bake the lady fingers in the middle of the preheated oven for 10 minutes and let them cool down using a cooling grid.
Put 1 dl coffee with a little bit of Cointreau in a bowl and let it cool down.
Mix two egg yolks with 2 tablespoons of icing sugar until it has obtained a cream colour. Whisk 500 grams of mascarpone through the mixture until it's lump-free. If desired you can add two tablesppons of coffee with Cointreau.
Beat 2 egg whites and spatula through the mascarpone mixture. Put it in the fridge until use.
Cover the bottom of the baking pan with two strips of parchment paper with the ends hanging over the edge.
Spead a layer of mascarpone cream on the bottom. Dip the lady vingers in the coffee and place them on top of the mascarpone cream. Apply a layer of tiramisu buttercream on top of the lady fingers and add another layer of lady finger dipped in coffee, which you cover with a layer of mascarpone. Add another layer of dipped lady finger and tiramisu buttercream.
Put tip #1M in the decorating bag and pipe little tufts across the whole tiramisu.
Let the tiramisu set in the fridge for at least two hours, but preferably overnight so that the flavours can absorb well and decorate the tiramisu by sprinkling cacoapowder on top just before serving.
Just a little while before you can enjoy your desserts. Don't forget to share your creation:
#funcakesbyme