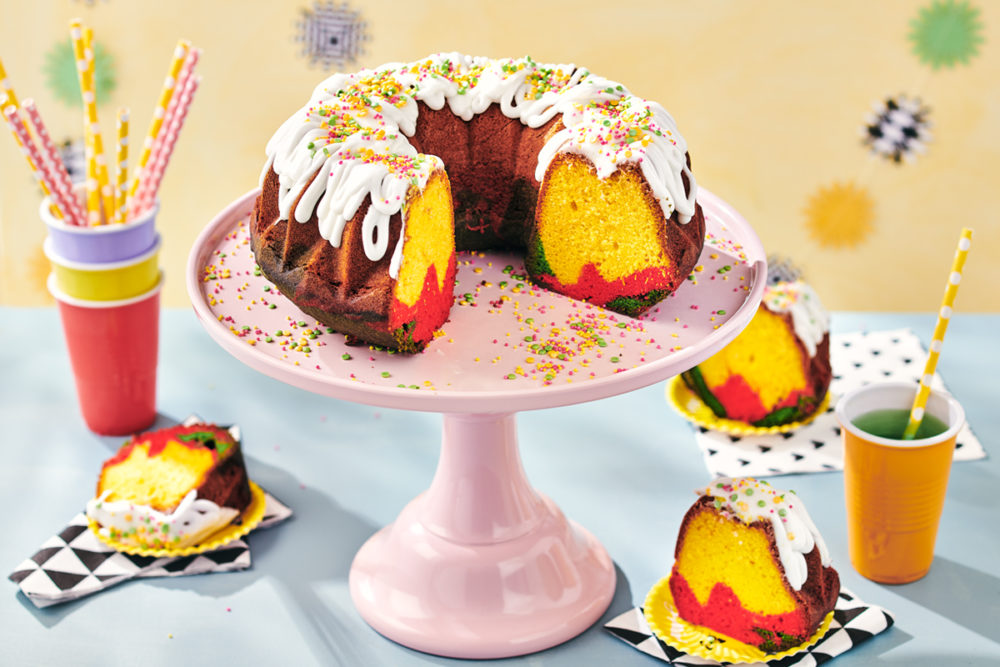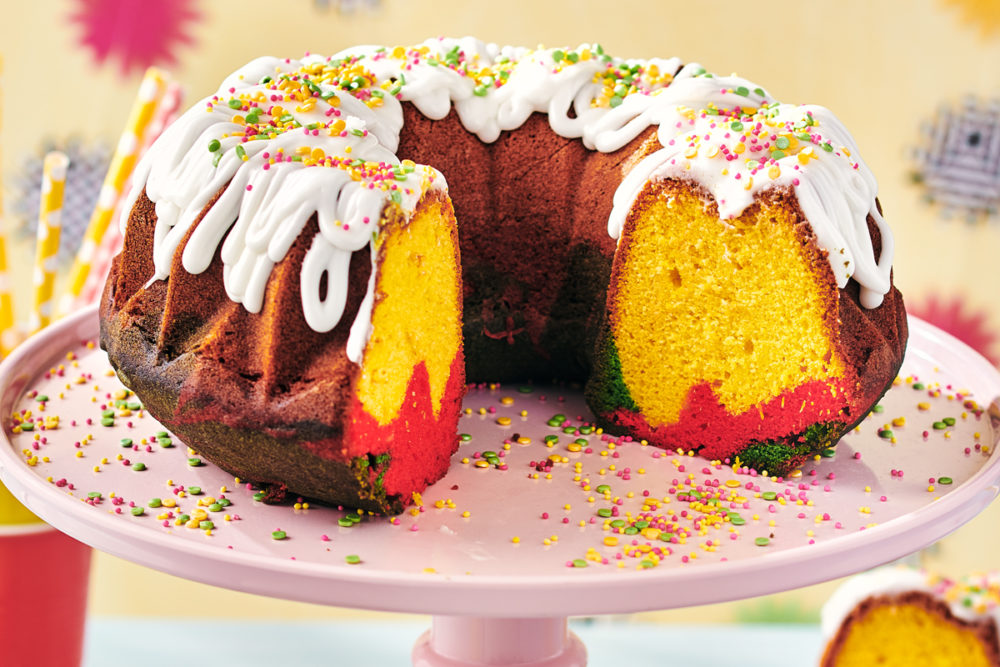 Surinam coloured cake
The Surinam coloured cake, or phagwa cake, is a very cheerful cake with so much colour that it makes you spontaneously cheerful and especially when you taste this deliciousness.
1 hour and 10 min. cooking
What you need to make your surinam coloured cake:
Ingredients
500 g FunCakes Mix for Cupcakes
FunCakes Edible FunColours Gel Yellow
FunCakes Edible FunColours Gel Red
FunCakes Edible FunColours Gel Holly Green
FunCakes Dip 'n Drip White
FunCakes Nonpareils Red
FunCakes Nonpareils Green
FunCakes Nonpareils Yellow
250 g unsalted butter
5 eggs (approx. 250 g)
Necessities
FunCakes Bake Release Spray
FunCakes Dispoable Decoratingbags
Wilton Chrome-Plated Cooling Grid
Patisse Silver-Top Bundt Pan
3 bowls
Preheat the oven to 180°C (convection oven 150°C).
Prepare 500 grams of FunCakes Mix for Cupcakes as indicated on the package. Grease the turban using the bake release spray. Fill two small bowls each with 3 tablespoons of batter. Colour one portion using red food colouring, one portion using green food colouring and colour the remaining batter yellow. Start by filling the baking pan with a thin layer of yellow batter, secondly a layer of green batter and after that a layer of red batter. Finish with the remaining yellow batter. Bake the turban in the middle of the oven for approx. 60 – 70 minutes until goldan and release the cake on a cooling grid.
Put three tablesppons of Dip 'n Drip in a bowl and heat it for 10 seconds at 700 Watts. Fil a piping bag with the Dip 'n Drip and cut of the tip. Divide the Dip 'n Drip in a zigzag movement across the turban and sprinkle with mixed nonpareils.
Just a little while before you can enjoy your cake. Don't forget to share your creation:
#funcakesbyme