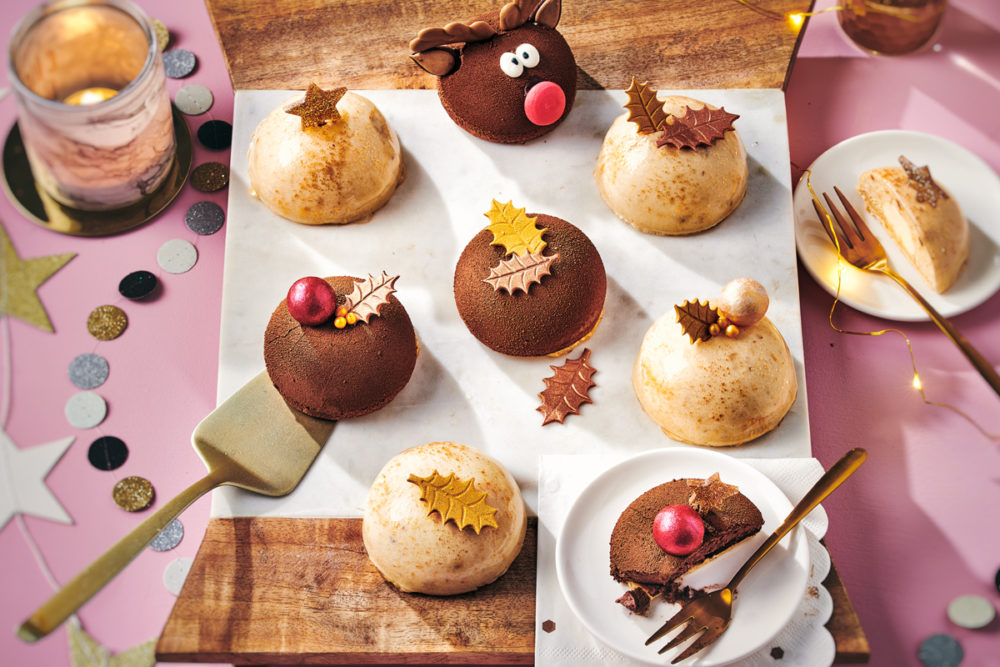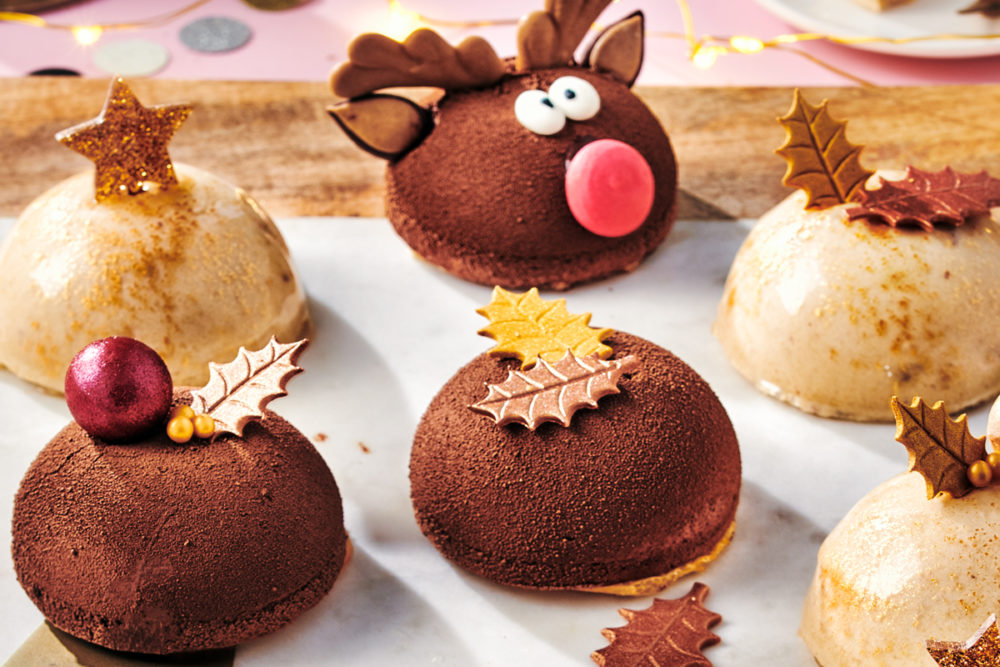 Christmas chocolate dome cakes
Tastes differ so why not serve two types of these festive dome cakes as your Christmas dessert? Everyone will leave a little appetite… Enjoy!
What you need to make your christmas chocolate dome cakes:
Ingredients
50 g FunCakes Mix for Bavarois -Choco-
FunCakes FunColours Velvet Spray -Milk Choco-
FunCakes Sugar Decoration Rudolph
FunCakes Pearl Choco Balls Ruby
250 ml whipped cream
Jar of raspberry jam
170 g grinded cookies of your choice
60 g unsalted butter
60 ml of water
Necessities
FunCakes decorating bag
Wilton cooling grid
Silikomart Semisfera Mould Ø 7 cm
Silikomart Semisfera Mould Ø 3 cm
Round cutter Ø 6 cm
Parchment paper
Stir the jar of jam well and fill the 3 cm mold with jam. Put this in the freezer.
Prepare 50 g of FunCakes Mix for Bavarois as indicated on the package. Put this in a decorating bag and fill the 7 cm mould with this. Please note! Do not fill them completely. Now take the half frozen jam balls out of the freezer and push them into the middle of the bavarois. Return to the freezer overnight.
Put the cookie crumbs together with the melted butter in a bowl and mix well. Spread this on a piece of parchment paper to a thickness of approximately 3 mm. Push the round cutter six times into the cookie crumb plate and place it in the freezer.
Place the Velvet Spray in a bowl with warm water for a while. Remove the cookie crumb plate from the freezer and carefully get the circles out. Place the cookie bases on the cooling grid and carefully place a bavarois pastry on top of it. Now spray the completely with the velvet spray. Let them defrost in the refrigerator. After defrosting, put the Rudolph decoration in the pastries or decorate with the ruby ​​chocolate balls.
Just a little while before you can enjoy your pastries. Don't forget to share your creation:
#funcakesbyme