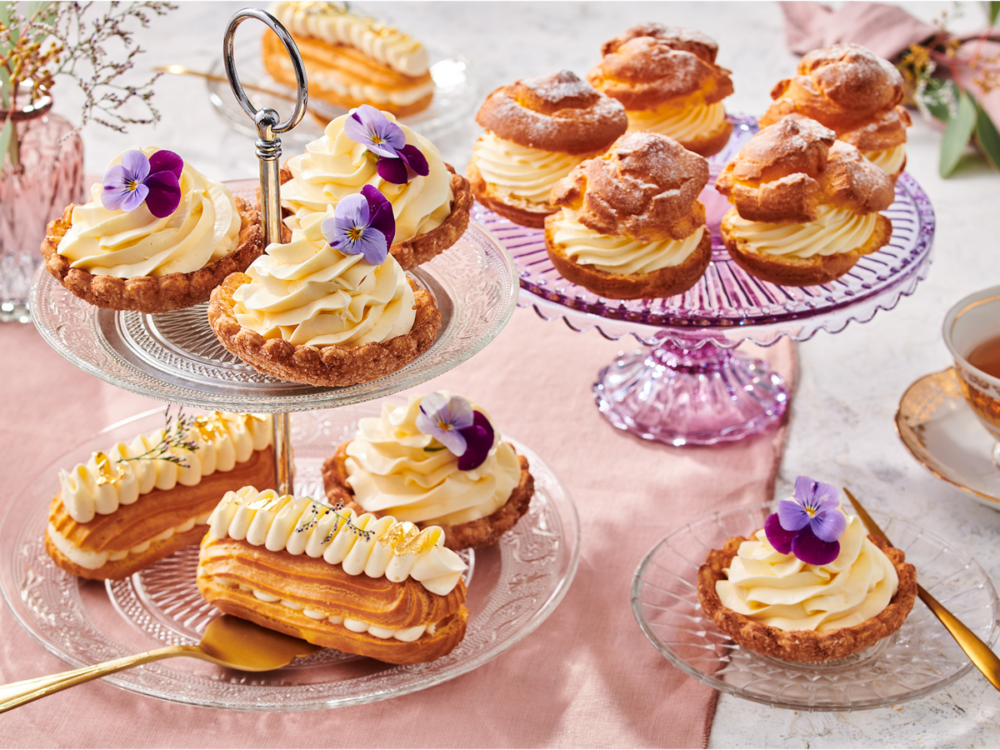 Eclairs with Swiss Cream
A delicious pastry can of course not be missing from anything! Get to work and bake these delicious eclairs filled with the FunCakes Swiss Cream. The Swiss Cream has a delicious fluffy texture with a full flavour. Besides the eclairs, this cream is also perfect for puff pastries and mini tartelettes.
What you need to make your eclairs with swiss cream:
Ingredients
250 g FunCakes Mix for Swiss Cream
625 ml water
90 g flour
75 g milk
75 g unsalted butter
4 g sugar
3 eggs (approx. 150 g)
Salt
Edible Flowers
Necessities
FunCakes Decorating Bags
Wilton Tip #104 Petal
Wilton Tip #4B Open Star
Wilton Tip #012 Round
Wilton Parchment Paper
Heat 75 g milk, 75 g water, 75 g butter, 4 g sugar and a pinch of salt in a pan and let it boil. Remove the pan from the heat and add the 90 g flour and stir into a ball.
Put the pan back on the heat and let the flour cook while stirring, this will take about 5 minutes. Remove the dough ball from the pan and put it in a mixing bowl with butterfly. Let this wash out while turning on the middle position. Add the eggs 1 by 1 while mixing. Do not add the next egg until the previous one is completely incorporated. Mix this for about 10 minutes on the middle setting until nice and smooth. Cover the bowl with plastic wrap and place in the refrigerator.
Put the dough from the refrigerator into a decorating bag with tip #4B and on a baking sheet lined with parchment paper, spray strips about 10 inches long. Spray vigorously so you get nice thick stripes, this will give your eclairs "body". Bake the eclairs for 40-45 minutes. They should double in volume while baking. Let them cool down on the counter. With a sharp serrated knife, cut them in half lengthwise.
Prepare 250 g FunCakes Mix for Swiss Cream according to the instructions on the package and put it in a decorating bag with #012. Fill the eclairs with the Swiss Cream using a zigzag motion. What is left of this cream you then put in a decorating bag with tip #104. Spray with a small zigzag movement and a swirl on top of the eclair (thick side of the nozzle under). Decorate with some edible flowers.
Tip: This cream is also delicious in puffs and mini tartelettes.
Just a little while before you can enjoy your pastries. Don't forget to share your creation:
#funcakesbyme