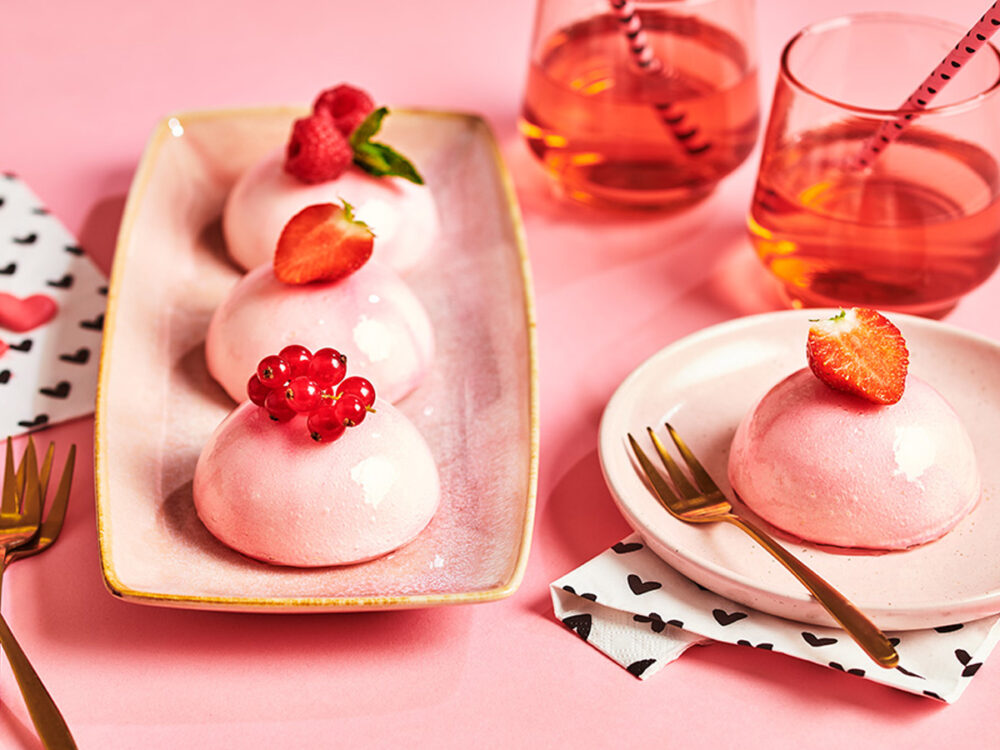 Valentine's Day mirror glaze pastries
These little Valentine pastries have a mirror glaze effect and reflect your love. It's therefore the perfect pastry for Valentine's Day. Who is your epic love?
What you need to make your valentine's day mirror glaze pastries:
Ingredients
330 g FunCakes Mix for Red Velvet Cake
50 g of FunCakes Mix for Bavarois -Strawberry-
FunCakes Mirror Glaze
FunColours Gel - Red
FunCakes Sugar Decorations Roses with Leafs
250 ml whipped cream
190 ml water
55 g vegetable oil
2 eggs (approx. 100 g)
Necessities
FunCakes Bake Release Spray
FunCakes Decorating Bags
Silikomart Semisfera Mold Ø 7 cm
Wilton Performance Pan Round Pan Ø 20 cm x 5 cm
Wilton Cooling Grid
Wilton Cake Leveler
Cookie cutter ring Ø6.5 cm
Measuring cup
Sharp knife
Preheat the oven to 180°C (convection oven 160°C).
Prepare 330 grams of FunCakes Mix for Red Velvet Cake as indicated on the package. Grease the baking pan and fill the baking pan with batter. Bake the cake in the middle of the preheated oven in approx. 30 minutes. After baking, let the cake cool down using a cooling grid.
Cut off the top of the cake using a cake leveler and cut 6 rounds out of the bottom with the cookie cutter.
Tip! You won't use the rest of the cake for this recipe, but you can use the leftovers to make cake pops.
Prepare 50 grams of FunCakes Mix for Bavarois -Strawberry- as indicated on the package and divide this into the silicone mold. Place a cake in each bavarois pastry and leave it overnight in the freezer.
Heat the mirror glaze in the microwave for 10 seconds and pour into a measuring cup, colour it slightly red but do not stir completely to create a marble effect. Take the bavarois pastries out of the freezer, put them on the cake rack and pour the mirror glaze over them. Leave the cakes on the rack until they are completely drained and then put them in the refrigerator.
Decorate with a sugar rose just before serving.
Just a little while before you can enjoy your pastries. Don't forget to share your creation:
#funcakesbyme