Style your own Festival Wedding
You're getting married, congratulations! Now the real planning can begin! After you have chosen a date together, and maybe you already have an eye on a location, it's time to start thinking about the styling of your wedding. Of course we can tell you what you can best put on our sweet table, but for the styling advice we have called in the help of Thera from Brisked Styled Weddings. Wondering how you can style your own Festival Wedding? We have put the best tips for you in a row.
The festival style is very popular among many couples, and we totally understand that! This style is a lot more casual and informal than a more formal romantic style. Both are beautiful, but if you like a more casual atmosphere, then the festival wedding style is for you!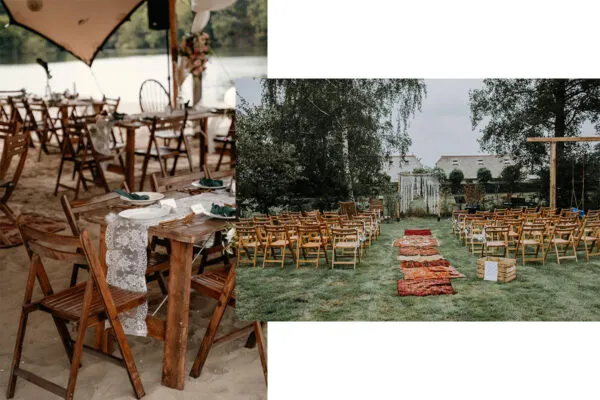 Tip 1: Use the right materials
A festival wedding should include al lot of wooden materials, as wood gives a relaxed atmosphere. Think wooden folding chairs for the ceremony and a long wooden table for dinner. You could spice things up a bit by hanging a small bunch of eucalyptus on the chairs at the ceremony. A small detail, but a festive effect.
At a ceremony, people often choose a white runner, but this does not go well with a festival style. What you can do is make a runner out of Persian carperts. This creates a casual look that is often seen at festival weddings. But don't forget a backdrop. You can decorate it with a draped cloth or a macramé curtain.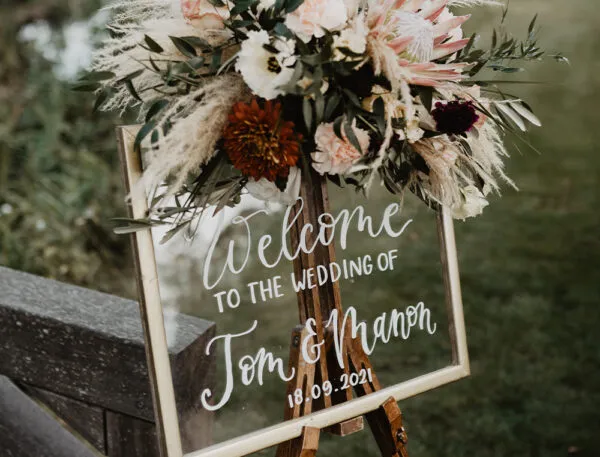 Tip 2: make it personal with personal touches
What is it that really suits you as a couple? If you know that, then you can apply it to different elements. Do you love plants? Then give away mini plants as a thank-you gift. Do you like delicious cakes? Then give a box of home-baked biscuits or a baking mix from FunCakes, for example. But you can also make it personal by personalising welcome plates or envelope boxes with you names and wedding date.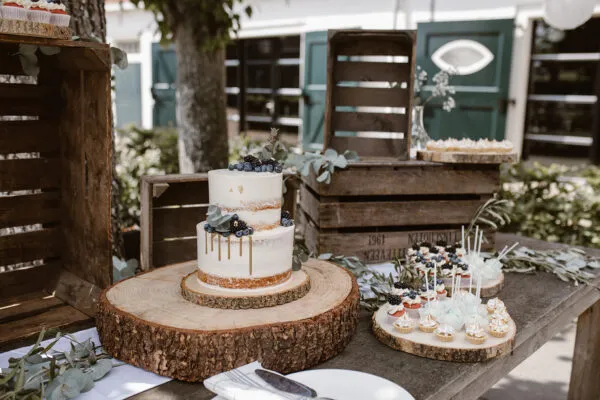 Tip 3: Go for different cakes and treats
Thera often sees serval cakes and smaller treats at weddings with a festival style. That way they are easy to take with you and can even be eaten standing up. The sweet table is then decorated using, for example, several cake stands made of tree trunks. Dress the rest of the table with wooden boxes and some eucalyptus bushes.
For the treats, you can think of a cake surrounded by smaller treats such as cupcakes, donuts, dipped apples, macarons, waffles, mini pastries with bavarois, chocolates and brownies.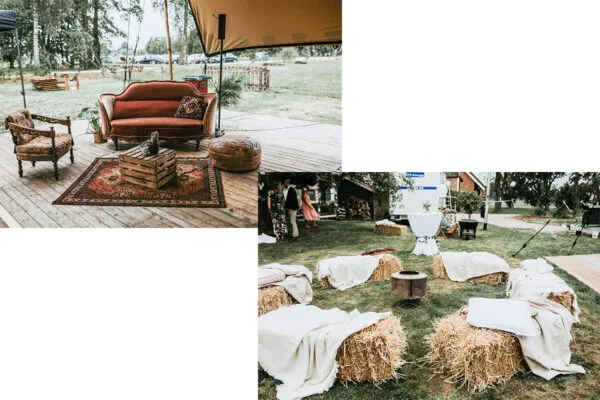 Tip 4: Create different seats
If you do not want to use the dinner tables all the time during the day for guests to sit at, it is also an idea to create several seating areas. By using high an low furniture, you create a playful and nonchalant look. And this way, you immediately have a place for your guests to rest.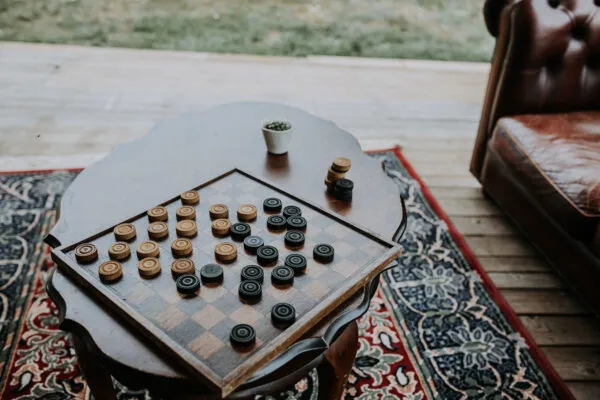 Tip 5: Create a games corner
Games may not be the first thing that comes to mind when you think of a wedding. But they do fit in very well with the festival atmosphere you want to create. Think of games like shuffleboard or can throwing. Also fun are Jenga XL or Four in a Row XL. These will keep both children and adults amused.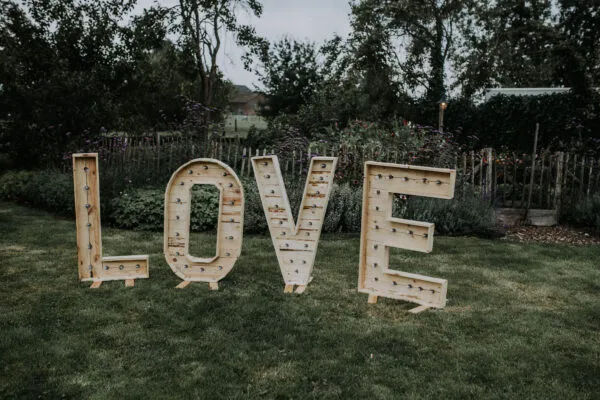 Tip 6: A light board and lights
Light garlands are totally in the style of a festival. But what about large light letters? Sometimes whole words are spelled out, but it is also fun to use only initials of the wedding couple. Especially in the evening this gives a very nice atmosphere.
One of the most important things when decorating a wedding is the details and accessories. It's often the first thing to be left out if the budget does not allow it, but can still comlete the picture. So don't forget the flower arrangements on the backdrop, the chairs and the tables. But also think about accessories on the tables such as candlesticks or tea lights, the colours of the dinner candles or napkins.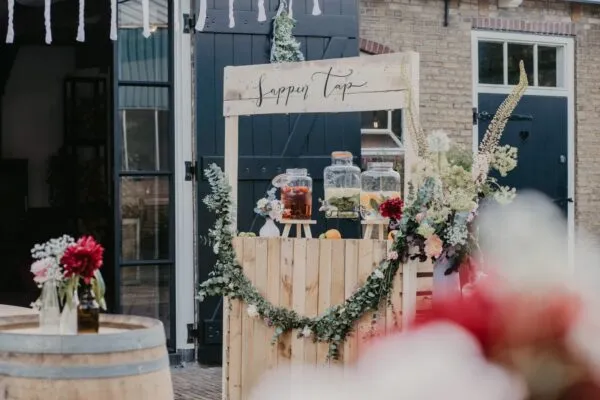 DIY to the max
Tip 8: Do some DIY!
If you are a bit handy with a sewing machine, you can make a nice garland from different fabrics. Do you have a beautifyl handwriting? Then make your own welcome board form wood or with a nice chalkboard. You can also easily make your own name badges for the dinner party and bring along the teapots and vases you have at home.
Thera also gave the tip to make your own leaf confetti. All you need are leaves and a hole punch. It is a bit of work, but it gives a really nice effect. Put them in nice paper bags and you have sprinkles that also make nature happy!
This article was created in collaboration with Brisked Styled Weddings.