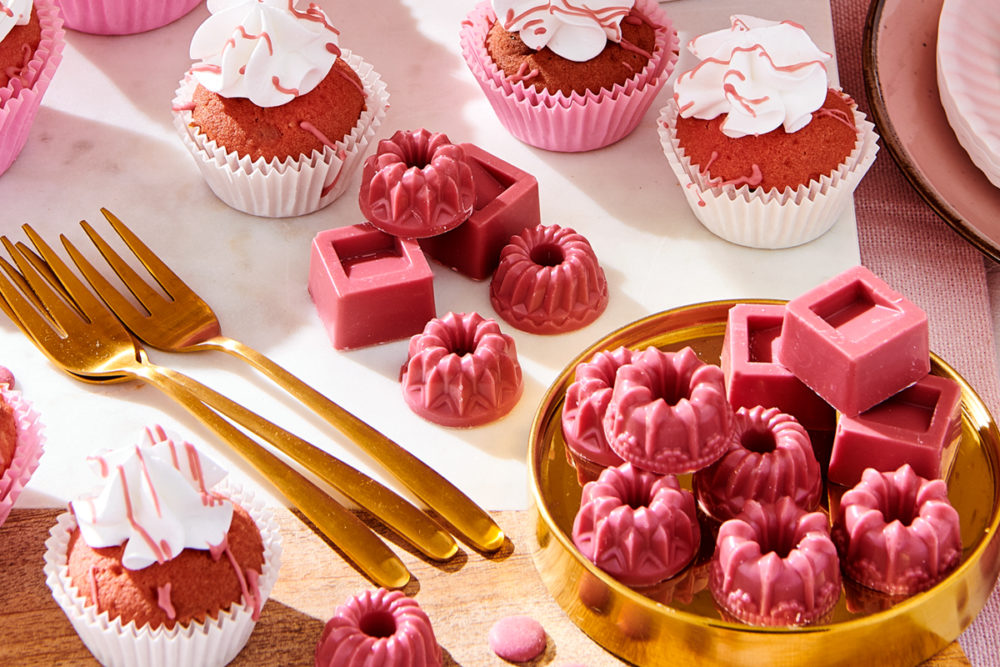 Ruby chocolates
This recipe for ruby chocolates is to die for. The pink red colour will seduce you and the intense fruity taste of berries will overwhelm your taste buds.
1 hour and 30 min. preparing
What you need to make your ruby chocolates:
Ingredients
400 g FunCakes Chocolate Melts Ruby
Necessities
FunCakes Decorating Bags
Silikomart Chocolate Mold Cubo
Silikomart Chocolate Mold Fantasia
Silikomart Thermometer for Chocolate
PME Chocolate Melting Pot (optional)
Melt 320 grams of Ruby melts in the chocolate melter at 45 degrees. When it is completely melted add the remaining 80 grams and bring the temperature on the melter back to 29 degrees. Let the melts melt away in the warm chocolate and let it cool down to 29 degrees before you use it. This listens very closely. Use the chocolate thermometer for this.
Tip! If you do not have a chocolate melter, you can melt 320 grams of chocolate au bain-marie. When it is almost melted, remove the pan from the stove. Stir until the visible pieces in the warm chocolate are dissolved. Then add the remaining 80 grams ruby and stir the melts into the warm chocolate. Allow it to cool to 29 degrees with occasional stirring. This listens very close! Use the chocolate thermometer for this. Then proceed as described above.
If the chocolate has the right temperature (29 degrees), put it in a piping bag. Cut off a small tip of the piping bag and fill the molds with the liquid chocolate. Shake the molds gently a bit to allow the air bubbles to disappear. Put this in the refrigerator until the chocolate is hard and press them out of the mold. Store at room temperature.
Just a little while before you can enjoy your chocolate. Don't forget to share your creation:
#funcakesbyme