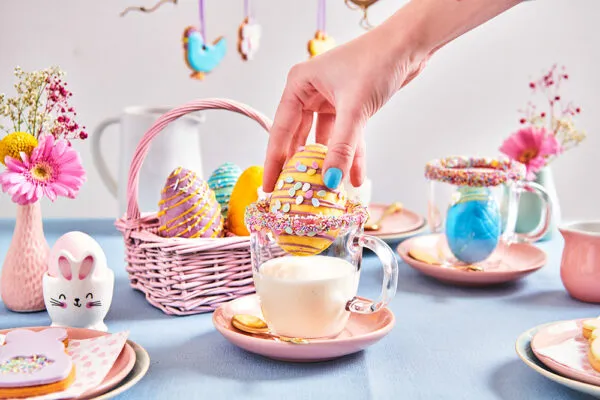 Easter choco bombs
Easter and chocolate is the perfect combination! So why not make an Easter choco bomb? A nice and different treat than usual, but as tasty as all the others.
What you need to make your easter choco bombs:
Ingredients
FunCakes Deco Melts - Yellow
FunCakes Deco Melts - Green
FunCakes Deco Melts - White
FunCakes Deco Melts - Purple
FunCakes Deco Melts - Light Blue
FunCakes Deco Melts - Orange
FunCakes Nonpareils Pastel
FunCakes Sugar Strands Pastel
FunCakes Pastel Egg Mix
FunCakes Micro Marshmallows
FunCakes Sugar Decorations Flower Mix Pink Set/24
Nesquick
Necessities
FunCakes Decorating Bags 30 cm
Cake Star Chocolate Template Easter Egg Small Set/2 (multiple)
Melt the FunCakes Deco Melts as directed on the package. To get pastel colours mix with the colors with the white Deco Melts.
Using a teaspoon, spread a layer of melts in the half eggs and let it set in the refrigerator. Repeat 2-3 times depending on how thick the eggs are.
Carefully remove the eggs from the mold. Put the remaining melted melts into decorating bags and zigzag it over the half eggs. Immediately sprinkle the decoration on top.
Heat a pan with a small layer of water and put a plate on it. Take one half of an egg and on the hot plate smooth the edges. Fill with a generous tablespoon of Nesquick powder and FunCakes Micro Marshmallows. Now take the other half of the egg and smooth the edges on the plate. Stick this immediately on top of the filled half of the egg. Repeat with all the eggs.
Just a little while before you can enjoy your chocolate. Don't forget to share your creation:
#funcakesbyme