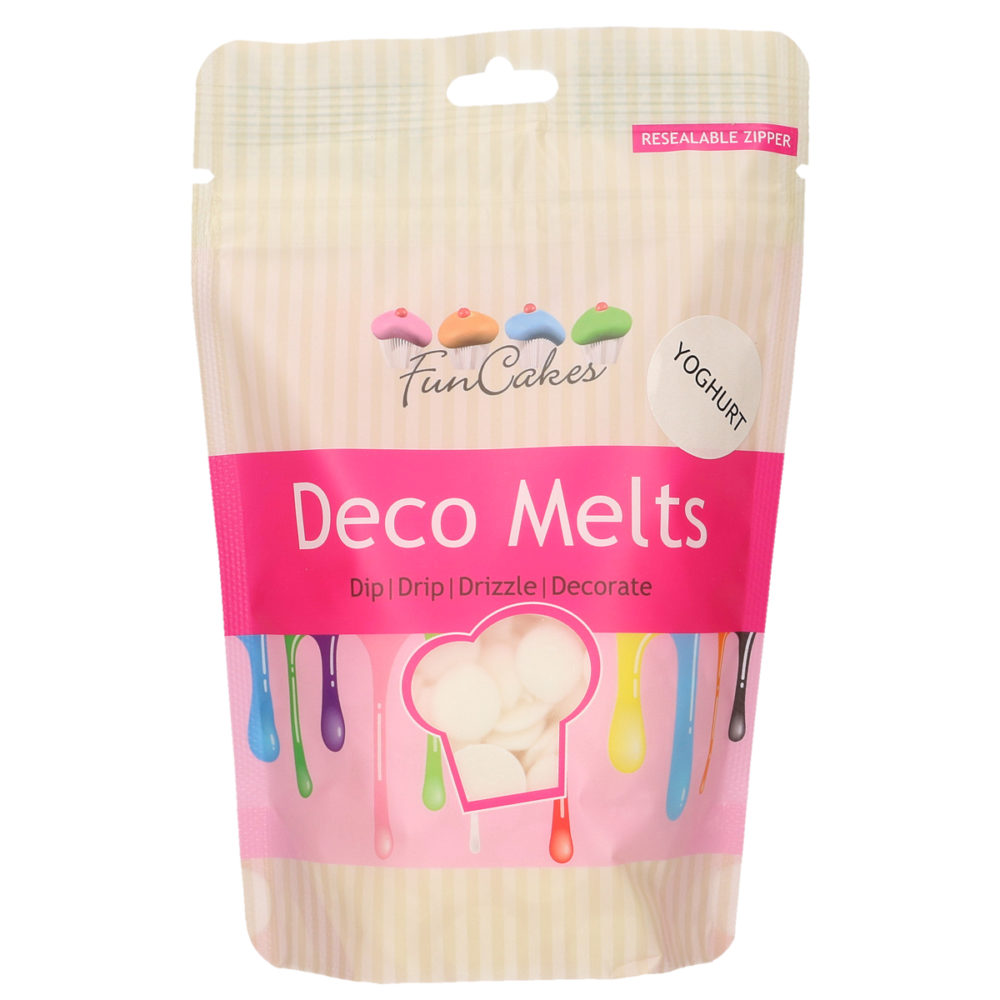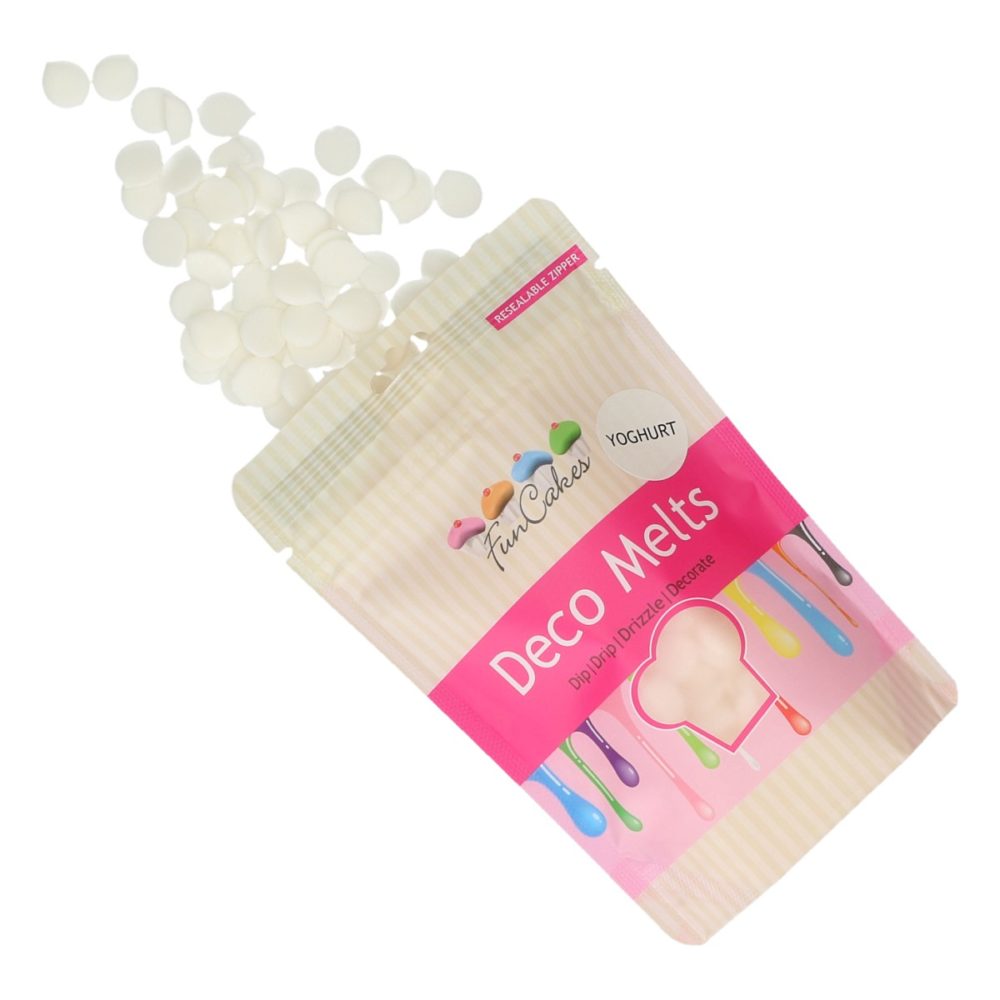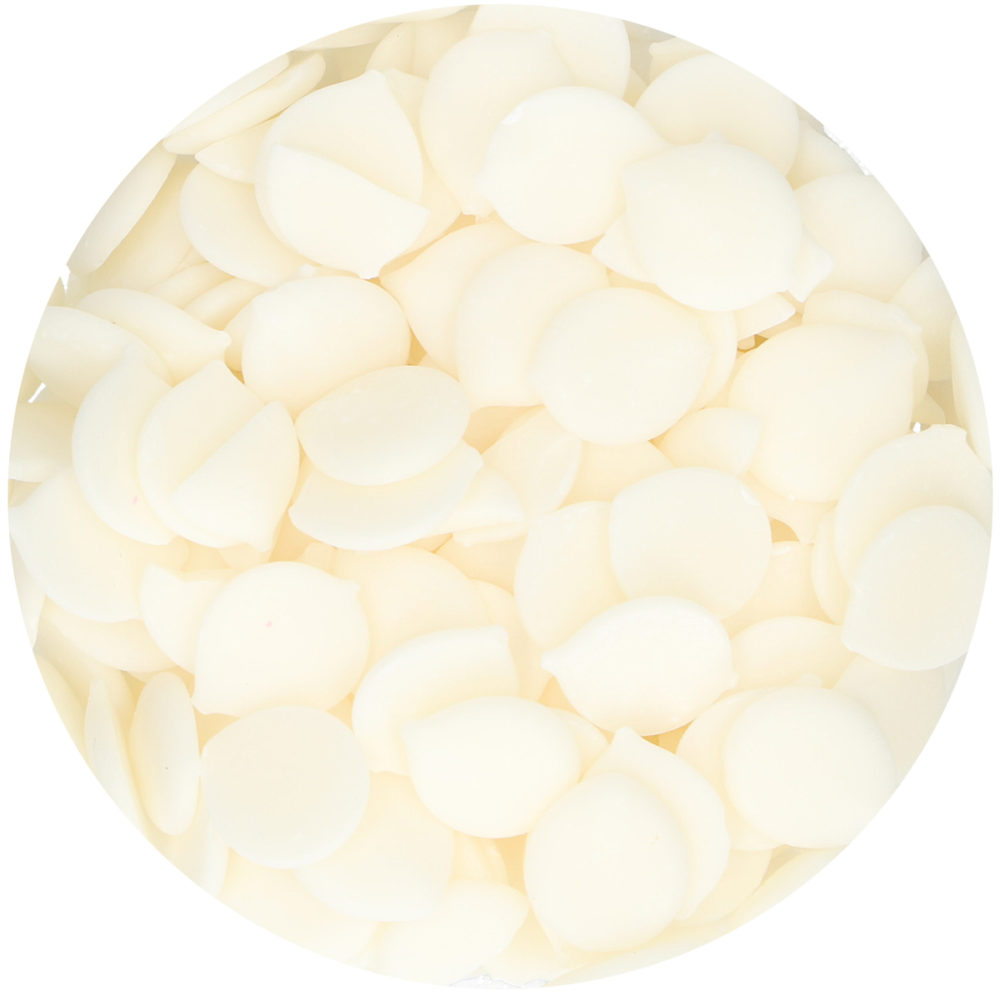 Deco Melts
Deco Melts Yoghurt Flavour
Make a beautiful drip on a cake or a drizzle over lollipops and chocolates with the FunCakes Deco Melts. Besides making a drip, you can also use these melts for dipping cookies, fruit, pops and much more. Or use them to make sweet decorations. These white coloured melts have a delicious yoghurt flavour.
Deco Melts Yoghurt Flavour
Sugar, vegetable fat (hydrogenated palm kernel oil), glucose syrup (dried), emulsifier: E492, E472c, flavouring.
May contain traces of: milk, nuts
Store in a dry, dark place, 16°C-22°C
Nutritional values per 100 g
| | |
| --- | --- |
| Energy | 2400 kJ / 570 kcal |
| Fat | 35,0 g |
| of which saturated | 34,0 g |
| Carbohydrate | 65,0 g |
| of which sugar | 58,0 g |
| Protein | 0,5 g |
| Salt | 0,1 g |
Melt in the microwave or au-bain marie. For microwave: Melt at max. 500W in a bowl. Stir well every 15-20 seconds. Stop heating when the melts are almost completely melted (small bits of melts still visible). Keep stirring until the melts are smooth and completely melted and process as desired. Harden in the refrigerator (10-15 min.). For a thinner result add a few drops of vegetable oil. For a thicker result add a few drops of water (not remeltable).
You can easily melt the Deco Melts from FunCakes in the microwave or au-bain marie. The Deco Melts are remeltable. You don't need extra cocoa butter, because the melts directly have the right thickness for processing.
If you would like to have thinner result, you can add a few drops of vegetable oil. If you prefer a thicker result, you can add a few drops of water. Please note, the melts are not remeltable when you have added vegetable oil or water.
The FunCakes Deco Melts are AZO-free.
Due to different temperatures, the Deco Melts may melt in transit and storage. They still can be used but they may not arrive in their original wafer shape. Follow the regular instructions on the package when using the Deco Melts.