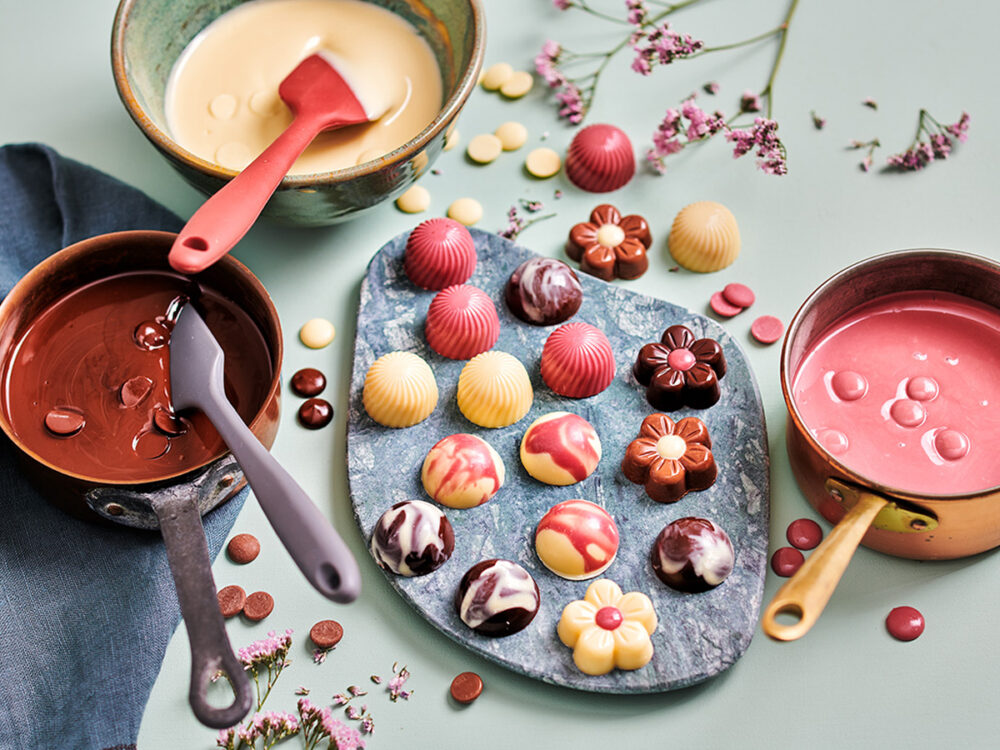 Colorful chocolate bonbons
Are you looking for a tasty treat or do you just want to treat yourself? You're in the right place here, because these chocolate bonbons with four different types of chocolate are irresistibly delicious!
What you need to make your colorful chocolate bonbons:
Ingredients
350 g FunCakes Chocolate Melts Dark
250 g FunCakes Chocolate Melts Milk
350 g FunCakes Chocolate Melts White
350 g FunCakes Chocolate Melts Ruby
Necessities
FunCakes Decorating Bags
FunCakes Chocolate Mal Swirl
FunCakes Chocolate Mal Flower
Silikomart Silicone Mold Half Spheres Ø3cm
Scrapcooking Digital Thermometer
Brush
Place 275 g of FunCakes Chocolate Melts in a microwaveable bowl. Preferably melt at 450/500W in the microwave. Stir the chocolate well every 15/20 seconds so that the temperature spreads evenly. Stop heating once the chocolate is almost completely melted (small pieces should still be visible). Keep stirring until the chocolate has dissolved.
Add 55 g of solid melts to the warm melts and let this dissolve in the warm melts. Keep stirring until the thermometer reads 31°C for pure melts, 30°C for milk melts, and 28-29°C for white and ruby ​​melts. This is essential, otherwise the chocolates will not come out of the mold, look dull and remain sticky. Make sure no water gets in!
For the hemispheres, put a little bit of contrasting color melts in the mold with a brush and let it set for 5 minutes in the fridge. Fill the mold completely with melted chocolate and let it set in the fridge for 15-20 minutes. Press the chocolates out of the mold.
For the chocolates in the hard plastic molds it is very important that the chocolate is at the right temperature, otherwise they will not come out! Fill the molds with the melted melts, let them set in the fridge and tap the mold upside down on the table and the chocolates will fall out. If not, put them back in the fridge for a while and try again a little later.
Just a little while before you can enjoy your chocolate. Don't forget to share your creation:
#funcakesbyme