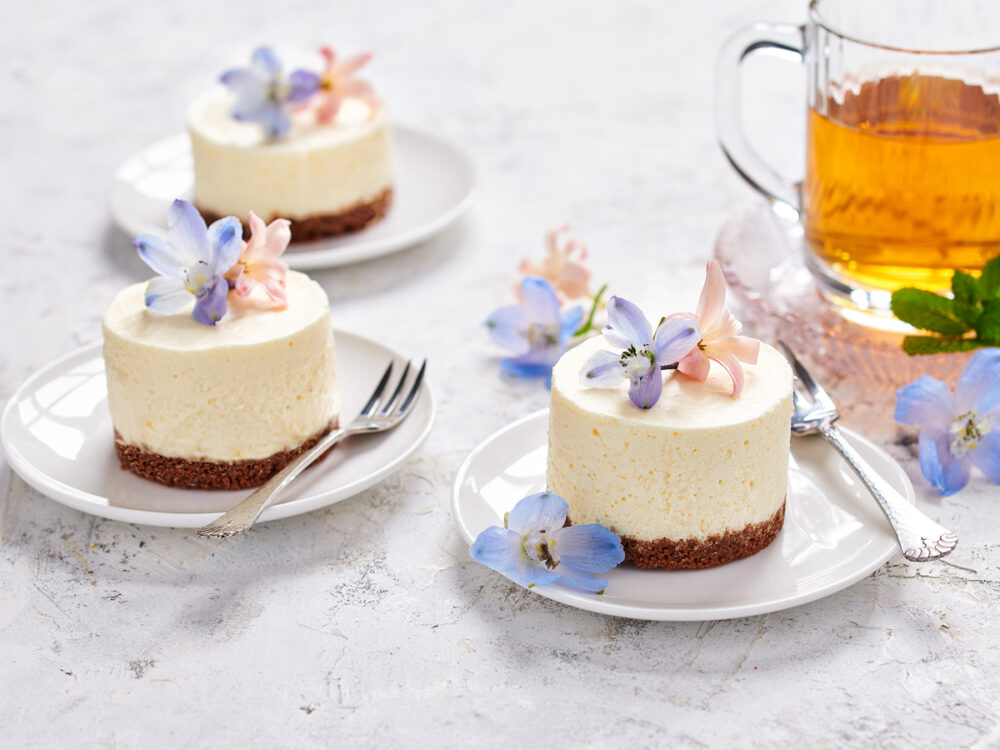 Mini natural bavarois pastries
Do you want to pamper yourself, but can't you choose between all the delicious pastries? Mini natural bavarois pastries are always a good choice! A delicious neutral taste with a crunchy edge. Give it a taste twist and add a delicious flavor paste!
What you need to make your mini natural bavarois pastries:
Ingredients
50 g FunCakes Mix for Bavarois Natural
250 ml whipped cream
75 g unsalted butter
60 ml water
12 – 14 bastogne biscuits
Edible flowers
Necessities
FunCakes Acetate Rol 8cm
FunCakes Decorating Bags
Wilton Parchment paper
6 – 8 Patisse Cookie Cutter Round 8cm
Stick the acetate foil along the inside edge of the cutters with a little water or butter. Crumble the bastogne biscuits very finely and mix in melted butter, don't do everything at once but add it as you see fit.
Place the rings on a baking tray with parchment paper and put one and a half tablespoons of the biscuit crumbs in each ring and press firmly. Let it set in the fridge for about 15 minutes.
Whip the whipping cream into a lump (not quite stiff). Mix the 50 g FunCakes Mix for Bavarois Natural with 60 ml water and fold this directly into the thick whipped cream. Put this in a decorating bag and fill all the rings with an equal amount of bavarois. Let this set in the fridge.
Carefully remove the rings and acetate foil and decorate with edible flowers or decoration of your choice.
Tip! It is easiest to remove from the rings if the pastries are frozen. Then let them thaw in the refrigerator.
Just a little while before you can enjoy your pastries. Don't forget to share your creation:
#funcakesbyme