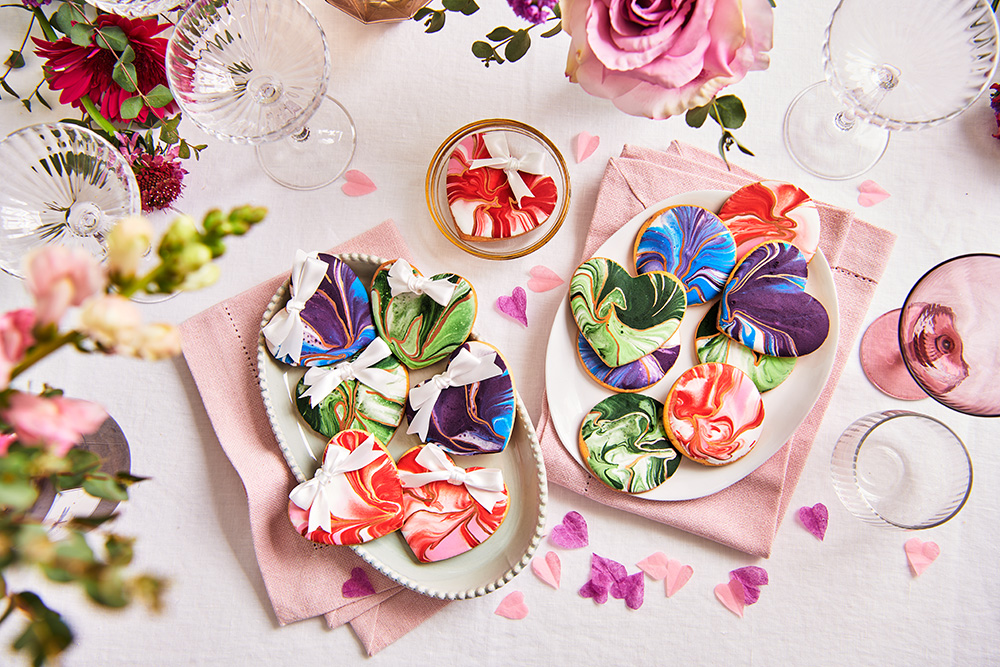 Marbled heart cookies
Who doesn't love cookies? These marbled heart cookies are full of love. Perfect to make for the sweet table at a wedding! We bet you they'll be gone in no time!
What you need to make your marbled heart cookies:
Ingredients
500 g FunCakes Mix for Cookies
450 g FunCakes Mix for Royal Icing
FunCakes Food Colour Gel Bright Green
FunCakes Food Colour Gel Holly Green
FunCakes Food Colour Gel Red
FunCakes Food Colour Gel Pink
FunCakes Food Colour Gel Purple
FunCakes Food Colour Gel Royal Blue
FunCakes Metallic Food Paint Copper
150 g unsalted butter
1 egg (approx. 50 g)
55 ml water
Necessities
FunCakes Cake Ribbon White 15 mm x 20 m
Wilton Parchement Paper Roll
Wilton Rolling Stick 50 cm
PME Plastic Cutter Heart Set/6
Cookie Cutter Ring Pro Ø 7 cm
Dekofee Profi Brush 1
Wet tea towel
Prepare 500 g FunCakes Mix for Cookies according to the instructions on the packaging. Wrap in plastic foil and leave in the fridge for one hour.
Preheat the oven to 180°C (hot air oven 160°C).
Roll out the dough on a floured work surface to a thickness of about 2-3 mm and cut out hearts and circles as desired. Prick holes in the top of the hearts with the back of the brush. Place the dough shapes on a baking tray lined with parchment paper and bake the cookies in the oven until lightly browned and cooked, about 12-16 minutes, and leave to cool flat on the counter.
Prepare 450 g FunCakes Mix for Royal Icing according to the instructions on the package. Divide this over 7 bowls. Dilute the icing drop by drop with some water until it has the thickness of a yoghurt. The 10 second rule applies here, if the thinned icing forms a smooth mirror again in 10 seconds, it is perfect. If it happens faster add some stiff icing, if it takes longer add some drops of water.
Colour 6 bowls with the 6 colours of gel, leaving 1 bowl white. Cover the bowls with a wet tea towel and leave for 20 minutes. Then prick out the air bubbles. Pour some of the white icing on a plate and, for each colour combination, pour diluted red/pink, light/dark green, blue/purple icing on the left and right. Go through it with a fork to marble it a little and dip the cookies in it. Let them dry flat, preferably overnight.
When they are dry, use a brush and copper paint to paint some of the veins on the cookies. Put a piece of ribbon through the holes in the hearts and tie it.
Just a little while before you can enjoy your cookies. Don't forget to share your creation:
#funcakesbyme