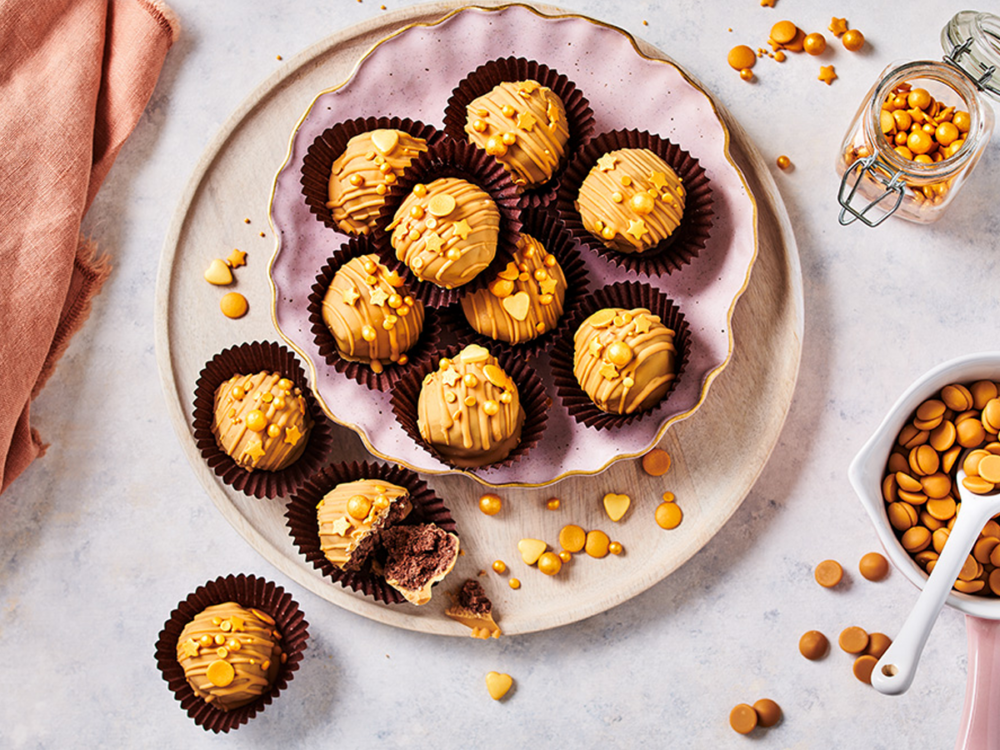 Golden choco balls
For these beautiful Choco Balls, we crumbled brownies and mixed in melted golden Chocolate Melts. Not only does this give the brownie a nice caramel flavour, you can also easily roll them into balls. Divinely delicious!
1 hour and 20 min. preparing
What you need to make your golden choco balls:
Ingredients
640 g FunCakes Mix for Cake Brownie
750 g FunCakes Chocolate Melts Gold
FunCakes Sprinkle Medley - Gold Deluxe
135 ml water
70 g unsalted butter
3 eggs (approx.150 g)
Necessities
FunCakes Bake Release Spray
FunCakes Decorating Bags
FunCakes Baking Cups Brown
Wilton Decorator Preferred® Deep Round Baking Pan Ø 20x7,5cm
Wilton Cooling Grid
Wilton Parchment Paper
Preheat the oven to 175°C (convection oven 160°C).
Prepare 640 g FunCakes Mix for Cake Brownie according to instructions on the packaging. Grease the baking pan with the Bake Release Spray and spoon the batter into the pan. Bake the cake in about 40 – 45 minutes. Let it cool down by using a cooling grid.
Melt 150 g FunCakes Chocolate Melts Gold according to instructions on the package. Crumble the brownie and mix it little by little with the melted melts. It should become a kind of firm dough, so you do not need to add all the melts. Knead the dough well and form balls of it. Let them stiffen up in the refrigerator for about half an hour.
Melt the rest of the FunCakes Chocolate Melts Gold according to the instructions on the package and dip the cake balls in it. Place them on a plate lined with baking paper and let them stiffen in the refrigerator.
Put some melted chocolate in a decorating bag, cut a small tip off and drizzle this over the cake balls. Immediately sprinkle the FunCakes Sprinkle Medley – Gold Deluxe on top and again let it stiffen in the fridge.
Note! In this way, the chocolate remains softer and does not harden. If you want a cake ball with a good chocolate 'snap', we recommend melting the melts in a chocolate melter and then tempering them. This way of processing the cake balls will get a nice bite and shine.
To do this, proceed as follows: melt the 600 g melts in the chocolate melter (keep 150 g separate for tempering) at 45 degrees. When the melts are completely melted bring the temperature back to 28 degrees and add the 150 g retained melts. Wait until this is completely dissolved and check with a chocolate thermometer if the temperature is 28 degrees.
If it indicates the right temperature, you can use the chocolate to knead through the cake brownie crumbs and to dip and drizzle the cake balls in it.  If it does not have the right temperature, the chocolate will remain soft. Always let it set in the refrigerator. In this way of processing and tempering the truffles get a bite. Before serving, place the truffles in a baking cup.
Just a little while before you can enjoy your brownies. Don't forget to share your creation:
#funcakesbyme