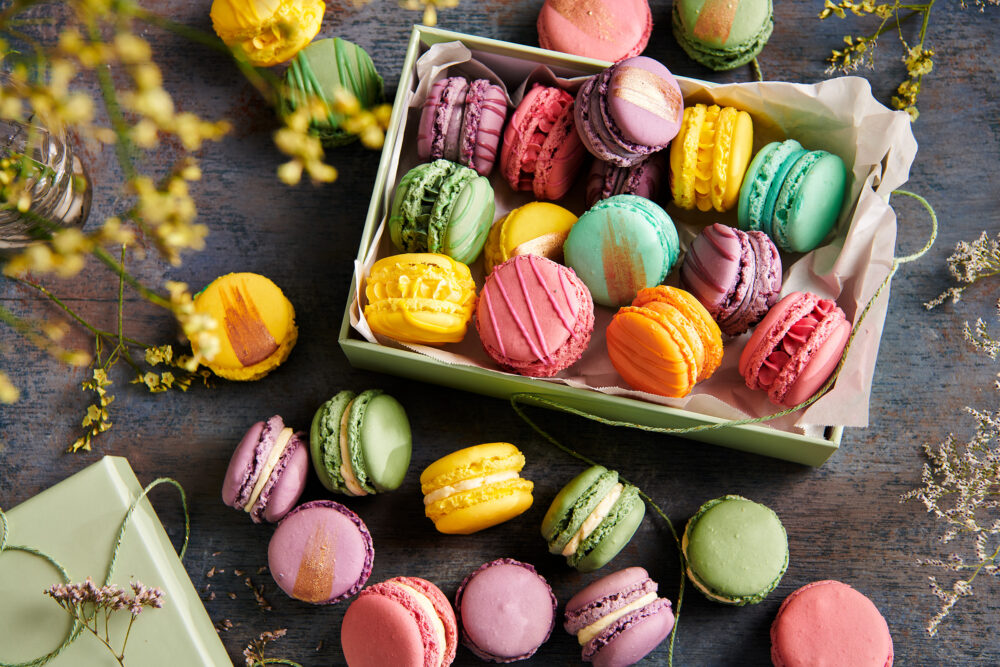 Filled lemon curd macarons
These macarons filled with lemon curd are the perfect combination of sweet, soft, crunchy and fresh. Not to mention, delicious! Make them in different colours and you will have a rainbow of delicious macarons.
What you need to make your filled lemon curd macarons:
Ingredients
300 g FunCakes Mix for Macarons Gluten Free
125 g FunCakes Mix for Buttercream
FunCakes Food Colour Gel Purple
FunCakes Metallic Food Paint Dark Gold
150 g unsalted butter
125 ml water
70 g egg white
Lemon curd
Necessities
FunCakes Decorating Bags 30 cm
Wilton Decorating Tip Round #1A
Wilton Decorating Tip #018 Open Star
PME Decoration brushes Set/5
Patisse Macaron Baking Mat
Put the batter in a decorating bag with nozzle #1A and pipe caps on the macaron mat. Allow to air dry for 2 hours.
Preheat the oven to 140°C (hot air oven 130°C) and bake the macarons for about 18-20 minutes.
The macarons should have a nice smooth wrinkle-free surface and stand on a base.
Leave the macarons to cool on the mat before removing them.
Melt some purple FunCakes Deco Melts according to the instructions on the packaging and place in a decorating bag. Drizzle purple Deco Melts over half of the shells and on the other half, using the largest brush in the set, make a swipe with gold paint.
Put the FunCakes Buttercream in a decorating bag with #18 and put some lemon curd in another decorating bag. Pipe a circle of little stars on the inside of the shell and fill the middle part with lemon curd. Cover it with the shell.
Store the macarons in a closed box in the fridge.
Just a little while before you can enjoy your macarons. Don't forget to share your creation:
#funcakesbyme