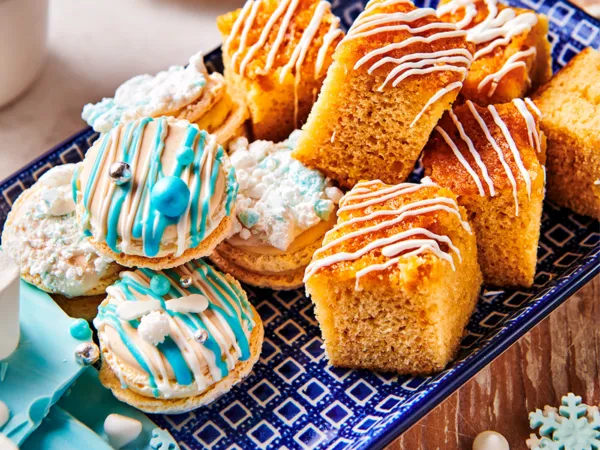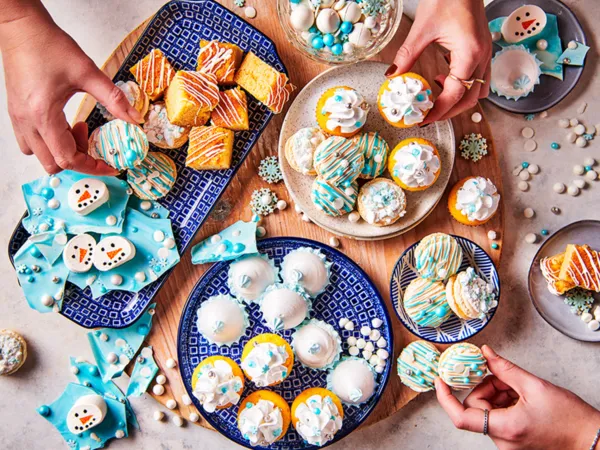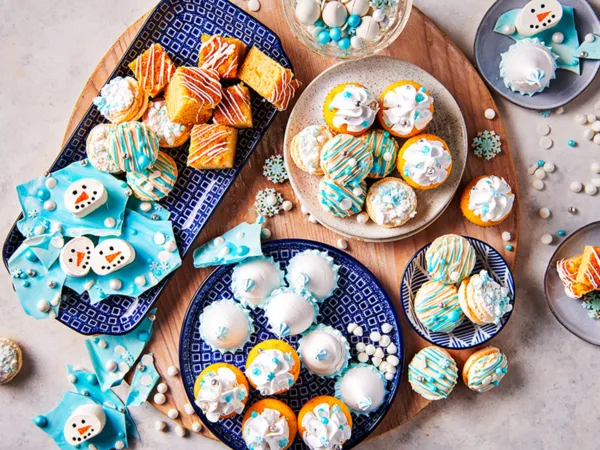 Macarons with white chocolate buttercream
A delicious French classic macarons are a favorite! With the FunCakes Mix for Macarons you can make them super easy too. Decorate them with some Deco Melts and sprinkles and this is the perfect addition to your graze platter! Let's Graze Away. 
What you need to make your macarons with white chocolate buttercream:
Ingredients
300 g FunCakes Mix for Macarons Gluten Free
125 g FunCakes Mix for Buttercream
FunCakes Food Colour Gel White
FunCakes Deco Melts Light Blue
FunCakes Deco Melts White
FunCakes Medley Frozen
FunCakes Flavour Paste White Choco
150 g unsalted butter
125 ml water
70 g egg white
Necessities
FunCakes Decorating Bags
Wilton Tip #2A Round
Silikomart Macaron Mat
Prepare 300 g FunCakes Mix for Macarons Gluten Free according to instructions on the package. Color the macaroon batter white with the Food Colour Gel. Put the batter in a decorating bag with tip #2A and pipe caps on the macaroon mat. Allow to air dry for 2 hours.
Preheat the oven to 140°C (convection oven 130°C).
Bake the macarons in a preheated oven for about 15-20 minutes until done and let them cool down on the mat.
Put the buttercream in a decorating bag, cut off a tip and fill the macarons with it.
Melt the white and blue Deco Melts in the microwave according to the instructions on the package and put it in two decorating bags. Drizzle this with a zigzag motion over the top of the macarons and immediately sprinkle with the Frozen medley. Let the Deco Melts set in the refrigerator.
Just a little while before you can enjoy your macarons. Don't forget to share your creation:
#funcakesbyme