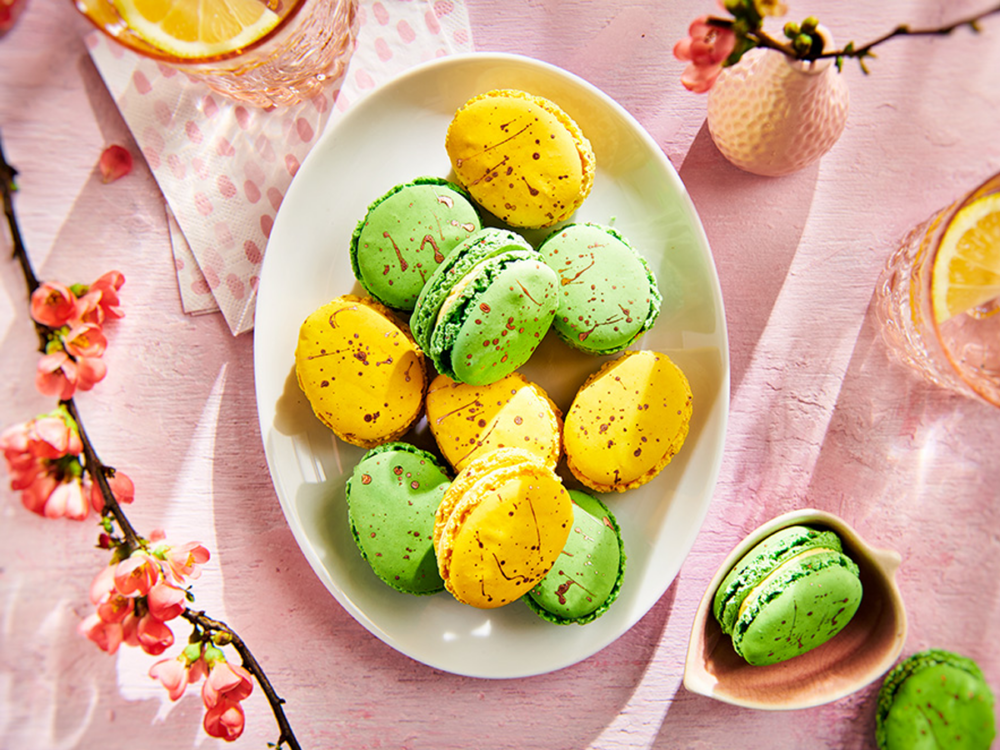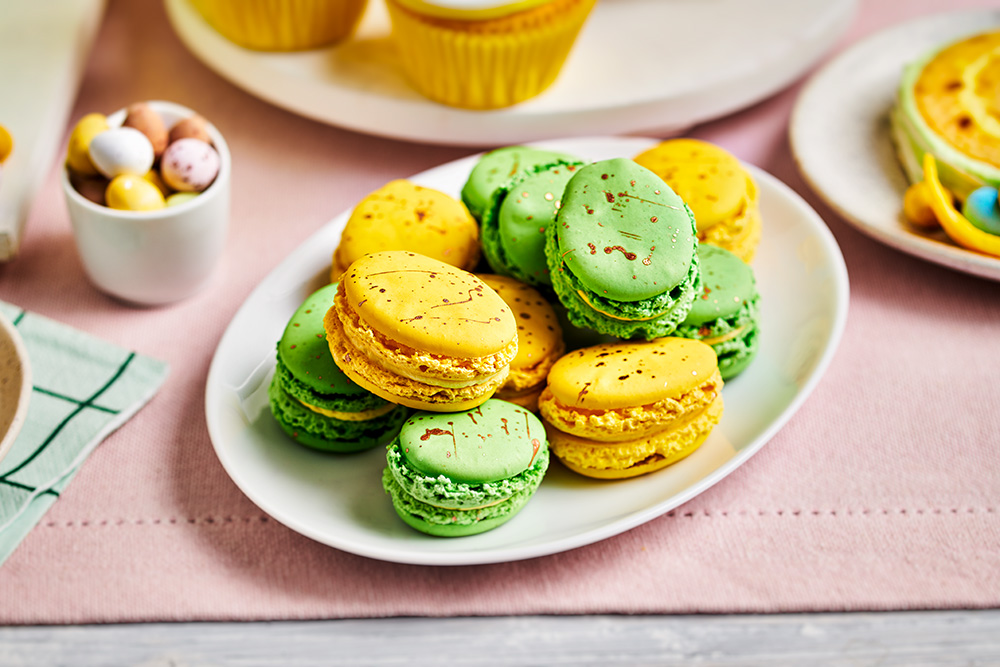 Easter macarons
The cutest macarons for Easter! Do you want a luxurious, tasty and colorful snack for Easter? Then you're in the right place. Get started with these egg shaped Easter macarons and give them an extra touch with the metallic paint from FunCakes.
What you need to make your easter macarons:
Ingredients
300 g FunCakes Glutenfree Mix for Macarons
125 g FunCakes Mix for Buttercream
FunCakes Flavour Paste Lemon Meringue
FunCakes Edible Metallic Paint Copper
FunCakes Food Colour Gel Yellow
FunCakes Food Colour Gel Yellow Bright Green
125 ml water
150 g unsalted butter
70 g egg white
Necessities
FunCakes Decorating Bags
2x Wilton Tip #1A Round
PME Fine Decoration Brushes Set/5
Patisse Macaron Baking Mat
Prepare 300 g FunCakes Mix for Gluten free Macarons according to the instructions on the package. Divide the batter into two portions and color them with the food colour gel yellow and green. Put the 2 tips in two decorating bags and fill them both with batter.
Place the macaron mat on a baking tray and pipe egg shapes onto the macaron mat, if necessary help the batter a little by pushing it into an egg shape using a cocktail stick. Gently tap the baking sheet with the macaron mat on the counter so that the batter becomes evenly distributed. Let it air dry for two hours.
Preheat the oven to 140°C (convection oven 130°C).
Bake the macarons in about 15-20 minutes until done. If the macarons have a ribbed appearance, they have not dried long enough or have been baked too short.
Make splatters by using a brush on the macaron shells with the FunCakes Metallic Paint Copper and let it dry for a while.
Prepare 125 g FunCakes Mix for Buttercream according to the instructions on the packet, season with the FunCakes Flavouring paste Lemon Meringue and place in a piping bag. Fill the macarons with the lemon meringue buttercream and leave in the fridge for a day for the tastiest and best result.
Just a little while before you can enjoy your macarons. Don't forget to share your creation:
#funcakesbyme