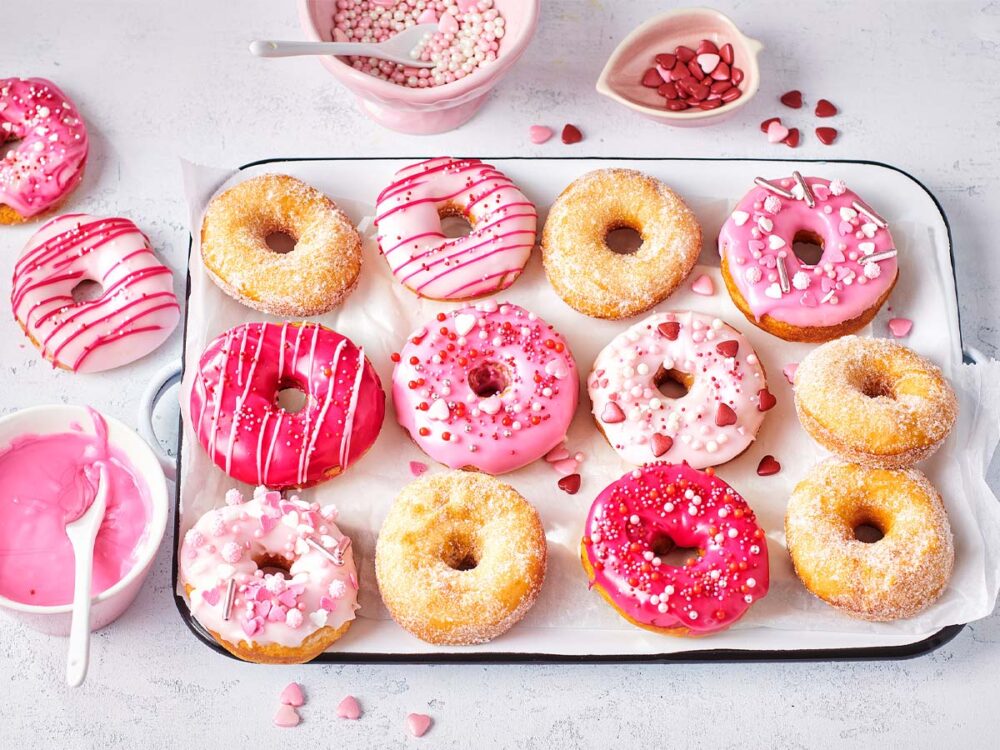 Donuts with Dip 'n Drip
It is delicious, looks very attractive and is super trendy: the donut! A sweet treat that is delicious in itself, but becomes even more fun with the many glazes, sprinkles, chocolate and other decorations you can add. With the FunCakes Mix for Donuts you can easily make them yourself. Just fry them or put them in the oven!
1 hour and 30 min. preparing
What you need to make your donuts with dip 'n drip:
Ingredients
500 g FunCakes Mix for Donuts
500 g FunCakes Dip 'n Drip White
FunCakes Food Colour Gel Pink
FunCakes Sprinkle Medley Glamour Pink
FunCakes Sprinkle Medley Love
FunCakes Nonpareils Lots of Love
215 ml water
65 ml (55 g) plantbased oil
Necessities
FunCakes Decorating Bags
Wilton Cooling Grid
Wilton – Wide Glide – Rolling Pin
Patisse Donut & Bagel cutter Ø9cm
Preheat the deep fryer to 180°C or the oven to 200°C (convection oven 180°C).
Prepare 500 g FunCakes Mix for Donuts according to the instructions on the packaging. Roll out the dough to a thickness of about 0.5 cm-1 cm. Cut out the donut shapes and let rest for 25 minutes. Fry the donuts in the fryer until golden brown for about 90 sec per side. For thicker donuts a little longer.
Heat the dip 'n drip 15-30 seconds in the microwave and divide it among several bowls. Color it with the pink food color gel in different shades of pink. Dip the donuts in it and immediately sprinkle with sprinkles of your choice. If necessary, let them dry on a cooling grid. Give some donuts a drizzle with a contrasting color.
Tip! Heat the dip 'n drip again in between if you notice that the drip no longer 'sticks' so well on the donut.
Just a little while before you can enjoy your donuts. Don't forget to share your creation:
#funcakesbyme