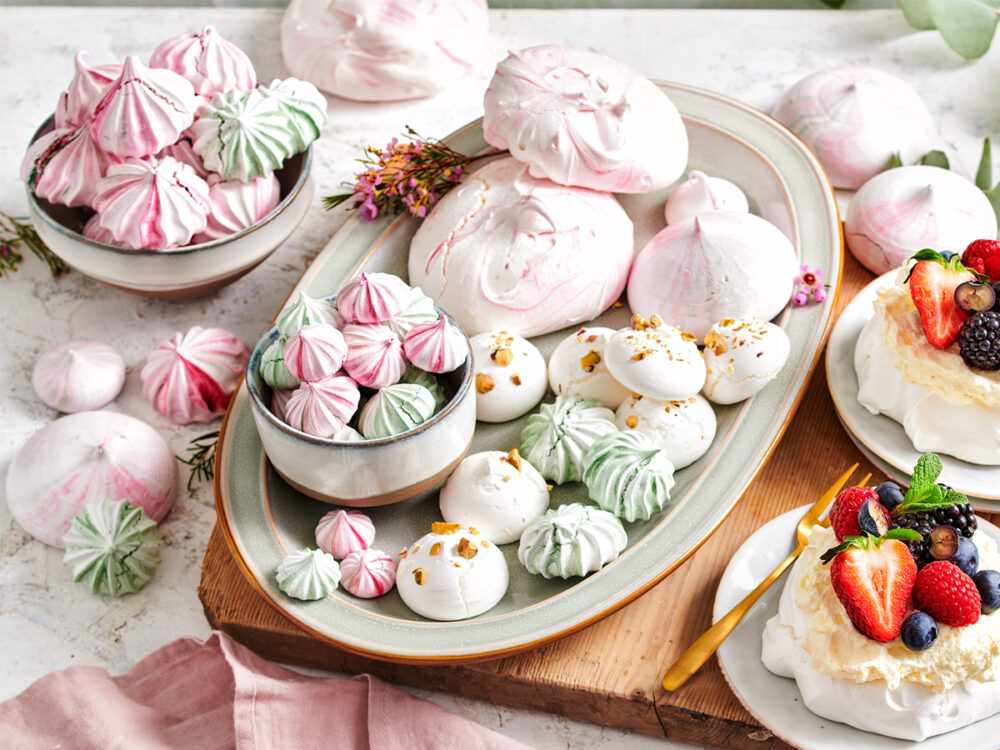 Meringues
Go for a sweet treat this time! It's super easy to make in just a few steps! Add your creative twist and voila you have the perfect snack or treat!
1 hour and 30 min. cooking
What you need to make your meringues:
Ingredients
14 g FunCakes Meringue Powder
FunCakes Food Colour Gel Pink
FunCakes Food Colour Gel Bright Green
375 g sugar
125 ml water
Chopped pistachios
Necessities
FunCakes Decorating Bags
Wilton Tip #2A Round
Wilton Tip #4B Open Star
Wilton Parchment Paper
Preheat the oven to 120°C (convection oven 100°C).
Start by degreasing your mixing bowl and whisk, you can do this by cleaning your bowl and whisk with lemon juice.
Stir 14 g FunCakes Meringue Powder together with 125 ml water and 125 g fine granulated sugar in a fat-free bowl until the sugar has dissolved.
Place in the mixing bowl and mix on high speed to a glossy white foam. While mixing, add 250g caster sugar in a thin stream and mix on high speed for about 8 minutes until stiff peaks form.
Divide the foam into 3 portions and color 2 portions with the pink and green coloring gels. Do not stir all the way to get a marble effect.
Put some white foam in a decorating bag with #2A and pipe nice caps on a baking tray lined with baking paper. Sprinkle some finely chopped pistachios over it.
Put the pink and green foam in a decorating bag with #2A and #4B and with this you can spray caps etc at your own discretion. The larger the molds, the longer they have to dry in the oven!
Dry the meringues in a preheated oven for about 1 hour, depending on the size of your meringues.
Just a little while before you can enjoy your treats. Don't forget to share your creation:
#funcakesbyme