What kind of Halloween type are you? Do you like the bloody brain cakes and cutted finger cookies or rather sweet spooky cupcakes and pumpkin pies? Whatever style you like, it's time to let your creativity flow! Halloween makes everything possible, so don't be afraid to push those boundaries and try something new, scary, creapy and deliciously bloody! Get inspired here by our recipes and products and enjoy fun give aways en video's.
Make this Halloween spooky with all the spooky treats with FunCakes. On this page you will find everything you need: the tastiest recipes, nicest products and handy tips & tricks. Got inspired and ready to get started? Check our points of sale to get your products right away.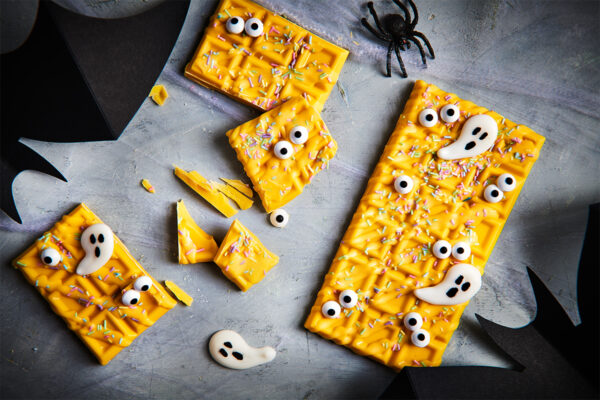 Featured recipe
Halloween candy bar
Halloween treats don't have to look scary to be spooky. Make these fun candy bars with the yellow Deco Melts.
Melt the Deco Melts Yoghurt flavour and place in decorating bag. Pipe caps onto parchment paper and make ghosts with a cocktail stick.
Melt the yellow Deco Melts, pour into the mould and leave to set in the fridge.
Melt another bit of yellow Deco Melts and drizzle it over the candy bars.
Decorate with the eyes and ghosts.
Click on the button below to find the complete recipe with all ingredients and baking times.
Featured product
An eye for Halloween
Halloween is of course the time of monsters, ghosts and other crazy creatures! You make a crazy figure out of every treat by sticking these fun sugar eyes on it. Also nice for the kids to see an ordinary cupcake, macaron or cookie suddenly change into a little monster. They are available in a round and oval shape. Which of the recipes below are you going for?
Shop for Halloween
Did you get inspired and ready to get started? You can easily shop your Halloween products at a store nearby or online at one of the many web shops. Find a point of sale via the button below!