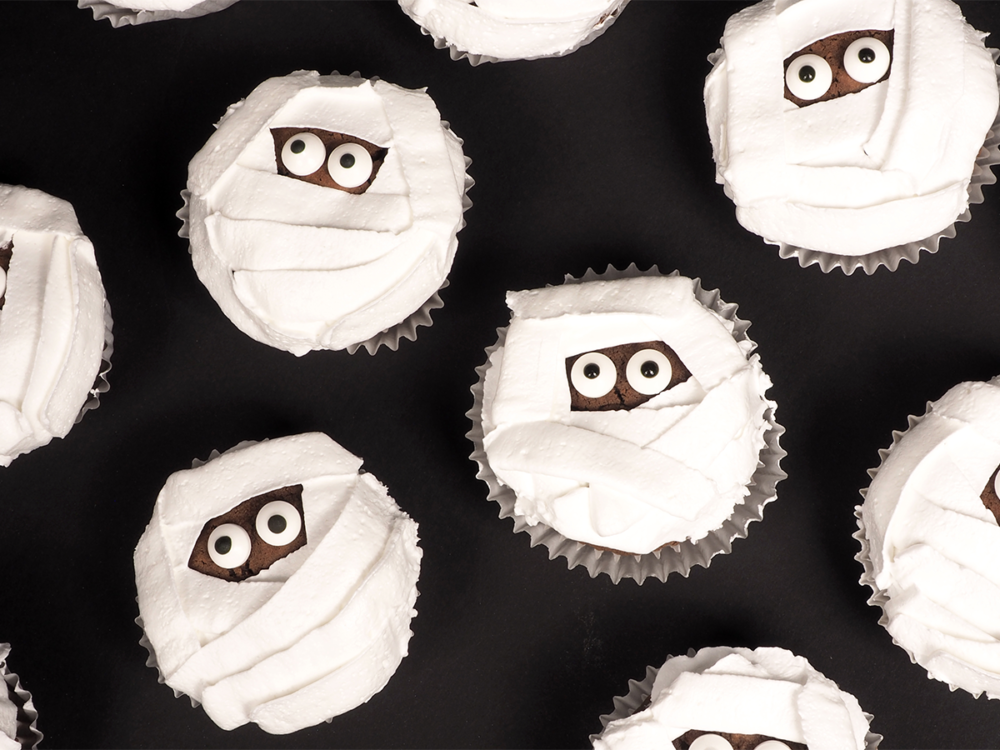 Mummy cupcakes
If somebody says Halloween, everyone thinks about mummies… Try to scare everyone with these delicious mummy cupcakes. You definitely have to try. Also a good idea for baking with kids.
What you need to make your mummy cupcakes:
Ingredients
640 gram FunCakes Mix for Brownies
75 gram FunCakes Mix for Enchanted Cream®
FunCakes Edible Glue
Wilton Candy Eyeballs
185 ml water
70 gram unsalted butter
50 ml milk
3 eggs (approx. 150 g)
Necessities
FunCakes Baking Cups White
FunCakes decorating bags
Wilton Recipe Right muffin
Wilton Tip #104
Wilton cooling grid
Preheat the oven to 180°C (convection oven 160°C).
Prepare 640 g FunCakes Mix for Brownies as indicated on the package. Place the baking cups in the muffin pan and fill them for two third with the batter. Bake the brownies in the middle of a preheated oven for 18-20 minutes and let them cool down by using a cooling grid.
Prepare 75 g FunCakes Mix for Enchanted Cream® as indicated on the package and put it into a decorating bag with tip #140. Stick the eyeballs on the brownies with some edible glue and pipe with the Enchanted Cream "bandage" strips over the face.
Just a little while before you can enjoy your cupcakes. Don't forget to share your creation:
#funcakesbyme