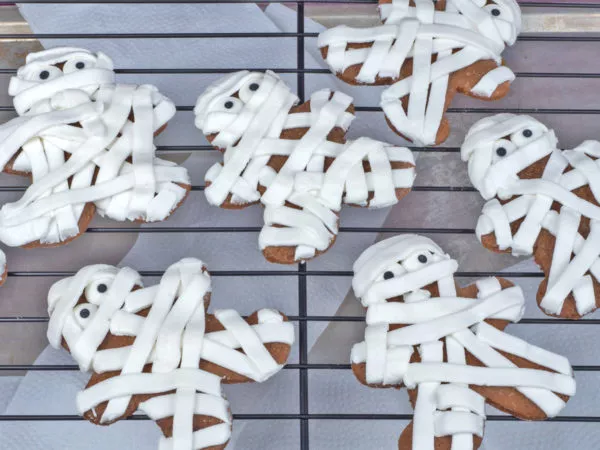 Gingerbread mummie cookies
Halloweeeeeeeeen! We are ready for you and created some freaky delicious recipes, like this gingerbread mummie cookie. They are very easy to make and also very jummy.
What you need to make your gingerbread mummie cookies:
Ingredients
500 g FunCakes Mix for Gingerbread
450 g FunCakes Mix for Royal Icing
FunCakes Sugar Decorations Eyes Round
1 egg (approx. 50 g)
60 g unsalted butter
115 ml water
Necessities
FunCakes Decorating Bags
FunCakes Magic Roll-Out Powder
Wilton Gingerbread Man Cutter
Wilton Decorating Tip #47
Large -Wide Glide- Rolling Pin
Wilton Parchment paper
Preheat the oven to 180°C (convection oven 160°C).
Prepare 500 grams of FunCakes Mix for Gingerbread as indicated on the package. Let the dough stiffen in the fridge for at least 1 hour. Roll out the dough on a floured surface (3 mm thickness) and cut out the cookies. Bake the cookies in the middle of the oven for approx. 12 minutes until golden. Let the cookies cool down.
Prepare 450 grams of FunCakes Mix for Royal Icing as indicated on the package. Put tip #47 in the decorating bag and fill it with icing. Paste the eyes on the cookies with a bit of icing. Make stripes on the cookies to create the mummies. Let them harden.
Just a little while before you can enjoy your cookies. Don't forget to share your creation:
#funcakesbyme