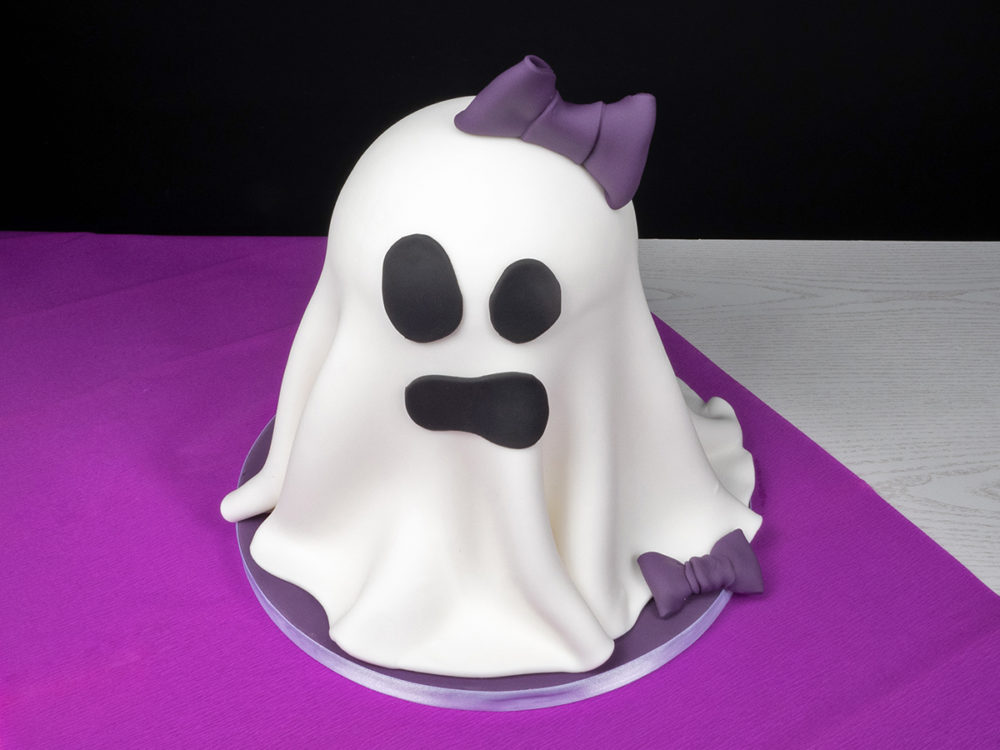 Spooky Halloween cake
You can try to scare of everyone with this cake so you can eat it all by yourself but trust us everyone is going to want a slice of this delicious cake. It tastes even better than it looks!
What you need to make your spooky halloween cake:
Ingredients
750 g FunCakes Mix for Cupcakes
125 g FunCakes Mix for Buttercream
850 g FunCakes Fondant Bright White
150 g FunCakes Fondant Royal Purple
Small piece of FunCakes Fondant Raven Black
FunCakes Edible Glue
525 g unsalted butter
125 ml water
7 ½ eggs (approx. 375 g)
Apricot jam
Necessities
FunCakes Bake Release Spray
Wilton -Wide Glide- Rolling Pin
Wilton Decorator Preferred Spatula Angled
Wilton Cooling Grid
Wilton Cake Leveler
Wilton Plastic Dowel
3 PME Deep Round Baking Pan Ø15 x 7,5 cm
PME Cutting Wheel
Sharp jagged knife
Preheat the oven to 180°C (convection oven 160°C).
Prepare 750 grams of FunCakes Mix for Cupcakes as indicated on the package. Grease the baking pans with bake release spray and divide the batter into the pans. Bake the cakes for 50 – 60 minutes. Release them on a cooling grid right after baking.
Prepare 125 grams of FunCakes Mix for Buttercream as indicated on the package. Cut the cakes in half and fill them with buttercream and apricot jam. Stack them on each other and push the dowel in from the top and cut it to the right size. Use the knife to transform the top cake into a half ball shape. Cover the cake with buttercream and place it in the fridge.
Roll out the black fondant thinly and use the cutting wheel to cut out the eyes and the mouth. Roll out the purple fondant, cut out a rectangle shape and form this into a bow. Place a small piece of purple fondant over the bow for the knot. Knead the white fondant well and roll it out on a with icing sugar covered work surface and use this to cover the cake. Use the edible glue to stick the eyes, mouth and bow on the ghost.
Just a little while before you can enjoy your cakes. Don't forget to share your creation:
#funcakesbyme