How to drip! Make your own drip cake
They remain endlessly popular: drip cakes! And that's not surprising because they look spectacular and are easy to make. Especially with a little help from ready-to-use drips.
We probably won't have to explain that drip cakes and FunCakes are a match made in heaven. Making impressive techniques easy for all home bakers, you can leave that to us. Whether in the case of drip cakes we were unstoppable? Maybe a little bit, yeah. But hey, don't blame us, can one ever make enough drip cakes? We don't think so.
You will find no less than 4 different products in our range to drip with. And all in an extensive colour range. In this blog we'll explain everything to help you find the product that suits you and your cake best.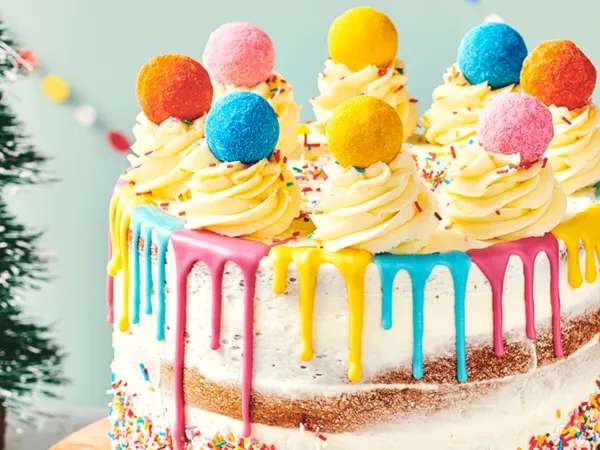 One of the reasons why we see drip cakes so regularly is because you can actually drip over all kinds of surfaces. Fondant, marzipan, buttercream, Enchanted Cream®, ganache, it all works. Just make sure your cake has nicely straight and smoothed edges, so that the drip can slide down in a nice tight line.
Your cake does not have to be very cold before you start dripping, but it can make it a bit easier. The cold of the cake ensures that the drip solidifies quickly after application and so it immediately absorbs itself onto the cake. Experiment with what works best for you. If the drip runs down too quickly for you, make sure your cake is a bit colder. If you find your drip to solidify too fast, causing the drips to become too short or you can't nicely distribute it over the top of the cake, then choose to first let your cake come to room temperature a little more.
The temperature of your drip also has an influence. Regardless the kind of drip you choose, make sure it's not too hot when you start dripping. The hotter the drip, the faster it will slide down. If you want to be able to control the drip properly, let it cool down first, before you apply it to your cake. You can then make long and short drips by sliding more or less of your product alongside your cake.
Tip!
Put a glass or cup upside down and make a test drip on it before applying it to your cake. This gives a good idea of the fluidity of your drip. If it drips too slowly, you can heat it up a bit more. If it drips too fast, let it cool down a bit.
You can make a drip cake with chocolate or a ready-to-use drip. In the range of FunCakes you will find several options, each of which has its own advantages. If you want a real chocolate drip, use our Chocolate Melts or Choco Drips. We also have different colours of Dip 'n Drips and an extensive range of Deco Melts. Some of these are also suitable for other kinds of treats. Let's have a look at all of them to help you pick the right one.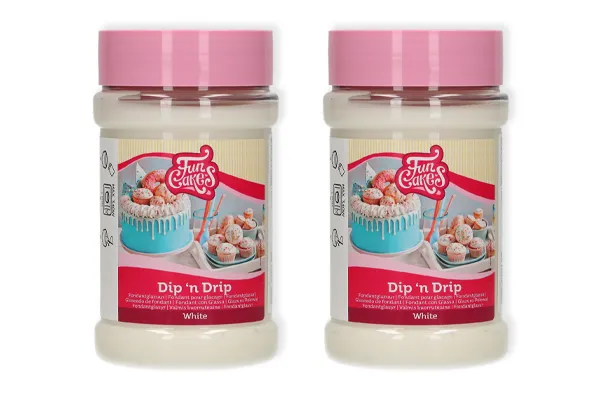 Dip 'n Drip is also known as melted fondant or fondant glaze. You heat it in the microwave and then fill a piping bag with it. Cut a small tip off the decorating bag and let the Dip 'n Drip slide down your cake. The Dip 'n Drip dries, but does not harden completely on the inside. So your cake remains easy to cut. Also great: you can also use the Dip 'n Drip to apply a nice tight layer of icing over your cupcakes or donuts. This way you can quickly make some matching treats with your cake.
Good to know! Dip 'n Drip consists of sugar and water. Does your cake need to get back in the fridge after applying your drip? You can, but make sure you put the cake in a well-sealed box in the fridge. If you don't, the moisture from your fridge will melt the sugar from your drip, possibly causing the drip to slide off your cake.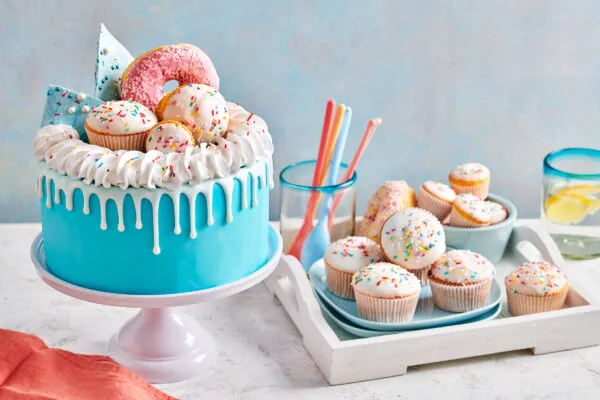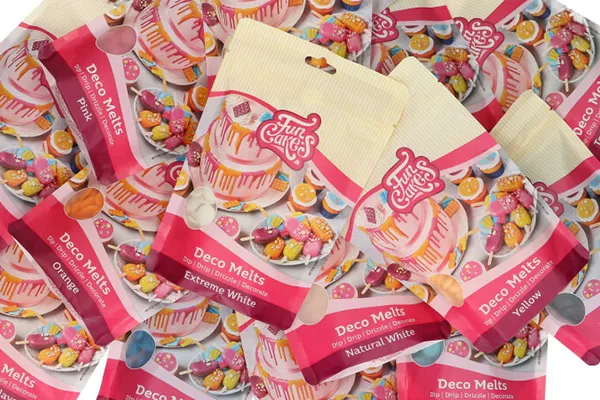 The FunCakes Deco Melts can also be found in an extensive range of colours and flavours! Although Deco Melts are not made from real chocolate, they do have that nice creamy, white chocolate flavour. In addition, we also have Deco Melts in raspberry, toffee and yoghurt flavour.
You melt this product in the microwave or au bain-marie and let it slide over your cake from a piping bag or spray bottle. Then put the cake in the fridge for 5-10 minutes, giving the drip a beautiful shine.
Unlike the Dip 'n Drip, the Deco Melts harden completely, similar to chocolate. If you cover the entire top of the cake with Deco Melts, this layer will break when you cut it, just like chocolate would. If you don't like this, we recommend to only apply the drip along the edge and fill the top of the cake with other decorations.
What's very convenient about the Deco Melts is that they are remeltable. So if you have some left overs, you can just let this harden and use it again for your next drip cake! You can also adjust the thickness of melted Deco Melts. Dilute it by adding some vegetable oil, thicken it with drops of water. Good to know though: once mixed with oil or water, the Deco Melts are no longer remeltable.
Besides making great drips, you can also decorate cookies, cake pops or cupcakes with the Deco Melts by dipping them in. Or try making lollipops or other cake decorations! If you are looking for the most versatile drip product, the Deco Melts are it for you.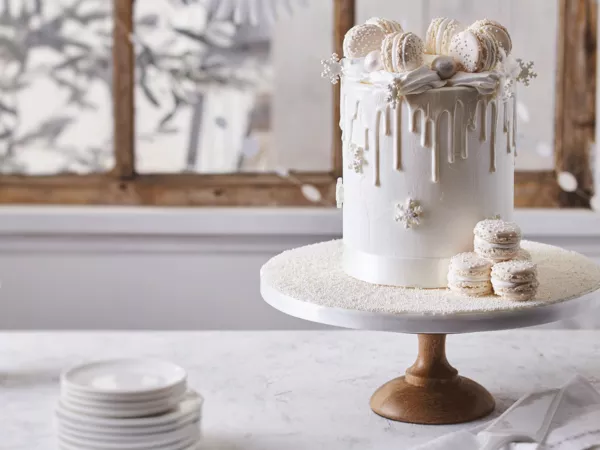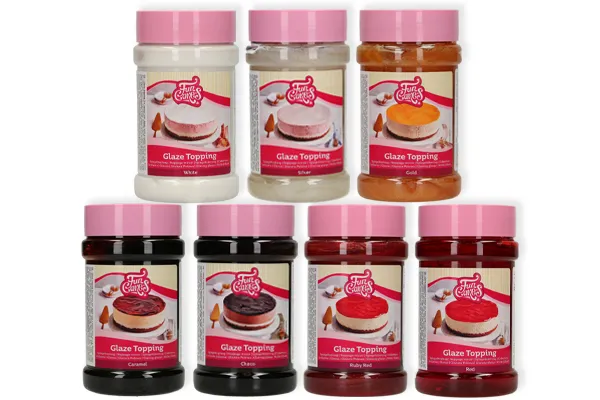 We're not entirely sure if our Glaze Toppings should appear in this list. Cause admittedly, they aren't meant to be dripping with and they don't dry at all, which means you should be able to serve the cake right after applying the drip. But on the other hand, at FunCakes we like to think outside of the boundaries of a product and experiment with using our products in different ways than you might expect at first. And often we find creative combinations and fun effects when we do so.
The Glaze Toppings are meant to add a nice mirror layer on top of a cake, for example a bavarois cake. But dripping with this products works perfectly fine too and it creates drips that have a shiny, see-through look. Which gives a very cool effect in some cases, for example with this bloody Halloween cake. Applying a drip with our Glaze Toppings is also super easy, as you don't need to warm the glaze at all. Just add it right from the jar into a decorating bag and apply to your cake. But as mentioned before, it's important to realize that because this drip doesn't dry at all, you should serve the cake right away. If that's not an option we recommend to stick with one of the other drip products in this list.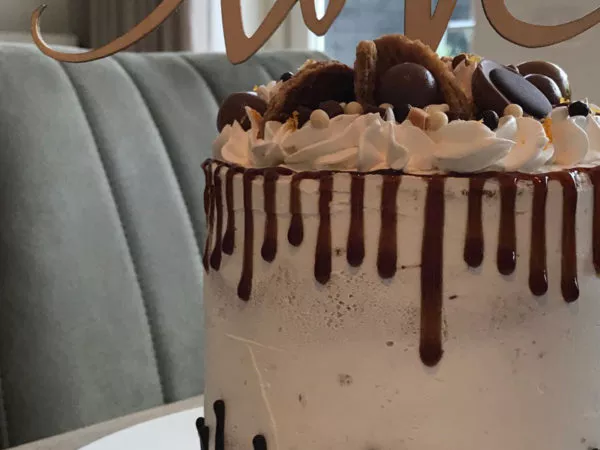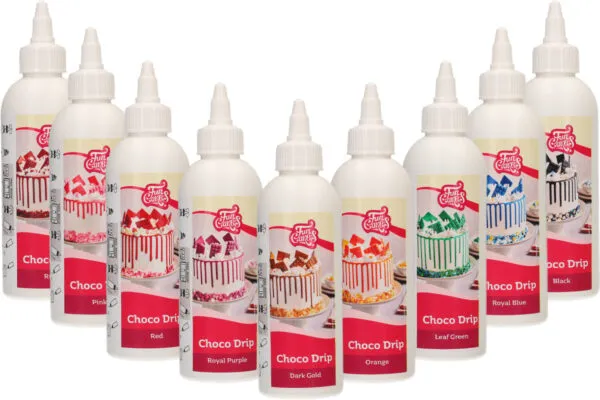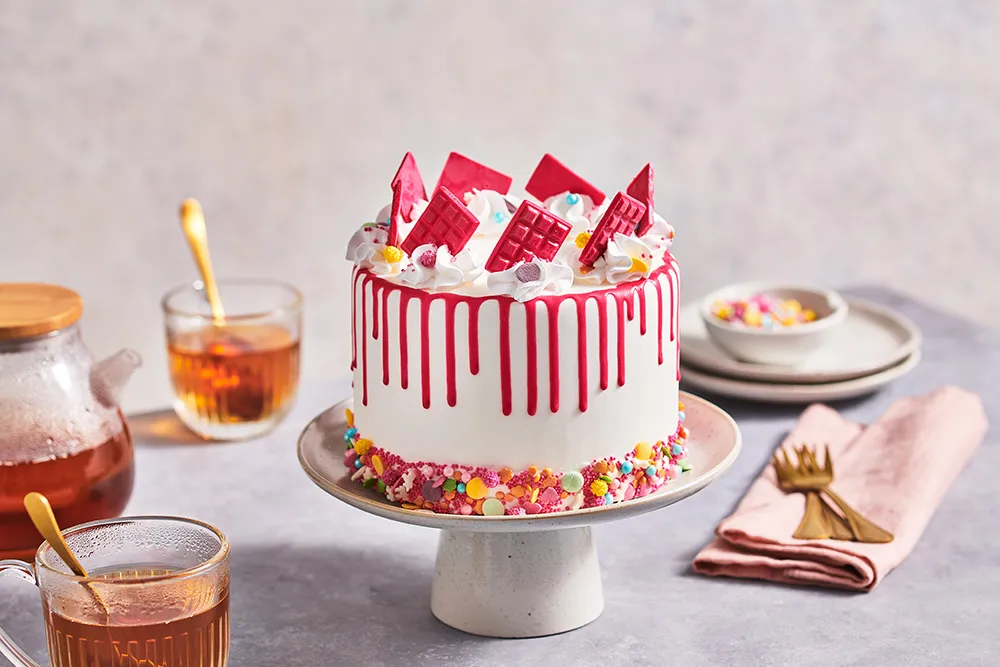 Do you prefer a drip of real chocolate on your cake? That's possible with our Choco Drips! These too come in different colours, including even silver, gold and rose gold. If you also want to make it as easy as possible for yourself, the Choco Drips are your thing. These already come in a handy spray bottle. You heat the entire bottle in the microwave (make sure you remove the aluminum foil from under the cap when using it for the first time) and then you drip it directly from the bottle over your cake. Of course you heat the chocolate drips over and over again, so you can make several drip cakes with one bottle! Because this is real chocolate, this drip also hardens completely.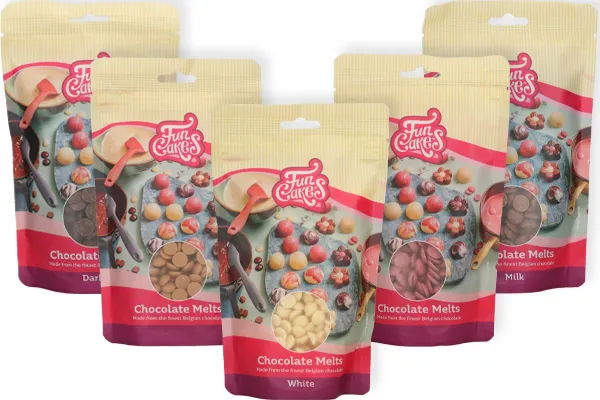 Finally, you can choose our Chocolate Melts as your dripping friend. These are pieces of melting chocolate made from real Belgian chocolate. A delicious addition to your cake, but working with chocolate is a bit trickier than the other options. Nothing too challenging though, it just requires a bit of knowledge. You have several options to make a drip cake with the Chocolate Melts.
Melt in the microwave or au-bain marie
You can melt the chocolate pieces in the microwave or au-bain marie, just like with the Deco Melts. Then let the melted chocolate cool down for a while before dripping it. With real chocolate it can take a while to find the right thickness. If your chocolate has cooled too far, you will see that your drips thicken a bit. In that case you can of course always reheat it again. If desired, you can also add some cocoa butter drops to make the chocolate a bit more liquid.
Make sure your chocolate doesn´t burn during the melting process, as it can make your chocolate a bit treacly and harder to drip. The tricky part of this is that you only see this once you start dripping. With chocolate, it is therefore highly recommended to test your drip first on an inverted cup. To prevent your chocolate from getting too hot, keep stirring while melting and stop heating when almost all of the chocolate has dissolved. You can stir the last pieces away in the warm chocolate.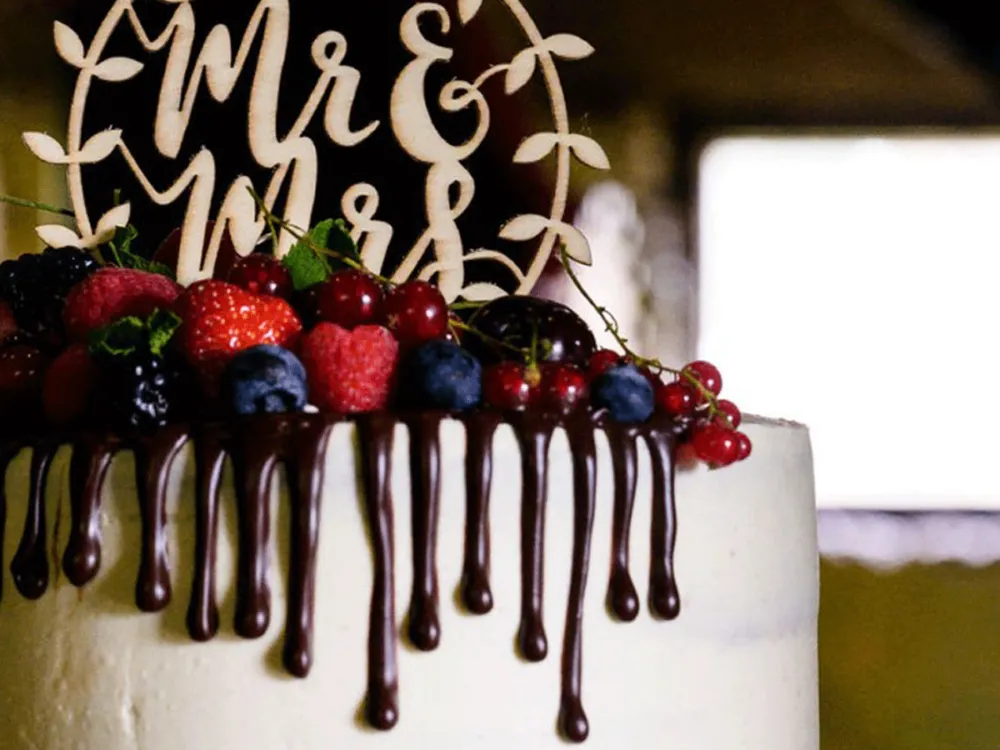 Drip with ganache
In addition, you can mix the Chocolate Melts together with heated whipped cream and a bit of butter into a ganache. A drip of ganache also has the advantage that it remains a bit softer than chocolate alone thanks to to the combination with whipped cream, which is recommended if you also want to cover the top of the cake completely with chocolate!