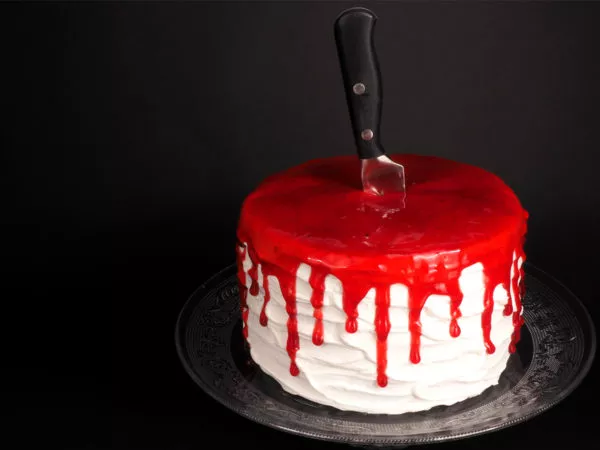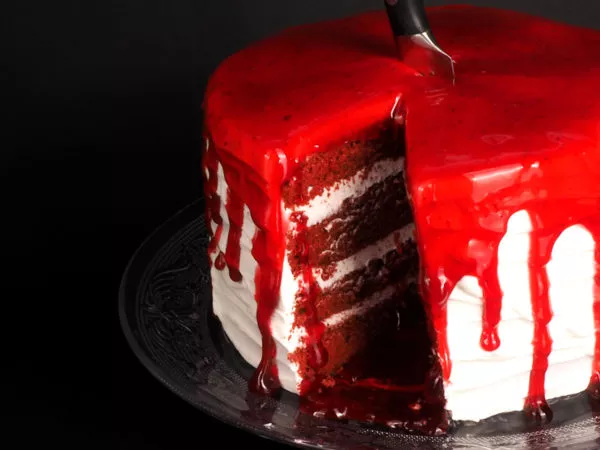 Bloody Red Velvet Cake
It's ok to let a little blood flow with Halloween, right? This Red Velvet Cake with bloody drip will do the trick!
What you need to make your bloody red velvet cake:
Ingredients
500 g FunCakes Mix for Red Velvet Cake
300 g FunCakes Mix for Enchanted Cream®
1 jar FunCakes Glaze Topping – Strawberry
FunCakes Flavour Paste – Strawberry
3 eggs (ca. 150 g)
100 ml vegetable oil
400 ml water
200 ml milk
Necessities
FunCakes decorating bags
FunCakes Bake Release Spray
2x Wilton Decorator Preferred® baking pan Ø20 cm
Wilton spatula
Wilton cooling grid
Wilton cake leveler
Preheat the oven to 180°C (convection oven 160°C). Grease the baking pans with Bake Release Spray.
Prepare 500 g of FunCakes Mix for Red Velvet Cake as indicated on the package. Divide the batter into the two baking pans and bake the cakes for 40-45 minutes. Then, let them cool down on a cooling grid completely.
Cut both red velvet cakes in half once, fill with the strawberry cream and stack back on top of each other. Cover the outside of the cake roughly with the strawberry cream, making horizontal lines in the cream with the spatula, to make it look like a bandage.
Fill a decorating bag with half of the strawberry glaze topping, cut off a small tip and let the glaze drip along the edges of the cake downwards. When you've reached the desired drip effect, cover the top of the cake with the rest of the glaze and make it smooth with the spatula.
This drip won't dry. So after applying the drips, they will keep on sliding a bit. We therefore recommend to serve the cake right after applying the drip, or if this isn't an option, try on of our other drip products that do dry completely. Read here everything about the different drips we have.
As a finishing touch stick a knife straight up into the cake.
Just a little while before you can enjoy your cakes. Don't forget to share your creation:
#funcakesbyme