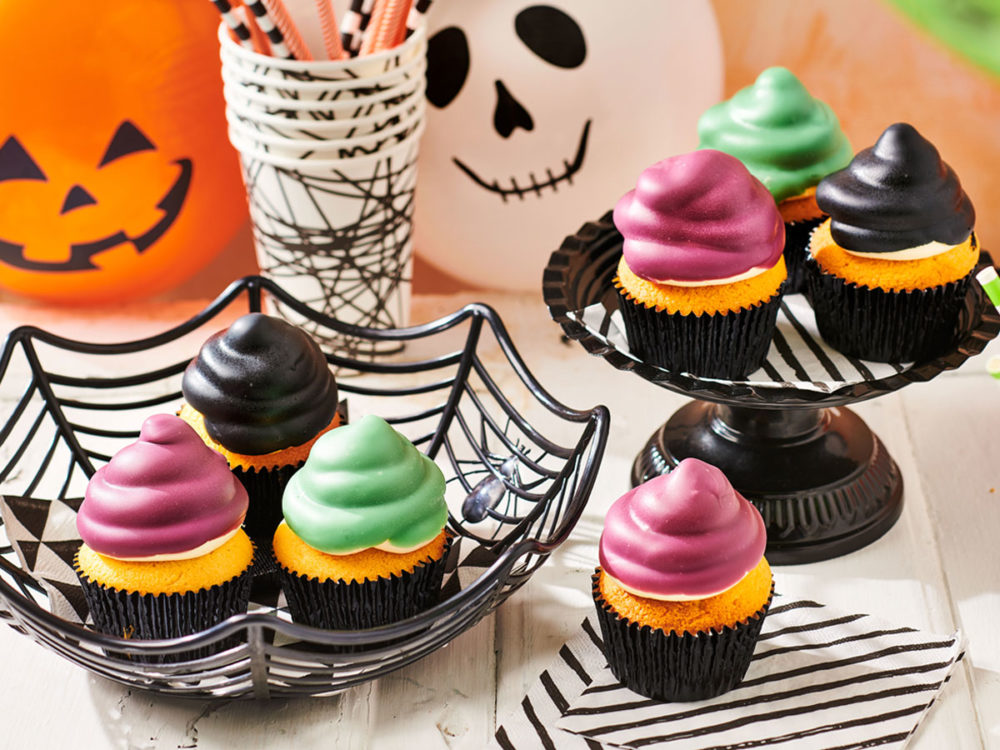 Halloween Deco Melts Dip cupcakes
It's the creepy time of the year! Trick or treat? I would see treat, so go ahead and treat your friends and family with these deco melts drip cupcakes.  Make your Halloween party more and more creapy.
What you need to make your halloween deco melts dip cupcakes:
Ingredients
500 g FunCakes Mix for Cupcakes
200 g FunCakes Mix for Buttercream
150 g FunCakes Deco Melts Purple
150 gram FunCakes Deco Melts Black
150 gram FunCakes Deco Melts Green
FunCakes flavour paste – White Choco
500 g soft unsalted butter
200 ml water
5 eggs (approx. 250 g)
Necessities
FunCakes decorating bags
FunCakes Baking Cups - Black
Wilton -Recipe Right- muffin pan
Wilton Tip #2A
Wilton cooling grid
Ice scoop
Microwave safe bowls
Preheat the oven to 180°C (convection oven 160°C).
Prepare 500 g FunCakes Mix for Cupcakes as indicated on the package. Divide the baking cups into the muffin pan.  Scoop the cupcake batter into the baking cups with an ice cream spoon. Bake the cupcakes for 18-22 minutes and let them cool down using a cooling grid.
Prepare 200 g FunCakes Mix for Buttercream as indicated on the package. Add to taste the white choco flavour paste to the buttercream. Put the cream in a decorating bag with tip #2A and pipe swirls on the cupcakes. Place the cupcakes with the swirls in the freezer, preferably for a night. The swirls need to be frozen to be dipped in the Deco Melts.
Heat the Deco Melts in bowls at 450W in the microwave with occasional stirring. When it is almost melted, remove it from the microwave and stir the visible pieces away in the warm melts. Take the frozen cakes from the freezer and dip the swirls into the melts. Defrost in the refrigerator. Remove from the refrigerator an hour before serving.
Just a little while before you can enjoy your cupcakes. Don't forget to share your creation:
#funcakesbyme