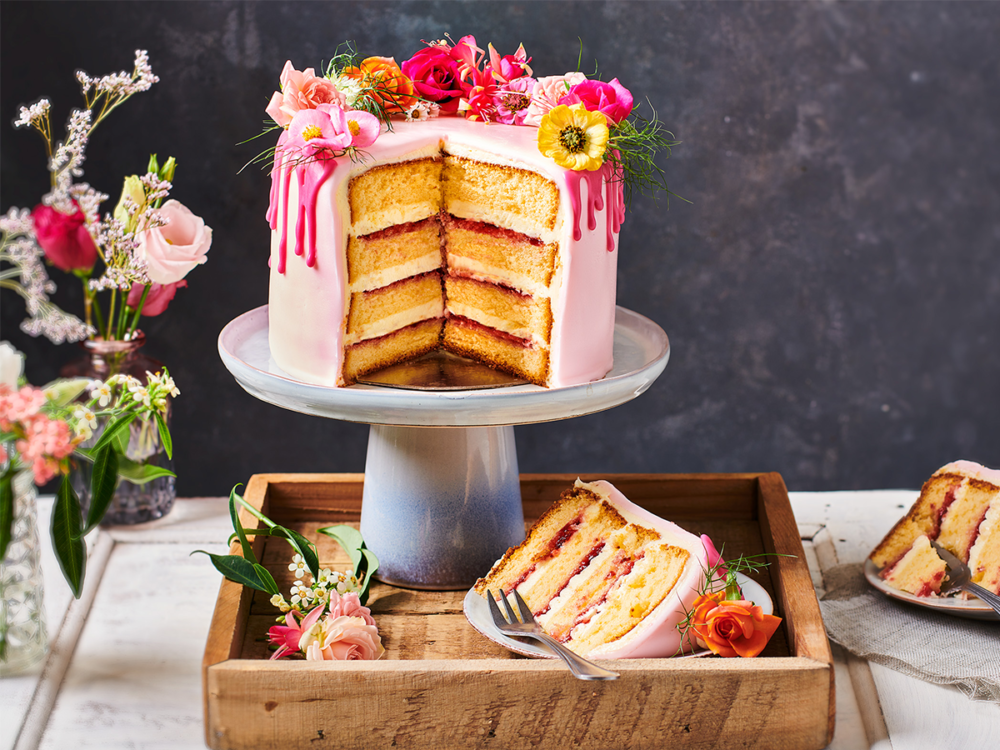 Flower drip cake
Pack all your baking stuff together and bake with us! This beautiful flower cake is breathtakingly beautiful and also so delicious… I mean sponge cake, fondant, buttercream, chocolate drip and all the decoration, who doesn't want that all?
1 hour and 20 min. preparing
1 hour and 10 min. waiting
What you need to make your flower drip cake:
Ingredients
500 g FunCakes Mix for Sponge Cake Deluxe
200 g FunCakes Mix for Buttercream
600 g FunCakes Fondant Pastel Pink
FunCakes Deco Melts Pink
Jam of your choice
250 ml water
8 eggs (approx. 400 g)
Multiple edible flowers
Necessities
FunCakes decorating bags
Wilton – Wide Glide- Rolling Pin 50cm
Wilton Decorator Preferred® Deep Roud Baking Pan Ø 20x7,5cm
Wilton Cake leveler 25cm
Wilton cooling grid
Wilton Basic Turn table
Wilton Decorator Preferred Spatula Angled 22,5 cm
PME Long Plastic Scraper
Preheat the oven to 180°C (convection oven 160°C).
Prepare 250 g of FunCakes Mix for Sponge Cake twice as indicated on the package. Grease the baking pans and bake the biscuits in a preheated oven for 30-35. Put them after baking on a cooling grid.
Cut the sponge cake in half with the cake saw and fill with jam and a layer of buttercream on top. Cover the entire cake with a layer of buttercream and let it stiffen in the fridge for half an hour.
Knead the fondant well and roll it out into a round piece with a thickness of about 2-3 mm and cover the cake with it. Put the cake back in the refrigerator.
Melt the Deco Melts in the microwave according to the instructions on the packaging, put it in a piping bag and let it slide down the edge of the cake. Decorate the top of the cake with the variety of edible flowers
Just a little while before you can enjoy your cakes. Don't forget to share your creation:
#funcakesbyme