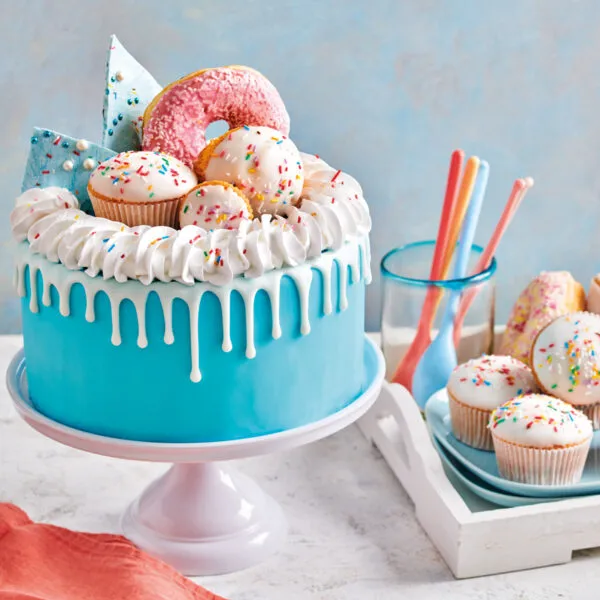 Dip 'n Drip cake
Fan of cupcakes, chocolate and cake? Then this cake is perfect for you. Because this cake has it all! Sound like magic, right?
1 hour and 30 min. preparing
What you need to make your dip 'n drip cake:
Ingredients
500 g FunCakes Mix for Cupcakes
250 g FunCakes Mix for Sponge Cake Deluxe
225 g FunCakes Mix for Enchanted Cream®
600 g FunCakes Sugar Paste White
FunCakes Flavour Paste Lemon
FunCakes Mix for Dip 'n Drip White
FunCakes Sugar Strands Colour mix
FunCakes Deco Melts White
FunCakes Deco Melts Light Blue
FunCakes Sugar Pearls Medium Metallic Blue
FunCakes Sugar Pearl Medium White Shine
FunCakes Food Colour Gel Baby Blue
FunCakes Magic Roll-Out Powder
250 ml water
250 g unslated butter
9 eggs (approx. 450 g)
Necessities
FunCakes Baking Cups White
FunCakes Bake Release Spray
FunCakes Decorating Bags
Wilton Decorator Preferred® Deep Round Baking Pan Ø 20x7,5cm
Wilton Recipe Right® Muffin Baking Pan
Wilton Cake Leveler 25cm
Wilton Cooling Grid
Wilton Basic Turn Table
Wilton Decorator Preferred Spatula Angled 22,5 cm
Wilton Rolling Pin 50cm
Wilton Tip #1M Open Star
Wilton Parchment paper
Ice cream scoop
Preheat the oven to 180°C (convection oven 160°C).
Prepare 250 g FunCakes Mix for Sponge Cake Deluxe according to the instructions on the package. Grease the baking pan with Bake Release Spray and raise the baking pan with a strip of parchment paper. Spoon the batter into the pan and bake the biscuit in a preheated oven for 30-35 minutes. Let it cool down by using a cooling grid.
Prepare 500 g FunCakes Mix for Cupcakes according to the instructions on the package, divide the white baking cups over the muffin pan and scoop the batter into them with an ice cream scoop. Bake the cakes in a preheated oven for about 18-22 minutes and let them cool from the muffin pan on the counter.
Cut the biscuit with the cake leveler 2 to 3 times and fill and spread all around with the Enchanted Cream®. Let it set in the fridge for half an hour.
Melt the blue and white FunCakes Deco Melts separately in a bowl in the microwave according to the instructions on the package and pour the two colors onto a baking tray lined with parchment paper. Go through the colors with a spatula to marble it. Immediately sprinkle blue and white pearls and sugar strands on top and let it set in the fridge. Then break it into rough pieces.
Color the fondant with the baby blue color gel, roll it out on a work surface sprinkled with magic roll out powder to a thickness of about 3 mm and cover the cake with it.
Heat some FunCakes Mix for dip 'n drip for 5-10 seconds in the microwave and dip the cupcakes in it. Sprinkle them immediately with the sugar strands and let them dry.
Put some dip 'n drip in a decorating bag, cut off a tip and let the drip slide down the edge of the cake.
Tip! You can test it on an inverted glass to see if your drip is 'running' well. If the drip runs down too quickly, let it cool down for a while. If it hardly drips, heat it in the microwave for a few seconds.
Spoon some Enchanted Cream® into a decorating bag with #1M and pipe a nice spiral on the edge of the cake and sprinkle some sugar strands on it. Stick some of the Deco Melts in the cake and put some cupcakes on top.
Just a little while before you can enjoy your cakes. Don't forget to share your creation:
#funcakesbyme