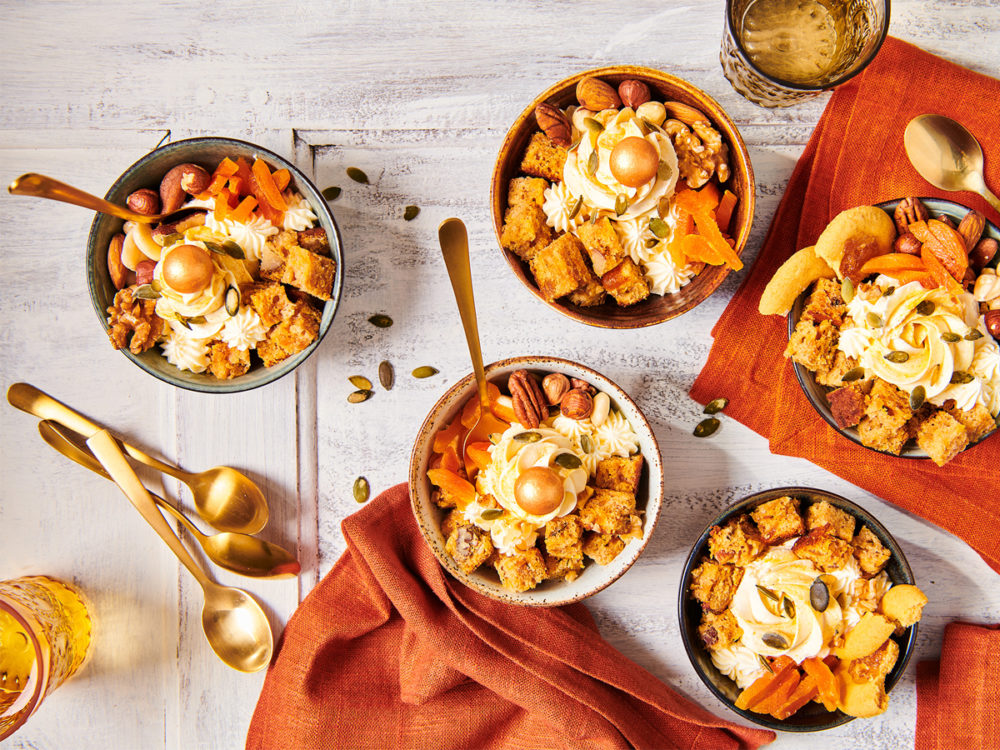 Autumn Cake Bowl
A Cake Bowl chock-full of spicy flavors and warm colors: creamy carrot cake, sweet pumpkin and lots of nuts. Hello Autumn!
What you need to make your autumn cake bowl:
Ingredients
500 g FunCakes Special Edition Mix For Carrot Cake
200 g FunCakes Mix for Buttercream
FunCakes Pearl Choco Balls Gold Set/8
280 ml water
250 g unsalted butter
200 g monchou
150 ml (140 g) plant based oil
50 g chopped mixed unsalted nuts (+ extra whole nuts for decoration)
50 g chopped dried apricot (+ extra for decoration)
3 eggs (approx. 150 g)
Round orange pumpkin
Pumpkin seeds
White caster sugar
Clove powder
Cinnamon
Ginger biscuits
Necessities
FunCakes decorating bags
FunCakes Bake Release Spray
Wilton Cake Leveler 25cm
Wilton Tip #1M Open Star
Wilton Tip #032 Open Star
Wilton Cooling Grid
Wilton Parchment paper
PME Deep Round Baking Pan 20 x 20 x 7,5cm
Patisse Cookie Cutter Round Set/5
Coarse grater
Blender
8-10 dishes of about 10 cm in diameter
Cut the pumpkin in half, remove the seeds with a spoon and then cut the pumpkin into pieces. Coarsely grate the pumpkin. Cut the dried apricots into small pieces and chop the nuts (keep whole nuts for decoration).
Preheat the oven to 175 ° C (convection oven 160 ° C).
Cut a sheet of parchment paper to the bottom of the baking pan and grease the baking pan with baking spray. Put the batter in to the baking pan and bake the cake in the middle of the oven for about 55-60 minutes. Let the cake cool down using a cooling grid.
Put the rest of the grated pumpkin with a little water in a pan and cook it over low heat to a pulp. Put the blender in it to get it completely smooth. Season with caster white sugar, clove powder and cinnamon and let it cool.
Finish the buttercream with 250 g butter as indicated on the package and mix in 200 g monchou.
Cut the cake in half with a cake leveler and cut out as many rounds as you have with the largest cutter (8 cm). Cut the rest of the cake into small cubes.
Spread a layer of cream on the rounds of cake and place them in the ramekins. Put some of the cream in a decorating bag with tip #032 and quickly stir the remaining cream with some pumpkin puree. Keep it a bit marbled. You do this in a decorating bag with  tip #1M.
Pipe beautiful tufts on the slices of cake with tip #1M and press a golden chocolate ball into it. With the small tip you spray small tufts. Decorate the bowl with small cubes of cake, whole nuts, apricot pieces, a ginger biscuit and sprinkle with some pumpkin seeds.
Life is short, lick the bowl!
Just a little while before you can enjoy your cake bowl. Don't forget to share your creation:
#funcakesbyme