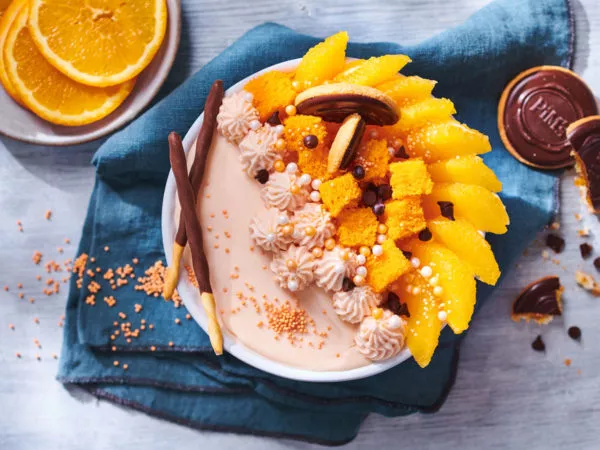 Orange Cake Bowl
This delicious orange cake bowl bursts from the orange flavours and colours! Filled with a delicious orange bavarois and sponge cake underneath a top layer of Deco Melts. A wonderful tribute to Holland. Geniet ervan (Enjoy!).
1 hour and 10 min. waiting
What you need to make your orange cake bowl:
Ingredients
250 g FunCakes Mix for Sponge Cake
50 g FunCakes Mix for Bavarois
FunCakes Flavour Paste Orange
FunColours Gel – Orange
FunCakes Deco Melts – White
FunCakes Chocolate Drops - Dark
FunCakes Nonpareils – Orange
FunCakes Soft Pearls - Orange/White
Lu Pim's orange
250 ml whipped cream
85 ml water
4 eggs (approx. 200 g)
1 orange
Necessities
FunCakes Bake Release Spray
FunCakes decorating bag
Wilton cooling grid
Wilton cake leveler
Wilton decorating tip #32
Wilton Decorator Preferred® baking pan Ø 20 cm
Bowl Ø 15 cm
Cookie cutter Ø 12 cm
Preheat the oven to 180 °C (convection oven 160 °C) and grease the baking pan with Bake Release Spray.
Prepare 400 g Mix for Sponge Cake as indicated on the package and colour it orange with the FunColours Gel. Put the batter in the baking pan and bake the sponge cake for 30-35 minutes. After baking, pour it on a cooling grid and let it cool down completely.
Cut the sponge cake into slices with a cake leveler and cut out circles with the cookie cutter. Cut the rest of the sponge cake into cubes.
Prepare 50 g Mix for Bavarois as indicated on the package and add to taste the orange flavour paste. Let this stiffen in the refrigerator.
Cover the bottom of the bowl with a layer of bavarois and place a slice of sponge cake on top. Apply another layer of bavarois onto the cake with a spatula.
Melt the Deco Melts in the microwave or au bain-marie and colour it light orange. Put this in a decorating bag, cut off a small tip and cover the bavarois with a thin layer of Deco Melts. Put this in the refrigerator for 5-10 minutes to allow it to stiffen.
Put the rest of the bavarois in a decorating bag with tip #32. Cut an orange in slices and place them along the edge of the bowl. Put the cubes of sponge cake next to it. With the bavarois, pipe small tufts next to the sponge cake cubes. Break a Pim's cookie into pieces and put this here and there between the sponge cake cubes. Sprinkle some orange nonpareils, orange and white pearls and Chocolate Drops over it.
Life is short, lick the bowl!
Just a little while before you can enjoy your cake bowl. Don't forget to share your creation:
#funcakesbyme