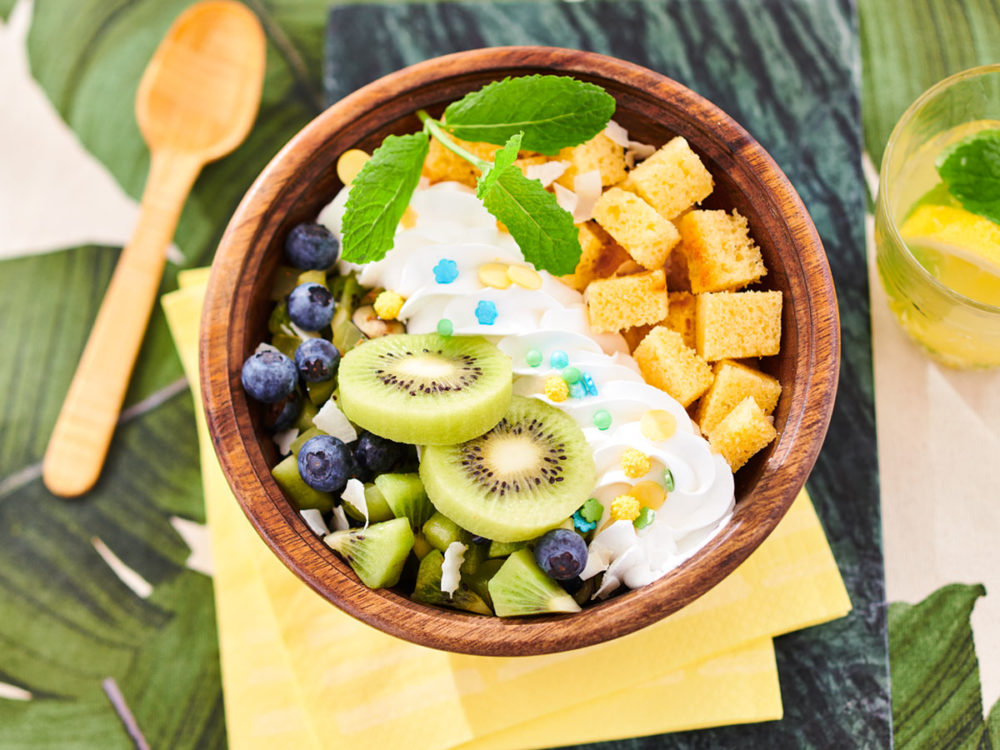 Tropical Cake Bowl
Don't worry about a thing … With this delicious Tropical Cake Bowl, every little thing is gonna be ok.. A clear blue sky and sunshine will complete this summer party.
What you need to make your tropical cake bowl:
Ingredients
400 g FunCakes Special Edition Mix for Limoncello Cake
75 g of FunCakes Mix for Enchanted Cream®
50 g FunCakes Mix for Bavarois – Lemon
FunCakes Flavour paste – Lemon
FunCakes Sprinkle Medley –Spring
250 ml whipped cream
175 g unsalted butter
100 ml milk
60 ml of water
4 eggs (approx. 200 g)
2 kiwis
Green grapes
Blueberries
Coconut flakes
Necessities
FunCakes Bake Release Spray
FunCakes decorating bag
Wilton Recipe Right® Large Loaf Pan 23,4 x 13,3 cm
Wilton cooling grid
Wilton decorating tip #1M Open Star
4 bowls
Preheat the oven to 180 °C (convection oven 160 °C) and grease the baking pan with Bake Release Spray.
Prepare 400 g Mix for Limoncello Cake as indicated on the package and fill the cake pan with it.Bake the cake for about 55 minutes. After baking, pour it on a cooling grid and let it cool down completely. In the meantime, beat the whipped cream, but not completely stiff.
Tip! You can pierce a skewer into the cake to check if it's ready. If the dough doesn't stick to the skewer, the cake is done.
Cut a few slices from the cake and chop the slices into small cubes.
Prepare 50 g Mix for Bavarois as indicated on the package and let it stiffen in the refrigerator.
Slice the grapes in four, the blueberries in half and the kiwis in pieces. Keep some kiwi slices behind for decoration.
Prepare 75 g Mix for Enchanted Cream® and add to taste the lemon flavour paste.  Put this in a decorating bag with tip #1M.
Divide the bavarois into the 4 bowls and smoothen it with a spatula. Pipe the Enchanted Cream® with a circular motion in the middle of the bowl. Scoop the chopped fruit on one side and the cake cubes on the other side. Sprinkle with some Spring Medley and coconut flakes.
Life is short, lick the bowl!
Just a little while before you can enjoy your cake bowl. Don't forget to share your creation:
#funcakesbyme