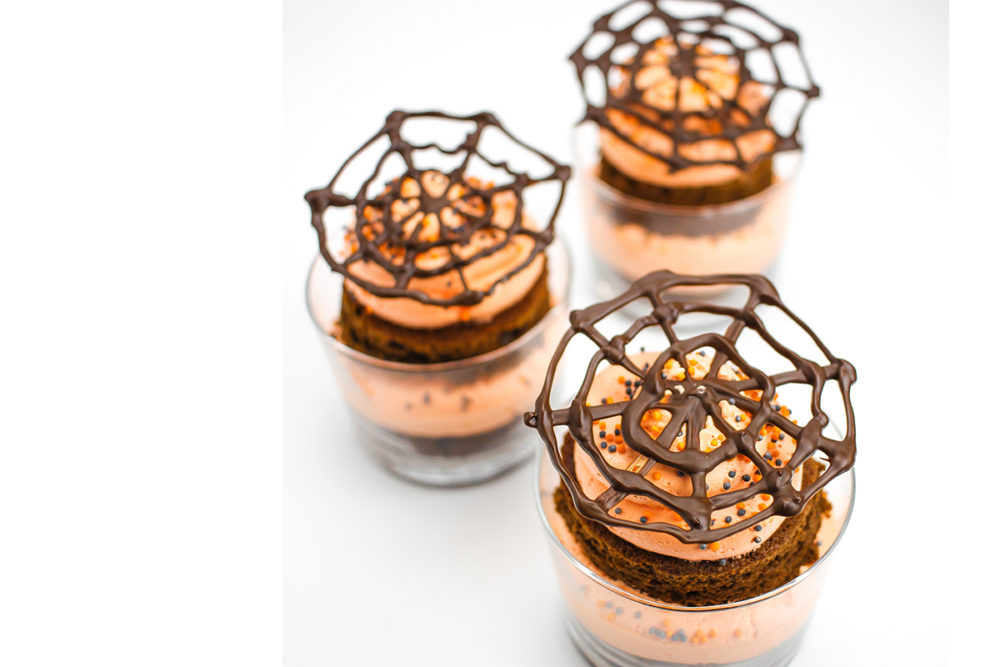 Halloween dessert
Last but not least, a dessert! Who doesn't like that? Of course there is something to scare or scare someone with Halloween and of course something sweet. So this dessert is a combination of sweet, scary and much more!
What you need to make your halloween dessert:
Ingredients
360 g FunCakes Mix for Brownies
150 g FunCakes Mix for Enchanted Cream
FunCakes Halloween nonpareils
FunCakes Chocolate Melts dark
1 tbsp FunCakes flavour Paste peach
100 ml melk
100 ml water
75 ml water
40 g butter
2 eggs (approx. 100 gram)
Necessities
FunCakes Decorating bags
Wilton Parchment paper
PME Deep Round Cake Pan Ø 30 x 7,5cm
Round cutter
10 glasses
Preheat the oven 175°C (convection oven 160°C).
Prepare 360 g FunCakes Mix for Brownies as indicated on the package. Grease the baking pan and fill it with the batter and bake the brownie in the middle of a preheated oven for 20 minutes. Let it cool down by using a cooling grid.
Fill a bowl with 150 g melts. Place this bowl in the microwave and melt the melts at maximum power (± 800 Watt). Every 15 to 20 seconds, remove the chocolate from the microwave and stir it well so that the temperature is spread through it evenly. Continue doing this until the chocolate is nearly melted; small pieces of chocolate may still be visible. Stop warming and stir the chocolate well until all the pieces of chocolate are melted and you have a uniform mass of chocolate.
Fill a decorating bag with the chocolate and cut of the top. Pipe the spider webs on the parchment paper. Place them in the fridge to harden.
Cut out 20 rounds of the brownie and place them in the glasses. Pipe a swirl with the Enchanted Cream on the brownie and place another brownie on top. Then pipe a swirl of cream on top of the brownie. Decorate the swirl with the Halloween nonpareils and the chocolate spider webs.
Just a little while before you can enjoy your desserts. Don't forget to share your creation:
#funcakesbyme