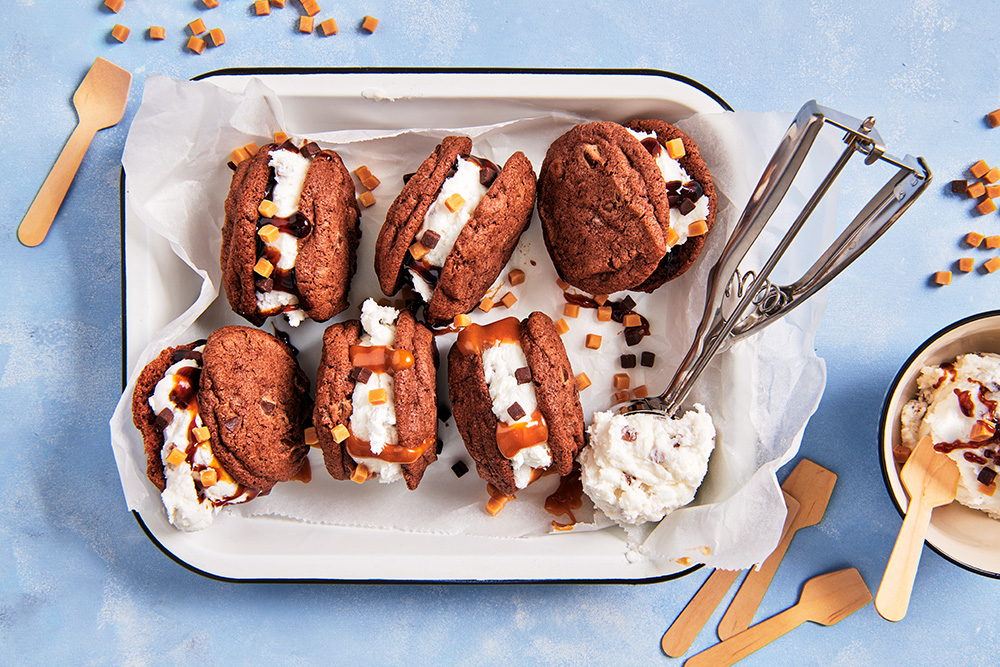 Chocolate chip ice cream burgers
When you think of a real summer dessert, you probably think of ice cream! Deliciously refreshing on warm summer evenings. But just a scoop of ice cream is a little boring, so try this super fun twist: ice cream burgers! Chocolate chip cookies with a scoop of ice cream in between, who wouldn't want that?
What you need to make your chocolate chip ice cream burgers:
Ingredients
400 g FunCakes Mix for Cupcakes
100 g FunCakes Chocolate Drops Dark
100 g FunCakes Mix for Enchanted Cream
FunCakes Rich Caramel or FunCakes Glaze Topping Caramel
175 ml slagroom
125 g unsalted soft butter
75 volle melk
8 ml water
1 egg (ca. 50 g)
Necessities
FunCakes Decorating Bags 30 cm
Wilton Parchment Paper Roll
Ice cream scoop
Put 100 g FunCakes Mix For Enchanted Cream® in a bowl and add the 175 ml whipping cream and 75 ml whole milk. Add some FunCakes Flavour Paste Vanille. Mix this briefly with a whisk to a smooth cream and spatula into a bowl. Mix some FunCakes Chocolate Chunks trough the natter. Put the bowl in the freezer for 24 hours.
Prepare 400 g FunCakes Mix for Cupcakes with 125 g butter, 1 egg and some FunCakes Chocolate Chunks Dark. Form into a sausage with a diameter of 5-6 cm and wrap in plastic foil. Let it stiffen up in the fridge for at least an hour.
Preheat the oven to 175°C (convection oven 160°C) and line a baking tray with a sheet of parchment paper.
Cut the sausage roll into 12 slices of approx. 1½ to 2 cm and place them on the baking tray with a good deal of space between them, as the cookies will run out during baking. If necessary, bake in two batches if it does not fit in one batch. Bake the cookies in about 13-16 minutes. They will feel soft when you take them out of the oven. Leave them to cool on the counter, the outside will be crispy and the inside chewy.
Heat up some FunCakes Rich Caramel in the microwave and put it in a decorating bag. Scoop a big ball of ice cream on one cookie, drizzle some FunCakes Rich Caramel on this and cover with a second cookie.
Or use the FunCakes Glaze Topping Caramel.
Just a little while before you can enjoy your desserts. Don't forget to share your creation:
#funcakesbyme